2 game-changing announcements made my Google
Following the Covid-10 pandemic, Google searches containing "Curbside Pickup" and "In Stock" have increased by more than 70% in the last few months. After having launched a set of new attributes on Google My Business, Google recently announced a change that will revolutionize, according to Partoo, the small world of local SEO.
In a press release from June 17, 2020, Google announced a stronger cooperation between Google Shopping and Google My Business. From now on, the "Shopping" tab will display useful local information to users such as products' availability, points of sale selling them, and other services including delivery, curbside pick up or drive-in. This information will appear for every country featuring the "Shopping" tab, such as France and the US. This project is referred to as the "Local Surfaces across Google".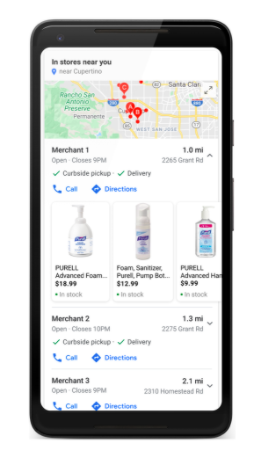 Thus, this announcement completes a previous one made on April 21, 2020 when Google specified that Google Shopping would only be free of charge in the US (as well as the Local Inventory Aids – LIA). In this Covid-19 crisis, Google decided to "proceed with his plans sooner than he'd planned, allowing advertisers to sell their products from Google Shopping for free in the US". Up until now in the US, search results on the Google Shopping tab have mainly consisted of free ads, although paid ads are of course still available. However, The fact of GMB remaining free of charge is still up for debate in the rest of the world.
To recap, what are the impacts for retailers?
As a Google My Business Top Partner we manage at Partoo over 100,000 listings for more than 300 brands, such as Carrefour, Leroy Merlin or Toyota. Therefore, this announcement made by Google directly impacts our clients. It represents an opportunity for us to notify them so that they can activate this feature on Google Shopping.
As you can see below for Castorama, one of our clients, it has been a long time since Google Shopping incorporated a local dimension through the LIA. We can actually see on Google Shopping the notion of point of sale: here, we have all the information about the Castorama store located at "3 rue Caulaincourt", in Paris.
Beyond the free aspect of LIA in the US, the recent announcements made by Google have an impact on the entire Google ecosystem. As of today, French retailers will be able to showcase their products through Google Shopping and to indicate to users where they can find the products near them. However, they would have to pay to use Google Shopping, as it is still only free in the US.
Therefore, the "Local Surface across Google" program induces a diffusion of points of sale's products, whether in the standard searches, on Google Images, Google Shopping, Maps and also Google Lens, according to countries.
How to join this new Local Surfaces across Google program?
In order to take part in this program you need to follow these steps:
To have a current and centralized GMB account
To have a Google Shopping account, and to turn on the LIA via your merchant center by following the google procedure described here.
To enable the local surfaces program from the Merchant Center (refer to the following step)
In addition, to activate the Local Surfaces program and set up you store's inventory, here are the guidelines:
Step 1
Register to the local surfaces program by selecting it when you enroll in the Merchant Center or on "Growth" in the navigation menu
Click on "Manage programs"
Click "get started" on the local inventory ads program card
Step 2
If you have any doubts about this topic or you need assistance in the matter, please contact our team through the "contact us" button.