For some time now, at Partoo, we have been advising our clients on how to deal with the Covid-19 pandemic, as well as helping them by indicating that their stores are closed, especially on Google My Business (GMB).
We noticed that most of them did not know what to do facing this unprecedented situation:
On one hand, should you close an establishment if you can still contact customers by phone? Even if delivery is an option? In that case, how do you indicate it? Should you have a click and collect strategy?
On the other hand, should you add exceptional hours or change the standard hours?
Finally, how to use Google Posts to communicate well on the decisions taken?
Therefore, we have created this practical guide to answer our most frequently asked questions.
Since then, we have also written various more specific articles to answer practical questions such as :
1. When should you close your establishment and when should you leave it open?
A. If you remain open to the public :
In many countries like France, Italy or Spain, only establishments offering necessary purchases are allowed to open. These include food shops, doctors, hospitals, pharmacies, drugstores, parapharmacies, gas stations and restaurants, provided that they only sell take-away food (according to Deliveroo, only orders placed on the doorstep).
In support of the current Covid-19 crisis, Partoo is pleased to give you complimentary access to its Presence Management services if you manage hospital-related communication. In fact, this will allow you to update local information and communicate about preventive measures more effectively.
Tobacco stores are also open as well as establishments offering pet food. If you are one of the open establishments, your customers will most likely not be aware of it, hence we advise you to warn them by creating a Google Post of the "event" type. In order to do so, just follow the explanations at the end of this article! Furthermore, if your schedule changes, it is extremely important to update it online, so as to avoid inciting more people to be out and about during the current situation.
Be careful, if your establishment is closed physically, it doesn't mean you have to close it online! Here are a few examples to keep in mind.
B. If you maintain a phone line:
First, you can leave your establishment open if you still have the possibility to receive calls from your customers or prospects! Thus, for professionals such as lawyers or accountants, we advise you to leave your establishment open to continue your activity despite confinement.
Second, in the case where the landline number of your establishment is no longer reachable, we advise you to replace it with a number that can be reached, such as a mobile phone for example. For large groups (banks, insurance companies, etc.) this is also a measure that can be taken: do not hesitate to contact Partoo's teams to discuss what is possible and what we have already set up for our customers.
Here again, it is very useful to publish a Google Post to let your customers know that you remain reachable and active by phone.
C. If you maintain a delivery activity :
Following the announcement of total confinement in several countries, the number of delivery requests multiplied exponentially. As a result, internet users will keep on using classic customer routes, namely Google – by typing a restaurant name on Google, they will quickly find out if your establishment is still active. So you have to leave it open if you deliver; on the other hand, remember to put a Google Post to mention it because many "Open restaurants" on Google are actually closed and it is just an oversight from the owner!
The Magic solution: Attributes
Attributes have taken on crucial importance since the Covid crisis. They allow you to mention indications such as :
Delivery
Curbside pickup
Take away sale
Mandatory temperature measurement
Mandatory mask
The same measures can be taken by all establishments offering delivery / ordering options. Also, remember that depending on your categories, it is possible to add "secondary urls" on Google My Business such as "order" for example. For more information on practices to implement in more specific cases, please contact us via our chat or by email contact@partoo.fr.
2. I am closing: How to update my online status?
If you close your establishment or your points of sale completely, don't make the mistake to close it permanently! In that case, Google will strongly affect your SEO and you will lose all the work you have previously done.
Also note that if you delete your daily opening hours, your hours will be displayed on Google as blank. Therefore, the only option is to show exceptional hours on Google My Business, which will appear as shown below. Note here that your warehouses (shown on Google My Business as open) will tend to move up in search results.
Also, in moments like these, your duplicates may tend to show up! Indeed, Internet users or Google automatically can create Google My Business listings by duplicating the listing you already manage.
In the example below, with Decathlon, some listings have been created without any phone numbers or hours! Normally, even if they have a negative impact on the local SEO of the company, they do not go up and are therefore less visible.
However, when Decathlon is closed, these listings are way more visible and they can automatically go back to queries such as "Decathlon open". In fact, all Decathlon stores that are under management have been indicated as closed, and only those that are unfortunately not managed will be shown to Internet users, thus degrading the customer experience.
If you are in this case, it is now time to remove all of these duplicates. On one hand, you can improve your customers' experience/ inform them, and on the other hand you improve your local SEO in the long run! If you want to start such a project, do not hesitate to contact us so that we can remove these duplicates for you, thanks to a tool we have developed specifically for this purpose. We will start by identifying all your duplicates: we can then send them to you in an excel format so that you can tell us which ones to remove via our Google My Business Partner support.
3. Google Posts: Clearly indicating changes linked to the pandemic
1. Google Posts: What are they used for ?
Started in June 2017, Google Posts allow you to communicate news or events related to your local establishments to Internet users. Because of the Coronavirus epidemic, more and more of our customers ask us to post news for them on their listings with different objectives, depending on the establishments:
To reassure and communicate on prevention measures.
Indicate an exceptional closing
Indicate specific provisions on delivery, in-store collection, etc.
Provide solutions for orders / store pick-ups already made
Specify hours for setting up a switchboard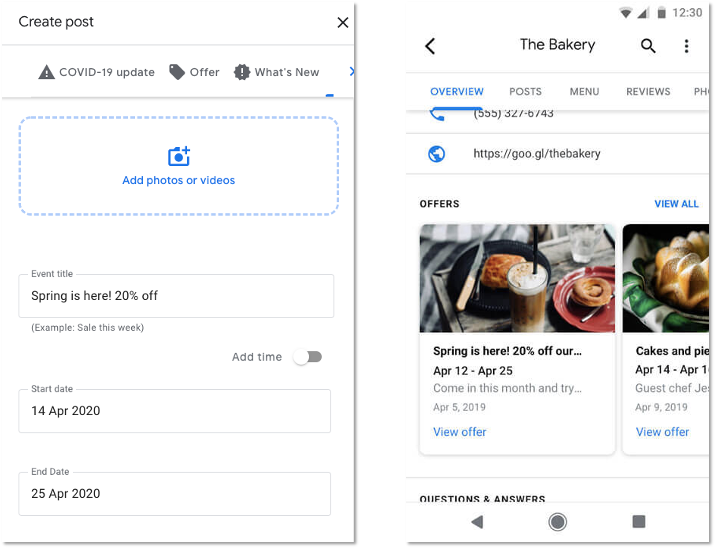 2. What type of Google Posts to use?
Different types of posts exist (offers, products, news, events and 'Covid-19 info). Each of them has its own data and rules. More specifically, Posts for Events for example can be displayed on Google My Business for more than 7 days.
Therefore, we advise you to publish Event Posts, which is what the majority of our customers do at Partoo. Publishing these posts can be quite time consuming and requires some tips.
3. What do you need?
One or more photos, regardless of the size, all formats are now accepted. If you decide to put text, remember to put it in the center! The photo does not appear completely before the user clicks.
A descriptive text of 100 to 1500 characters
A title for an event with 58 characters max (count your letters!)
The possibility to add a button mentioning "Learn more", "Book", "Register", "Buy", "I Enjoy" and leading to a url
The desired url for the button in question
Now you know a little bit more about the specificities of Google My Business in these difficult times.
As always, the Partoo team wishes you good luck and remains at your disposal if you need any more details on these different topics!