Why are there new attributes on Google My Business ?
Due to the current situation with the Covid-19 pandemic, lots of businesses had to close their location. However, it doesn't always mean that they are closing their entire business ! Indeed, some restaurants or stores have started to implement services such as "Delivery", "click&collect", "Takeout" or even what is called "No-contact Delivery". A lot of options exist to inform your Customers that you implemented those services on Google My Business, such as adding the right category, doing Google Posts or adding attributes : if you want to know all the best practices Partoo recommends please refer to this article : How to best communicate on Google My Business during lock-down
The problems with all those ways to communicate on your services, is that it is not enough to clearly inform customers. Facing this unprecedented situation, Google decided to add new attributes and display them better on Google My Business listings.
First, Google is starting with locations based in the US with the "restaurant" category. To help food business owners communicate their dining options to customers, Google is introducing new dining attributes. Currently, restaurant merchants can add or edit their Business Profile to include "Dine-in," "Takeout," and "Delivery," and in the coming weeks "Curbside pickup" can be added to their Business profile.
Reminder : what are attributes ?
There are actually 2 different types of attributes: factual attributes (such as outdoor seats, run by women) and subjective attributes (quality of the food, atmosphere…).
The subjective attributes depend on the opinions of Google customers who have visited your location and you cannot change them from GMB back-office. However, you can directly change some factual attributes, such as the new ones Google My Business created.
Attributes available for your business on Google My Business depend on your category. For example, you may obtain attributes for accessibility options, acceptable payment types, or whether you have a rooftop on your restaurant.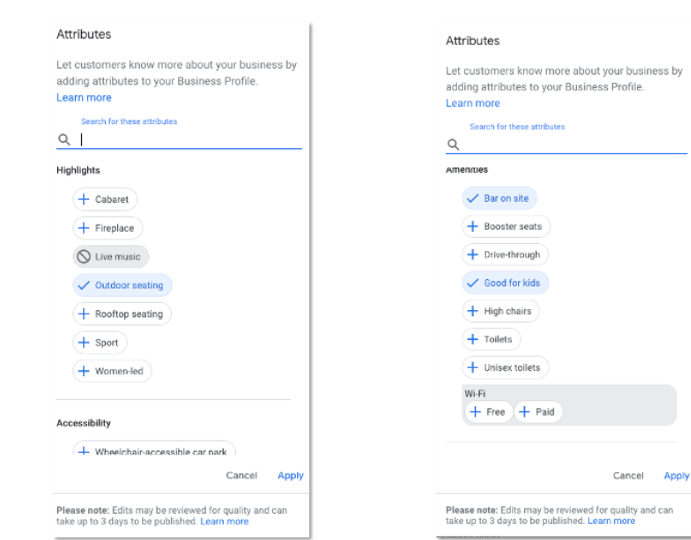 What's next ?
In the coming weeks, additional attributes will roll out to all Business Profiles. For example, shopping attributes such as "Delivery" and "Pickup" as well as dining attributes such "Curbside pickup" and "No-contact Delivery" will become available.
These new business operations will prominently appear on merchants' Business Profiles on Google Maps and Google Search results when customers search for your business. Supported attributes will have a "✓" and non-supported attributes will have an "X". Some attributes are available now and others will appear across Google Desktop and Mobile surfaces early next week.
Please make sure to keep attributes up to date. Attributes are prominently displayed to inform customers of what services are available. Should you need any assistance on your store's information on Google My Business and other directories and GPS (such as Waze, Facebook local, Foursquare, Apple Maps, Here…) our team is here to help. Feel free to contact us by chat our email on contact@partoo.fr.