As indicated in one of our previous articles, certain features from Google My Business have been temporarily deactivated. That's mainly the case for new reviews, which are no longer showing since the beginning of the epidemic. As per our clients' experience, the last reviews to be published are those of March 20th 2020.
Many of our clients have since gotten in touch with us to ask whether the reviews posted during this period would be at some point published.
Another main concern about the crisis is the impact that it could have on customer satisfaction – and consequently on the local listings. Our clients are wondering if it's even worth requesting positive reviews upon a client's purchasing experience (through Review Booster, for example). On this article, we are targeting the main elements concerning this current issue on Google My Business.
1. What's happening to my reviews being received during this period?
Even though Google has declared that the reviews have been suspended, it is still possible to leave them on a Google My Business listing, they're just not being made public for now.
In conclusion, the "Leave a Review" feature still works and can be used. The reviews are just not being published for the time being.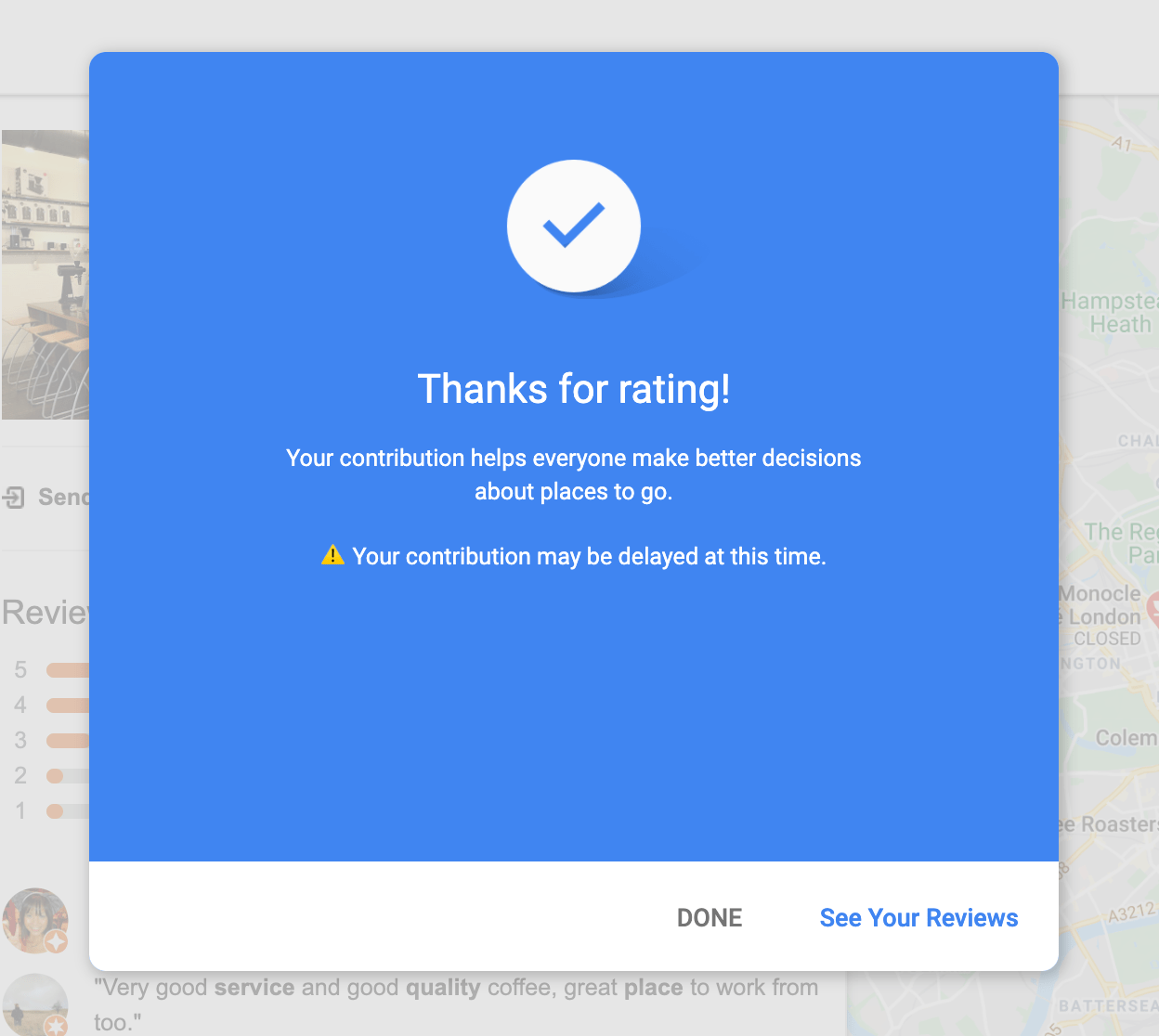 Also, when you leave a review, Google will not tell you that there's an error. Instead, you'll be thanked for having left your review just like before. The review is then stored on a Google My Business review database until its eventual publishing. Google is warning its users only that it'll be necessary to wait a little longer before the review is processed.
"Your contribution may be delayed at this time"

Google My Business
It is very likely that these reviews are being stored, awaiting moderation by Google's support team, before being published.
2. What measures can we take to manage this situation?
Times of crisis are often accompanied by great tensions and client satisfaction issues.
Being used to a normally-functioning system, and not being happy with the current mood generated by the crisis, many internet users are likely to demonstrate a lack of comprehension for some issues.
Thus, it's very likely that the reviews you'll get during the lockdown will be worse than what you're used to. That might be the case even if you've been proactive and have activated Google My Business' latest features ("Take out, Delivery, Exceptional opening hours…"). Also, that will definitely be the case if your business had some issues with adapting to the current lockdown procedures (long waiting time in front of the establishment, website crashing, delivery issues, cancelations, etc).
As we approach the end of this crisis, Google is very likely to start publishing all or a part of the reviews that have been left by your clients during this period. Some options Google might consider are to only publish the positive reviews, or to delete the entirety of your reviews received during the crisis. Thus, a good way to fight against this uncertainty is to prepare your company and your network in case you have to face a sudden flow of negative reviews.
3. For which reason is Google not publishing any reviews during Covid crisis ?
Due to the crisis, the Google My Business Support teams are completely overwhelmed as they're supporting thousands of points of sales in the uploading and the correction process of their local information (mostly the business hours). Thus, the staff responsible for moderating Google reviews is mainly focused on data reliability: "There may be some temporary limitations and delays in support as we prioritize critical services."
Under normal circumstances, it's important to know that the Google staff is operating the manual verifications over a small percentage of reviews before they get published: mainly over potential fraudulent actions, inappropriate content, or issues generated by competitors. Google is focused particularly on those reviews that have been flagged by other users as being insulting or not complying with its terms and conditions.
As a way to manage the crisis, Google has chosen to temporarily deactivate the publishing of new reviews. Although the option to leave a review still exists, the reviews will only get published at a later time as Google intends to moderate such reviews once the current crisis has finished. As such, the internal teams at Google will have more time to dedicate themselves to this task.
4. Should I still continue to request reviews?
As you already know, internet users are more likely to leave a review upon a negative experience rather than a positive one.
Moreover, a rising number of businesses that remain open are currently having issues with keeping their services ongoing (Delivery, takeaway, etc…) due to the lack of staff, or the lack of customers generated by the pandemic. Therefore, it's possible that your client satisfaction rates might have been affected.
Also, if the reviews posted during this period end up being published, you'll risk having all of them showing up at once. For the reasons listed beforehand, it's likely that a good part of them will be negative.
However, there are ways where you can combat the influx of negative reviews. This insightful article from Mobile Monkey tells you everything you need to know about dealing with negative reviews on Google.
Even if we reckon that during the crisis may not be the right time to request reviews, we recommend you to put in place a process to increase the number of reviews you get as soon as the lockdown, or preferably right before that happens. This way, you'll be able to countermeasure the negative reviews that will show up as a result of the Covid-19 pandemic.
Please note that 70% of the users declare that they would definitely leave a review when requested. In doing so, you'll raise the number of positive reviews that your business will get on its listings, and you'll lower the impact generated by negative reviews.
If you need help with managing your reviews or your online information, please don't hesitate to contact us at contact@partoo.fr
Get found… online!