This article tackles the topic of local SEO and focuses on specialty stores. It provides you with real life figures collected through our clients from this field, such as BigMat, Truffaut or Mobalpa. From digitalization of the industry to the optimization of your online visibility, we give you some tips and best practices to increase your online performances.
#1 Increase of online actions
Due to the huge increase of Internet use and traffic, local businesses have to adapt to customers' new habits and current trends. Nowadays, clients tend to go more online to choose or check information about a business.
To understand changes in trends, we gathered data collected by Google My Business between 2018 and 2019. We clearly see that all of the different actions taken directly from GMB listings went from 30% to 127%, it's a huge increase!

What does it tell us? That the information available on your Google My Business listings brings a lot of customers, hence reflects your business, online.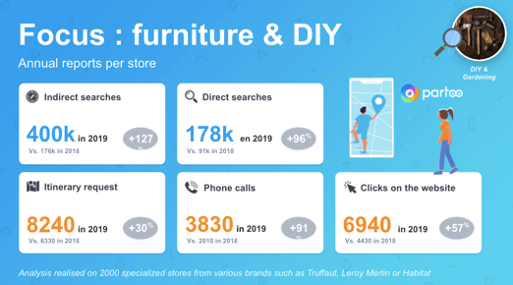 To all be clear about what is what, let's define each term:
Indirect searches: Searches not directly targeting Partoo
Direct searches: Searches clearly mentioning our brand
Itinerary requests: Internet users clicking on the "Directions" button to get itinerary from Google Maps
Phone calls: People calling from the phone number on your Google My Business's listing
Click on the website: How many people clicked on your website pages from the URL on your listing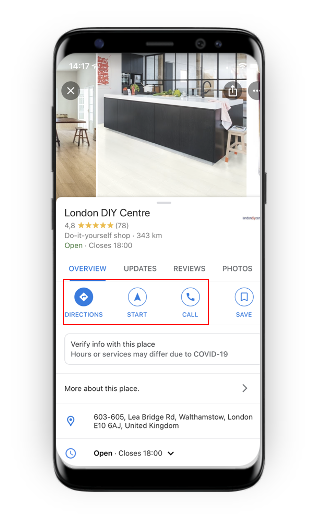 We also realised that online reviews sharply increased during this period: in 2018, only 302 reviews were accounted for per local business. In 2019, the number of reviews increased by 76%. But, what has increased even more exponentially is the number of reviews answered to: only 9% of reviews were answered in 2018. In 2019, 46% of them got a response! This sector has come to realise the influence of online reviews on their online visibility and reputation.
#2 Online visibility
In order for you to keep up with trends, we decided to give you some tips on how to optimize your online presence.
1) Create listings for all of your local stores
First things first, the mere fact of having listings for your local businesses is boosting your visibility. Each store should have its own listing with at least the most basic information: name, address, phone number and a few pictures.
In case you don't have listings for all of your businesses, from your account, you should:
Request the ownership of your Google My Business's listing if someone else is owning it, or if no one owns it.
Create your missing Google My Business listing so that each of your local business has one.
Delete any duplicates you can find.
Moreover, think about consistency: by diffusing uniform information on as many platforms as you can, such as directories and GPS (Waze), Social Media (Facebook) and search engines (Google, Bing), Google is going to recognize that you are a reliable brand, and will push you up in search results.
2) Add categories
In order for your businesses to appear higher on search results, add your main business's category and up to 9 other sub-categories. That way, if a user types in "DIY store", they will find you if you provided this information, and you'll appear higher than other medical facilities that did not provide this information.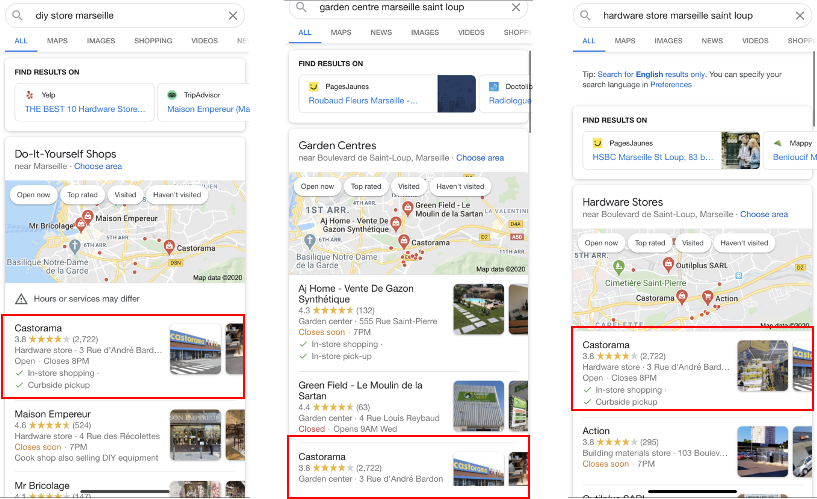 3) Attributes
Attributes allow you to describe your business, its services and facilities. You can quickly inform your customers if in-store shopping is allowed, especially during this health crisis, if your store has a wheelchair accessible entrance, or even if you have free wifi.
Adding attributes also increases your local SEO and visibility, particularly when you know that 80% of online searches are discovery searches (mentioned above). If you specified "Curbside pick-up" on your listing, your business will have more chances of popping up in users' search results if he's looking for this type of service.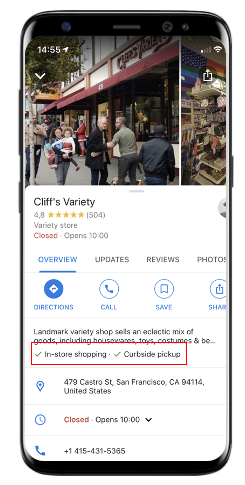 You can also add secondary urls that can also be helpful for customers to gain time and make appointments faster, or request furniture deliveries for example.
In addition, virtual tours can help attract customers into your stores. By seeing what the store looks like, if you have appealing pictures and a qualitative tour, you can increase your web-to-store conversion rates. Be mindful of that.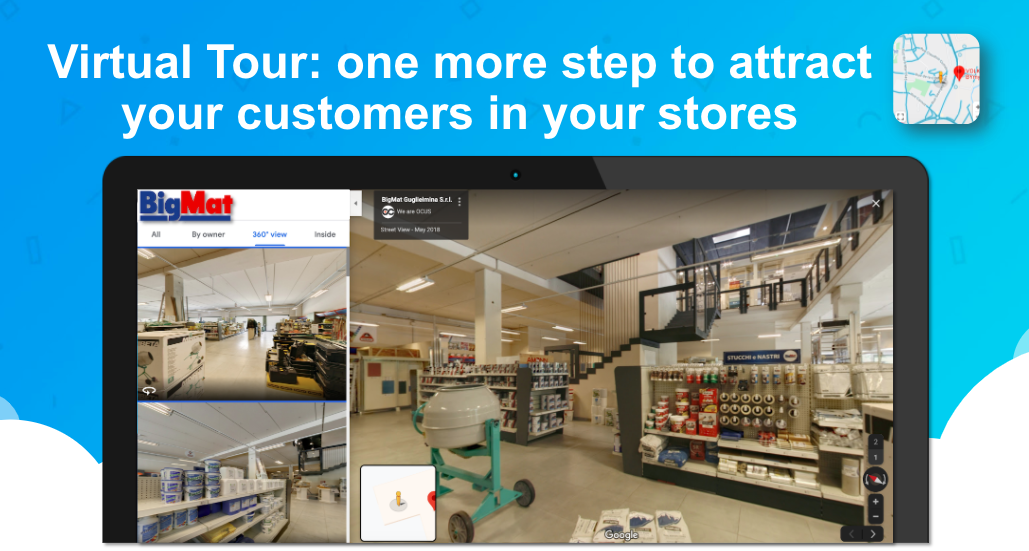 Finally, you can use a feature called Google Posts to communicate with your customers about special events, happy hours or discounts and post your virtual tours thanks to them; in short, about what is going on in your local business. We recommend you to use the "EVENT" post that remains visible for more than 7 days on Google My Business.