With the Covid-19 pandemic, completely changing consumer behaviour, businesses have had a hard time adjusting to their new demands. Safety has taken utmost priority and the ability to effectively communicate the measures taken should be adressed. This is where "Retail tech" players such as Partoo, have their role to play.
Google has provided retailers with an impressive number of levers to enable them to communicate with their customers and put forward the right information to :
1 – Help them continue their business operations
2 – Avoid unnecessary travel that could spread the virus.
The most important feature is the COVID-19 Info Google posts (What is a Google post?).
Partoo, for its part, has had to adapt and show agility in order to respond to the urgent problems of its 120,000 customer outlets and implement the new features made available by Google.
Through this article we will discuss two topics:
How are Covid Google posts an essential tool for communication during this period of crisis? How has Partoo been able in a few days to give an operational solution to its customers to benefit from it?
The Google posts for COVID-19: A major asset in times of crisis
Google Posts such as COVID-19 info allow merchants and brands to communicate information related to the impact of the epidemic on their establishment(s) via their Google My Business listing(s). They can therefore use these posts to communicate about a closure, the maintenance of certain services (delivery, tele-consultation, click & collect) or the security measures taken. These posts are to be preferred over other types of posts (events, news & offers) since they appear directly on the Google My Business page and not below.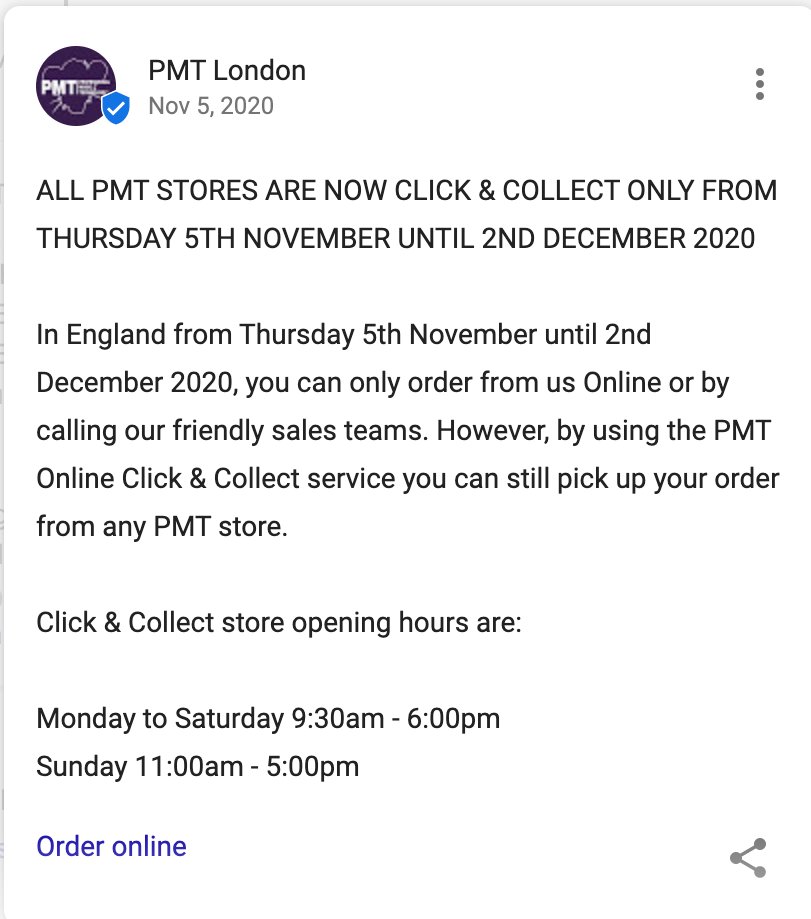 1 – How to publish COVID-19 Info posts for a single institution?
It is possible to publish Covid-19 Google Posts directly from your Google My Business account. Here is the procedure to follow:
Sign in to your Google My Business account and click on the location you want to post to.
Click on "Post" in the left-hand menu. You are then redirected to the post creation page.
Click on COVID-19 info.
Write the content of the post
Add a button if you wish (Book, Register, Learn more) and indicate the associated redirection url.
Click on "Publish".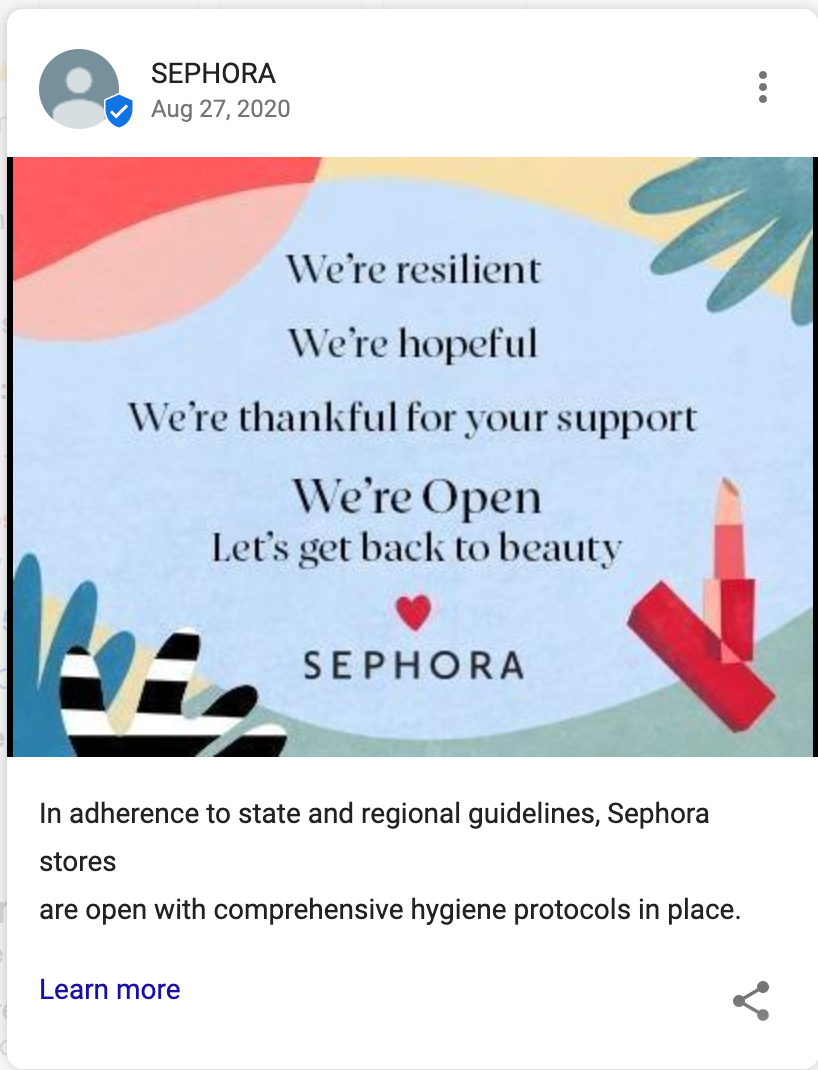 2 – How to publish COVID-19 Info posts for a network of institutions?
Until the beginning of the Covid crisis, Google did not allow networks of institutions to broadcast mass posts, either live or via a third party application. It was therefore very difficult, if not impossible, to use this very important tool.
As a result, the Google Posts for Covid-19 was made available via API, and applications connected to Google, such as Partoo, can now publish them to several schools at once.
Feedback: How did we manage to develop the COVID-19 Post functionality in one week?
In order to understand the stakes represented by this functionality for Partoo's teams and customers, it is necessary to give a little context on the organisation of the customer success team, in charge of customer relations, and on the prioritisation process of our developments.
1 – Customer Success: An integral part of our offer
Although Partoo is a technology company, advice and support are an integral part of the company's DNA.
The Customer Success team, in charge of supporting Partoo's customers, therefore has a support role in using the solution but also acts as a consultant on strategic issues related to local referencing.
With the arrival of Covid, all of Partoo's client brands (more than 300 brands) called them to manage specific operational emergencies such as closing establishments, updating timetables or, as you can imagine, publishing Google Posts, which then only had to be done manually.
Faced with this tidal wave, a crisis meeting was organised between the Customer Success team and the technical team in order to provide concrete solutions to enable Customer Success to respond effectively to their customers' urgent requests.
2 – Technical team and prioritisation: Agility at the heart of our organisation
At the beginning of each quarter, we take all the requests made by our customers and, based on these, define a list of functionalities on which the technical team will work over the next three months. These functionalities are then distributed among different "Features Teams", i.e. teams of 5 people working together on common developments.
This prioritisation in the quarter allows us to remain agile and therefore to be all the more reactive in the case of specific customer requests.
When the Customer Success team presented the urgency of the situation to the technical team, it was decided to pause all ongoing developments in order to focus on the development of the Google Posts COVID-19 functionality.
3 – Fighting in the field!
All ongoing developments had been stopped dead in their tracks to work on functionality.
Each of the 30 members of the technical team has been working on one aspect of this functionality with a single objective: To enable Customer Success to respond effectively to their customers' urgent requests. Five days later, the functionality was finalised.
C – What is the impact for Partoo customers?
In just one week, more than 4,000 posts were published on our customers' listings and they were seen more than 120,000 times!
But it is above all the feedback from our customers that illustrates the importance of this feature and the responsiveness of our teams:
Conclusion :
Although this feature is particularly relevant in the context of the restrictions on businesses related to containment, it will remain so once they have been lifted.
Indeed, this crisis has had a clear impact on consumer behaviour: Whereas proximity and reputation were the first criteria of choice for Internet users when they were looking for an online establishment, we can now add to this the security measures taken to protect consumers.
It is therefore essential for businesses to communicate about these measures, notably through Google posts covid.
If you need support on this subject or any other subject related to your online visibility, do not hesitate to contact us!