At the beginning of January, Google took the decision to support the various governments of the world in the dissemination of information concerning Covid-19 test centres by referencing them on Google Maps.
Note: This feature is only available in a few select countries such as India, Brazil, UK, France, USA etc.
Google Maps is the most widely used GPS in the world and generates billions of views every day, notably via Google My Business on mobile or computer searches. It is thus the first source of information for citizens who wish to go to a screening or vaccination centre close to them.
Local data and Covid-19: The Major challenges
In this article we are going to answer various questions: Where does this data come from? Why are they incomplete? What problems does it raise? How can this information be completed and updated?
Some listings, especially in India are not up-to date or the contact information is not mentioned ( Screenshot below). In this case, it would be beneficial to check with the Ministry of Health and Family Welfare ( If you are in India) for further clarity.
Why does the data need to be updated on Google Maps?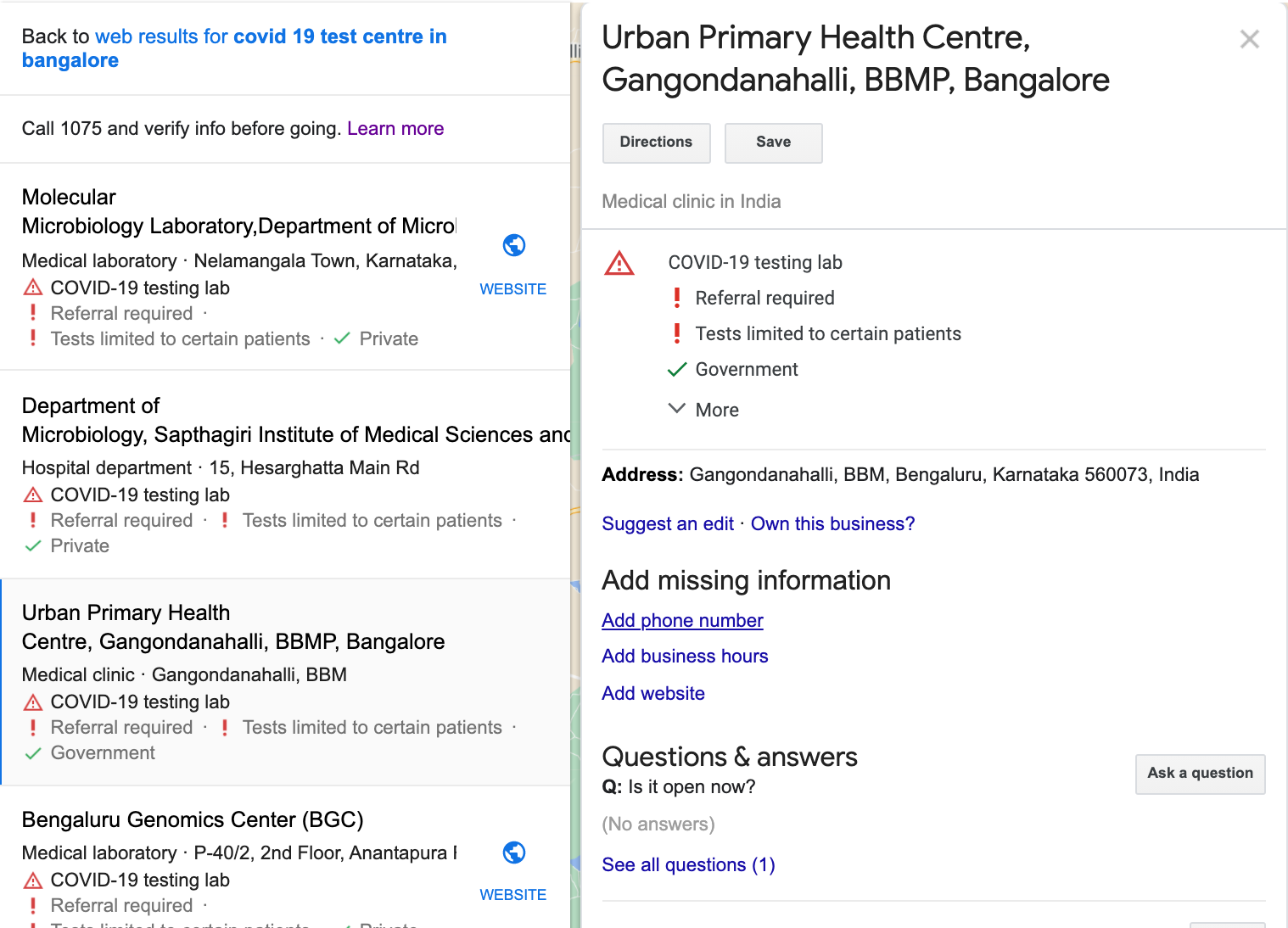 People no longer search on websites, they search on Google.
The question remains: How to find a screening centre close to home?
What has Google decided to do?
Google has therefore decided to support governments in the dissemination of information from screening and vaccination centres by publishing it on Google Maps.
On its site, Google clearly explains: "As more and more administrative authorities and public health services publish information on the screening of COVID-19, we are doing everything we can to ensure that Internet users can easily find them using Google search, while respecting local procedures and recommendations regarding screening. »
At present, Google has therefore retrieved the data provided by the government – but only partially (only the addresses for the vast majority), which provides limited information to Internet users – no website, no timetables, lack of attributes such as 'Need appointment / need prescription', etc.
These Google My Business listings are unclaimed i.e., They do not have an owner and therefore cannot be updated at present. It is up to the State, to recover ownership of them and update them to enable citizens to find out the correct information.
And Google added: "The availability of tests and screening centres varies by region and can change frequently. Information on screening centres is provided for information purposes only. Follow the instructions issued by the Ministry of Health. »
Where does this data come from?
To inform its users, Google has used the data provided by the government in a public way. Google has taken information from various health ministries of different countries to update the listings.
It is a dataset that centralises the sites where virological tests (RT-PCR) / vaccines can be carried out:
Location / Geolocation of the site
Collection methods & type of public received
The opening hours of the site (public & priority persons)
Whether or not an appointment is necessary
Phone / email
The website to make an appointment if necessary
If public data do include timetables, it would therefore seem urgent to update the first source of information for citizens on this subject (Google) and to indicate the additional data of each screening and vaccination centre.
How is it possible to fill in the information on Google Maps easily?
Information on timetables, websites, telephone numbers of vaccination and screening centres can be accessed in two ways:
Via the analysis laboratories directly
Via the government's database updated by the same laboratories.
An API between the government database and Google Maps would therefore make it possible to update information on screening and vaccination centres.
It would be possible to update these data in other GPS devices such as Waze, Here or Apple Maps. This is not the job of the government, which is why it could be useful to collaborate with companies specialising in this subject.
At Partoo, we support more than 150,000 points of sale in updating their local data (addresses, schedules, website, photos, attributes) on about twenty platforms around the world. To date, we employ nearly 150 people in France and in 4 other international offices.
In particular, we already work with many health structures such as retirement homes, medical analysis laboratories and private clinics.
We would be delighted to be able to accompany governments on this subject and believe that collaboration between the public and private sectors is essential to make things move forward more quickly.
We hope we are not alone in this view.
If you know people in government institutions who deal with these issues, please feel free to forward this article to them.