The Post API remains open for the moment, but since this is against Google's wishes, it is likely that it will no longer be open very soon.
Google Posts, a feature launched in June 2017, marked a real turning point in the Google My Business strategy, giving points of sale the opportunity to publish news. From a mapping system, Google Maps has thus become a local social network.
Since then, many things have evolved but last week's novelty represents a second turning point in Google's strategy on the subject – the possibility for chains (network of more than 10 points of sale) to publish Google Posts by API for their entire network!
Although the decision is not final – see paragraph on the subject – it is in line with the developments observed in recent years. In this article we explain how this makes Google Posts a new strategic feature for retailers and how some Partoo customers are already taking advantage of it, only 2 days after the launch – without any official announcement from Google!
Why does this novelty have a strategic impact?
As a reminder, Google Posts allow points of sale to publish news on their Google My Business page via specific inserts as you can see below:
Google Posts can therefore highlight news such as promotional offers, products, events (e.g. sales) or local news.
The brands, organised as a network of points of sale, saw it as a free way to publish local promotions for Internet users intending to buy locally via Google My Business. For several years now, some Partoo customers have been publishing promotional codes for sales, announcing exceptional closures or specific events via Google Posts.
From 2017 onwards, Google wanted to prevent Google Posts from becoming advertising inserts for point of sale networks and the same promotion from being displayed across an entire network. Google's product teams have therefore decided to block the API update of Google Posts for brands with more than 10 locations. In simple terms, this means that no tool – such as the Partoo platform – had until now the ability to automatically publish a Google Post on several outlets in a network. Everything had to be done manually!
For those interested in the technical part, Google had developed a "chain detection" tool to identify GMB records that are part of a network and to block the publication of Google Posts by API!
Friday's news seems to indicate that Google now allows chains to massively communicate messages locally on national initiatives via tools such as Partoo.
How were the Partoo teams informed?
At Partoo, we have known for a long time that Google Posts are an essential part of the local communication strategy. We therefore decided to develop an interface that allows you to publish, monitor and edit Google Posts on Google My Business, as you can see below.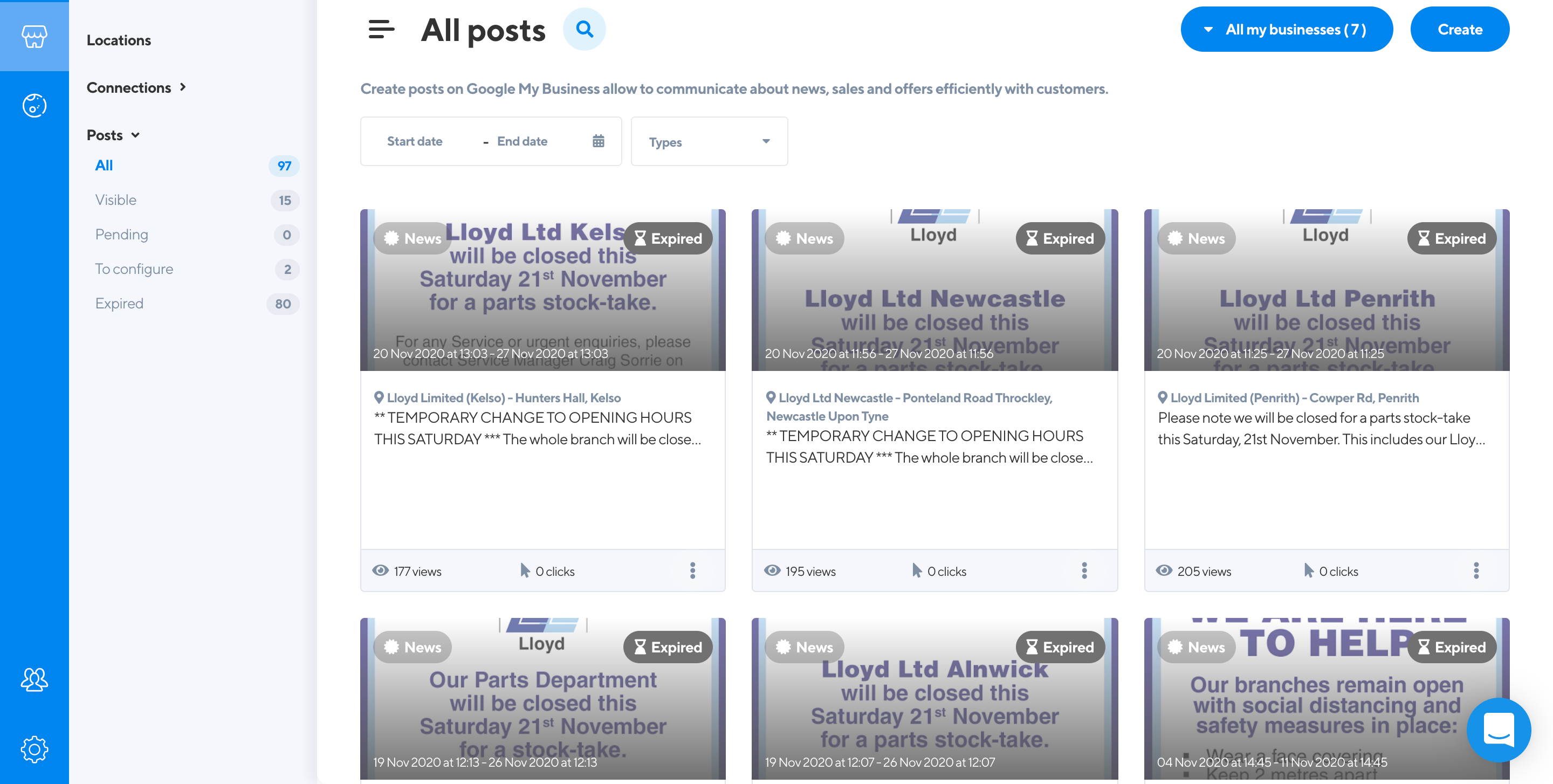 In order not to create a disappointing feeling, our tool also detects whether your point of sale is eligible for Google Posts: if it is the case, the feature appears, otherwise it is not displayed.
Until a few weeks ago, our tool did not display the Google Posts feature for brands such as Toyota, Carrefour or Leclerc!
On Friday, several of our staff members reported the sudden appearance of the functionality for customers who were not normally eligible! We therefore carried out tests to validate that it was not a bug in our platform. Given the success of the tests, we finally decided to contact Google to confirm that the modification was well desired on their side and would potentially be maintained over time.
This weekend, we wanted to test this possibility and worked with the Carrefour teams to multiply the number of promotional offers for Valentine's Day ( In French), see below:
The history of Google Posts
If you want to know more about how to publish Google Posts, please refer to our articles on the subject:
How to use Google Posts on Google My Business?
How do Google Posts work?
This news, also leads us to go back over the history of Google Posts via the timeline below:
Among the highlights, in addition to the official launch in June 2017, was the implementation of new types of Google Posts in July 2018: products and promotions.
But it was finally the Covid-19 crisis that led Google to make Google Posts a central feature of Google My Business via Covid-type posts. Thus, in April 2020 and for the first time, retailers were able to publish Covid-type Google Posts via API. The main purpose of these posts was to inform Internet users of specific Covid measures taken locally.
This new feature also enabled Partoo to support its customers by automating the publication of Posts for retail or healthcare networks. Indeed, apart from automation tools, it is not possible to multi-publish Google Posts via the Google My Business interface or via excel file imports.
*****
If these topics are of interest to you as an agency or advertiser, please do not hesitate to contact us by email on contact@partoo.fr.