We had the opportunity to hear from Pedro Reoyo, Marketing Director, and Alberto Albert, Digital Marketing Manager, at Grupo Vitaldent about the importance of their digital strategy in creating an optimal customer experience.
From how their clinics deal with all the reviews, to what results their SEO strategy has brought them, among other topics, Pedro and Alberto tell us in detail what it takes for a digital strategy, in a sector as specific as health, to be successful.
1: Hello Pedro and Alberto, could you introduce yourselves and explain what your functions are within the Vitaldent Group?
Pedro (P): I am Pedro Reoyo, Marketing Director at Vitaldent since November 2019, and my mission is to improve the confidence of all our patients and bring dentistry closer to everyone. Moreover, I am a firm believer that satisfaction causes more satisfaction and that is why we also seek to share it, take care of it and improve it: this would be my great goal with this job.
Alberto (A): I am Alberto, head of digital marketing at Vitaldent and I joined the company 3 years ago. After starting this new digitalisation project at Vitaldent, we have seen how the company's vision of the future of general dentistry has changed. What we want to do is to make dentistry accessible to everyone, and for people to have good oral health with quality treatments, and to do this, digitalisation allows us to get much closer to the local people, both in the cities and in the neighbourhoods where our clinics are located.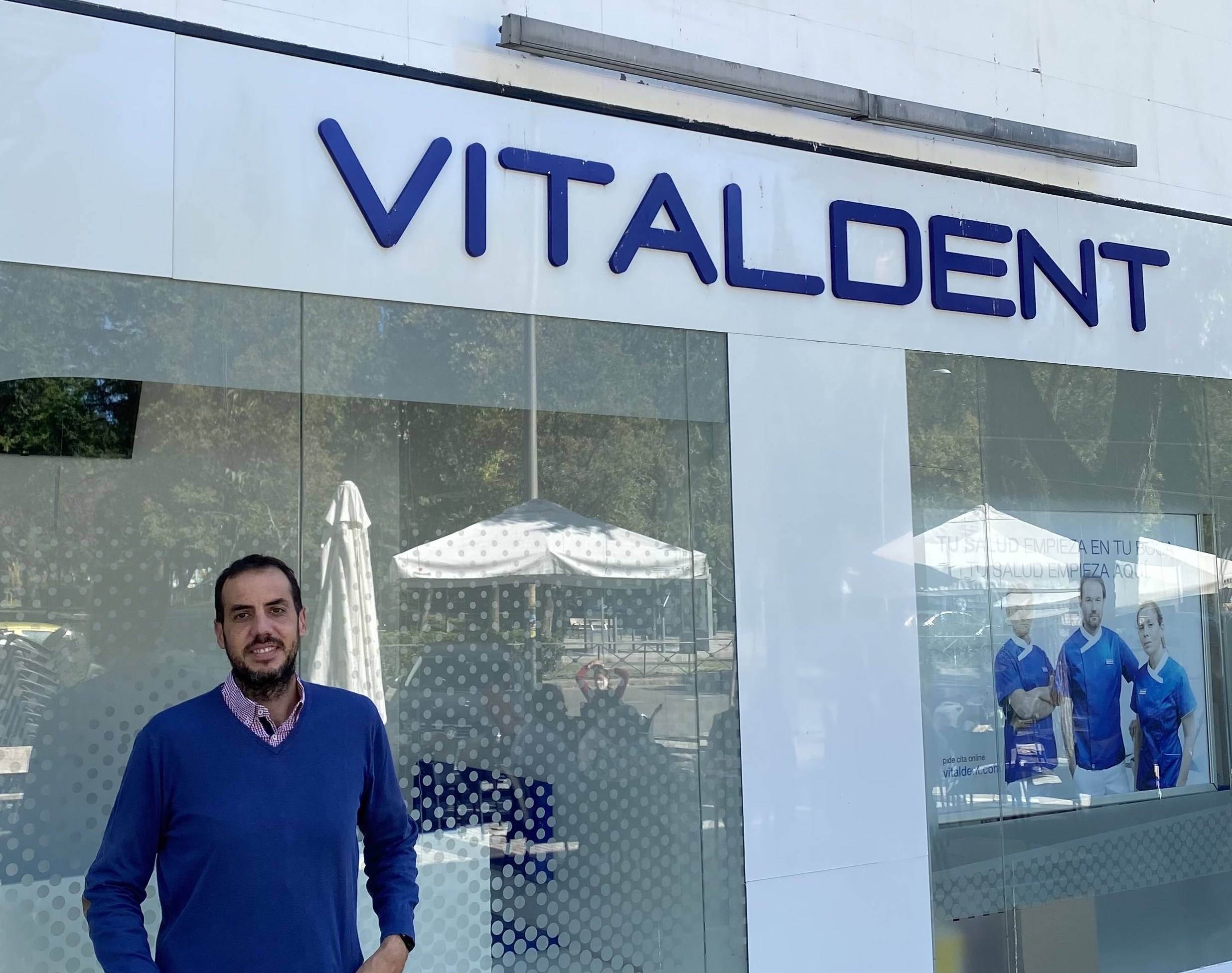 2: What were the main problems or difficulties you have encountered in your sector that have pushed you to undertake a digital strategy?
P: Healthcare is a sector that is very sensitive to digital reputation because patients need to have confidence in us and be very sure of where they are going before they put themselves in the hands of a dentist. Coming to a dental clinic is not like buying a new car, it's an experience in which you have to be confident and have the certainty that you are in the hands of the best professionals. And working on a solid digital reputation was what we wanted to achieve, putting the patient at the centre of our strategy, getting to know their concerns, their suggestions and their complaints through their testimonials in the form of Google reviews.
In short, we wanted to get to know our patients much better. Proof of this is that we have gone from responding to 7% of reviews to 77% in the last 2 months. If we give the necessary importance to the patient, then we can build a solid digital reputation, and share it with current and, above all, future patients.
3: We have recently gone through a very complicated period with Covid-19, how have you dealt with the situation and in what way has it helped you to overcome a digital project like this?
P: Of course, at the beginning we were caught off guard. I remember that on 13 March, 2020 in the morning we were working with some trepidation, and in the evening we were preparing a crisis plan. We had to react very quickly. We closed the clinics for the safety of patients and teams, and we also did our part to help decongest the hospitals, so we relied on Partoo to manage all the changes we made such as changes in opening hours, temporary closures of clinics, opening of some other clinics and also highlighting what services we offer and what services we don't offer. Vitaldent also opened a call centre service activated with our doctors.
All this helped us at this time, but above all, once we gradually opened our clinics, is when we got the most out of it, highlighting the security protocols that we had implemented in each Vitaldent clinic so that patients would be completely at ease and come with total confidence.
4: What made you choose Partoo?
A: There were two things: on the one hand, Vitaldent's need to cover the local part of the clinics, which at that time was not well covered. As Pedro said, it was very important for us that users had all the information about our services and opening hours on the Internet, as this is where they consulted us before visiting our clinics.
In this case Pedro presented me with this proposal, internally we considered others, but what Partoo offered us was above the other tools on the market.
It was also important to know that on the one hand the tool makes it easier to manage the company's general information, but on the other hand, it helps us to work individually from each clinic.
On a technical level, the tool is very intuitive, very simple and contains a lot of information. When you see all this together, it makes it a "top" tool. And finally, a compliment to the work of Roberto, our Customer Success, and the team behind him who help us in all this management.
P: Support is very important so that everyone can use it. Introducing a tool that had never been used before, which initially costs a lot, can be a challenge. We have to implement protocols so that our teams in our clinics are trained, and this is where the customer success team is really helpful.
On the other hand, I would like to add that my obsession is for each clinic director to be the marketing director of each business unit. Our sector is a sector of proximity, of people, which means being where our patients are and, based on this tool, managing more effectively from the premises, which is where our customers are.
5: What internal processes have you set up to develop this local SEO project ? Have you delegated to local, what responsibility do you give to local?
P: The main thing we have established is the need to respond to reviews, both positive and negative. In this case, our priority is to respond to negative reviews as soon as possible, within 48 hours, and then to deal with all reviews.
Years ago, when I started working, a former boss of mine, the boss and founder of Decathlon used to say to me "You have to show people that they are important to us," and this has stuck with me. So when a customer bothers to leave us a review, what we have to do is show them that they are important to us, and thank them and respond to them.
And for that we have set a quantitative target: We want to exceed 25,000 reviews by the beginning of next year and create a solid digital footprint, and we want all our Google My Business listings to be up to date with updated photos, with all the information that can be useful for any user, and we want to be able to share locally all the events that are done, trainings, talks, etc.
6: Speaking of the direct relationship you have with Partoo, in terms of support, what does a figure like Roberto, our Customer Success Manager, bring to you?
A: In the end, what I was talking about is not only the tool, but also the support. In this case, Roberto has always had time for us, to carry out any query or report I have asked him for. And not only that. We have around 300 clinic directors, so he also helps us in the training of each of these directors, explaining the tool to them and being there for any kind of doubt. In addition, every time we incorporate new clinics, Roberto offers to do this training. A figure like him is very essential in this journey. Technology is important but also the accompaniment of the person. We are grateful to Roberto.
7: What do you think about working with a centralised interface like Partoo, do you find it easy and user-friendly?
A: I think a very important part of the tool is that it is very intuitive. Roberto gave us a personal demonstration, but then when it comes to working with it, it is very simple and straightforward but with a lot of information, and with easy navigation and data extraction. And in today's technological age, where you often find yourself with data and information that is really complex, Partoo is a very simple tool, both for the head office and for local clinic managers.
8: In terms of results, what are the KPIs that add the most value to a digital project like this?
P: What I consider most important, first of all, is the percentage of reviews treated. As I said before, having the patient at the centre of the strategy:
The first thing to do is to respond to them, interact with them, give them the maximum of prominence.
Secondly, the volume of reviews. If I have a clinic that has only one review, it means there is work to be done. If I have a volume of reviews like now, over 13,000, we start to have an important and relevant digital footprint. In the case of very few reviews, they are not going to be as relevant for future users.
And finally, in those reviews, the score should be higher than 4 out of 5.
9: Talking to Roberto about reviews, he told me that you have a very interesting perspective on them, could you tell me more about them?
P: For me the most important thing is to create the habit in each clinic director, because as I said before, our business is a business of proximity. A business with local anchorage, where we have to know our patients very well, where we have to be very well integrated locally and participate in that social environment. And all this has to be transmitted through our photos, through our reviews. What I want is for it to become a local marketing tool because we have to make this proximity business more and more local.
10: And finally, what advice would you give to a counterpart starting a digital project like yours?
P: The sooner you start building your digital reputation, the better, because later it will cost you. It's a long process, of creating habits, and it takes a long time, time in which the competition will eat up all your ground and it will be difficult to recover it. "Don't put it off until tomorrow" would be my final piece of advice.
A: Obviously what Pedro says and what my mother also said "Don't put off until tomorrow what you can do today". Time is key, the sooner you start, the sooner you will have results. In this case, Vitaldent has been grateful for the incorporation of Pedro, because until now we were a little behind in this aspect, but we have put the batteries and we can already see the positive results. Moreover, if it was necessary before, it is even more necessary now with the famous digitalisation of all sectors. In the end it is very much related to recommendation: previously it was word-of-mouth and now many tend to this digital concept. Nowadays, not having this type of solution is a deficiency in any type of business.