Tuesday 30 November 2021 – Speech by Sandrine Landon, Head of CRM & Digital Communication, on the use of the new "Messages" product in 19 shops.
We invite you to discover her testimony by reading the written transcript which can be found below.
INTRODUCTION
Sandrine Landon: "From 16 October to 20 November 2021, we equipped 19 points of sale with Google's Business Messages functionality in France and Switzerland.
At King Jouet, we are attentive to innovations and are ready to change our habits to improve the customer experience, so we did not hesitate to do this test. We are curious and convinced that messaging will be indispensable in the near future."
COLLABORATION BETWEEN THE CENTRAL AND LOCAL LEVELS
Landon: "From the beginning, we wanted to open up to the local market. We attach great importance to being close to our customers in shop and we believe that our point of sale employees are best placed to advise and sell our products. We have opted for a collaborative operational set-up. The idea here is not to impose a new functionality but to be a sales support tool, which is why we have :
Initially selected by regional ambassadors in a limited number of outlets in order to slowly introduce the solution to the entire network, starting with the outlets most sensitive to the technology, which will therefore have an easier time adapting.
Then proceeded by majority vote to define the editorial line and the key answers. This stage allowed us to establish consistency in our responses. For example, I proposed a welcome message that we had everyone vote on, which avoided having employees who subsequently dissociated themselves from the solution.
Segmented the answers into 2 sub-categories: general information questions which I handle and those related to purchase intentions managed locally on the ground as they have the stock information, on the products and are best placed to advise our customers.
Following the integration of a chatbot into our website 2 months before using Google's Business Messages, we noticed that this channel was mainly used for support-related questions. This confirms the complementarity of these channels and once again the importance for the customer to have a direct contact with the brand.
We have also re-used the tone, editorial line and response templates already in place for the management of reviews on our Facility Sheets via Partoo's Review Management product, which makes it possible to harmonise and be consistent in our discourse between the different exchange channels. It also saves us a lot of time.
Then, thanks to an internal communication tool, we share our best practices, advice and alerts. This system therefore once again allows us to harmonise our communication and convey King Jouet's values."
65% OF MESSAGES ARE PURCHASE INTENTIONS
"Thanks to the analysis made by Partoo, we realise that the vast majority (65%) of our requests are linked to purchasing intentions, for example a request for availability in stock or the price of a toy.
It is therefore an opportunity for us to attract new customers and/or retain them. Messaging is then a new sales channel. But the support part is starting to take on a little more importance with regard to questions about receiving orders in shop delivery." says Sandrine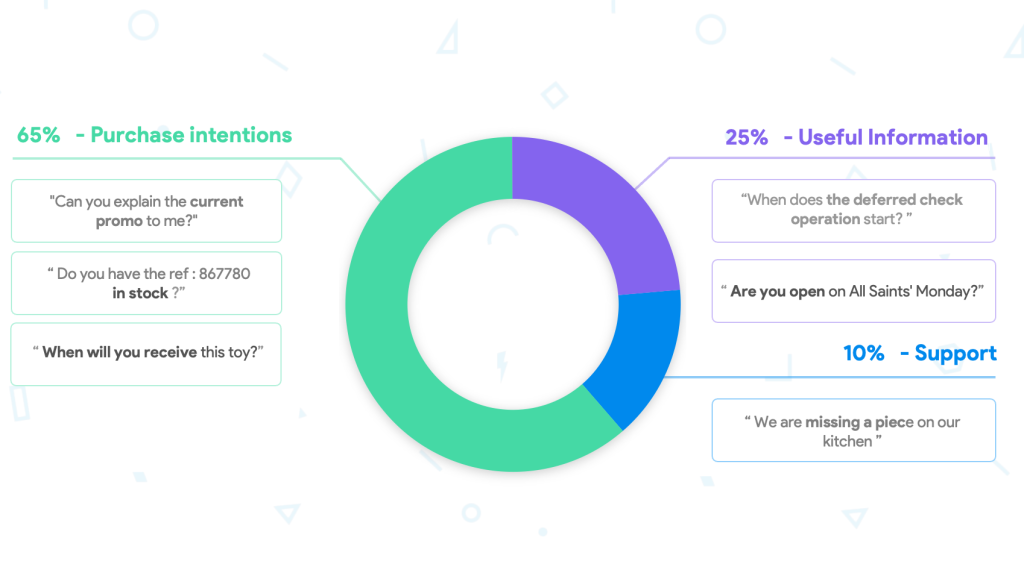 DIFFERENT OBJECTIVES FOR THIS TEST PHASE
SL: "We have defined different quantitative and qualitative objectives around the customer experience and the integration of the solution.
Our ambition is to get the entire network on board and to optimise the impact of the load on the employee, i.e. not to exceed a certain quota on his or her main activity in the field. Ideally, we want a 6-hour response time to messages. We have not yet reached these figures because it is not yet part of the habits of the employees on the sales floor, but we are getting closer by
Educating managers and employees to convince them of the value of the tool and thus facilitate the learning process
Gathering user feedback in the field to understand good practices, difficulties and areas for improvement through our internal communication tool and to better understand the roll-out to the whole network.
Defining good practice and standardising it across the network
We are below the 24 hour timeframe recommended by Google, which is a good thing, but we still have work to do to make it more fluid. We are also waiting for new features such as the mobile app and notifications to maximise our responsiveness."
A TRIPLE INTEREST FOR THE DEVELOPMENT OF KING JOUET
SL: "Google's Business Messages are part of a context of immediacy, customers have access to a lot of information but they don't want to make the effort to look for it [information], hence the importance of opening an instant communication channel: they need assistance or support.
This feature has 3 major interests:
Support, improve and make the main activity more fluid by better equipping the employee. This should not be a burden for them or a waste of time, which is why we don't want to put them under pressure, especially with the holiday season coming up and the high demand ahead.
Reassure customers. For example, they need to check the opening hours to avoid unpleasant surprises, Google's Business Message is there for that, to allow customers to have confidence in the information published online and on the establishment's files.
Understanding and anticipating market needs. We had the opportunity to observe an atypical case: the great trend of certain products. This enabled us to manage stocks, adapt the offer and prevent this strong demand rather than suffer from it. So we anticipated by proposing a uniform multi-channel response."
58 CONVERSATIONS SPREAD OVER 16 SALES OUTLETS IN FRANCE
SL: "Here are our results so far:
In 6 weeks we had 58 conversations in our 16 sales outlets in France
If we extend this to the whole network, i.e. 102 points of sale, this represents a potential volume of +10,000 messages per year
The average time between 2 responses is 17 hours, which is in line with Google's guidelines, but we'll come back to that later with the objectives!"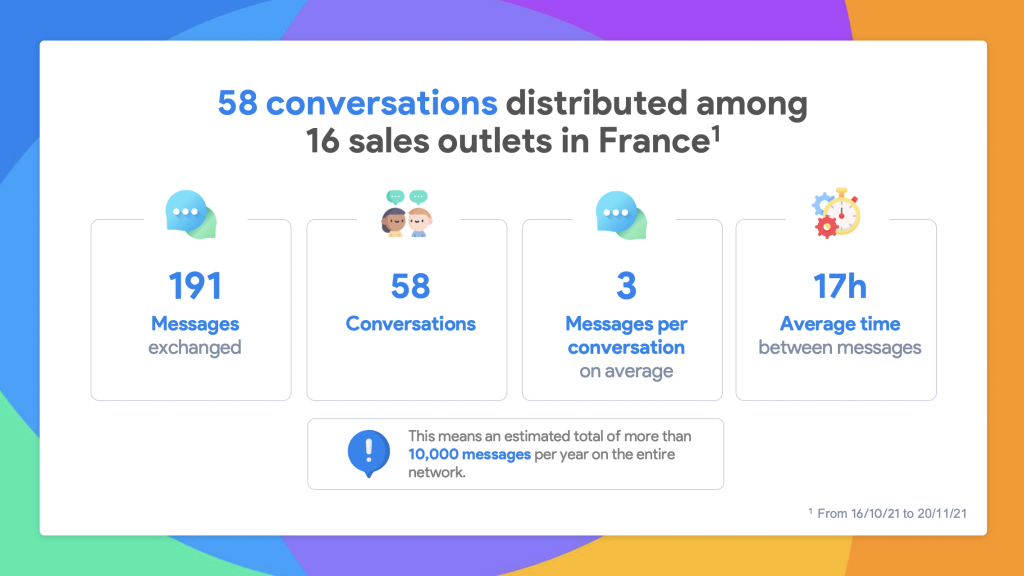 TIPS FOR EFFECTIVE IMPLEMENTATION
SL: "Based on our experience, we have retained some good practices for a good use of the tool.
Choose the right time. That is, don't ask your employees to adapt to a new tool in the middle of a high season, which could disrupt the main activity.
Target the first users. That is, the ambassadors who will drive the change. Ideally, choose outlets that are sensitive and open to innovation and technology. It will be more natural for the rest of the outlets to follow suit.
Organise internally. Who answers which messages? What values do you want to convey? What tone do you want to adopt? How will you share information between employees? How important do you want this channel to be in the relationship with your customers?
Finally, define rules internally and set up centralised weekly monitoring and support for the application of the rules set at launch and for the entire duration of the use of the solution. This is important to ensure consistency between your points of sale and the various communication channels (direct sales, notice management, messages, etc.)"