Google Posts allow businesses to communicate local news, such as the launch of a new service, or upcoming events. Once published, this short message appears in your Google Business Profile and can be the gateway to attracting new customers.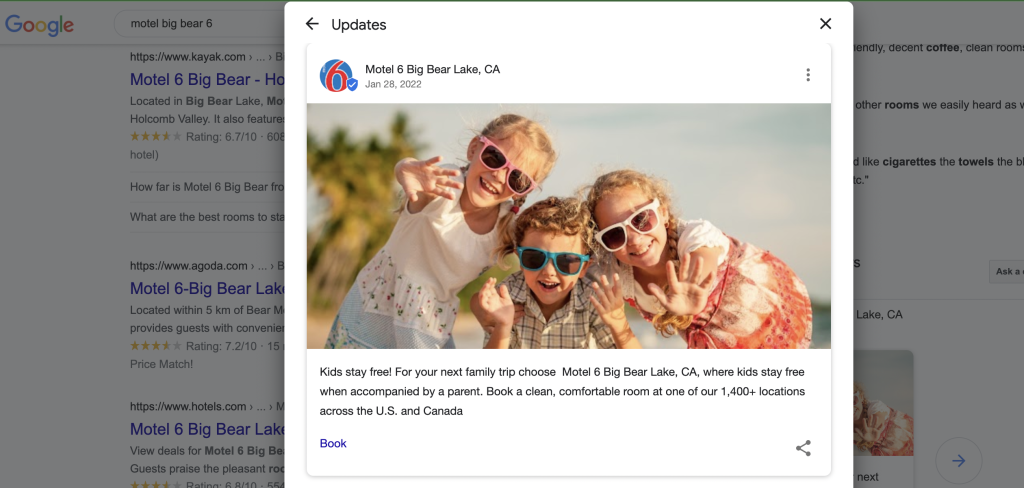 Why publish Google Posts?
Google Posts have many benefits for businesses. They allow you to communicate on local news and keep a close link with your users. They improve your ranking in search results, and in effect, generate additional revenue for you. It is also a great way to stand out from the competition.
What has changed?
Google has announced that hotels can officially use Google Posts to communicate about their establishments. Please note: access is still somewhat limited as "Offers" or "Promotions" type Posts are still not accessible.
Google has updated the content document for posts in property listings to add a section for "hotel publications".
The new rules are as follows:
Hotels can create local posts to provide relevant information to guests at the right time. Examples of relevant posts include: COVID-19 protocols, information about services or renovations, and hotel events.
Hotels are not allowed to publish posts for offers, nor any posts that link to or suggest offers, promotions or discounts. This will make it easier for guests to find the rates offered by partners (including those from advertisements) on the hotel's page.
Not for promotional purposes. Google's aim is to avoid confusing people. Why is this? Because the search engine displays hotel prices in its results, these rates may be different from those shared in Google Posts and lead to general confusion.
Hotel updates. You can use it to communicate rules or changes in the hotel, e.g. regarding COVID-19, renovations, events in the hotel, etc.
Why this is interesting. Because after years of restriction, hotels can finally use Google Posts to communicate, and that's great news.
For more updates on search engine optimisation, follow our LinkedIn page.