Local Surfaces: How to display Google Shopping for free in Google Business Profile?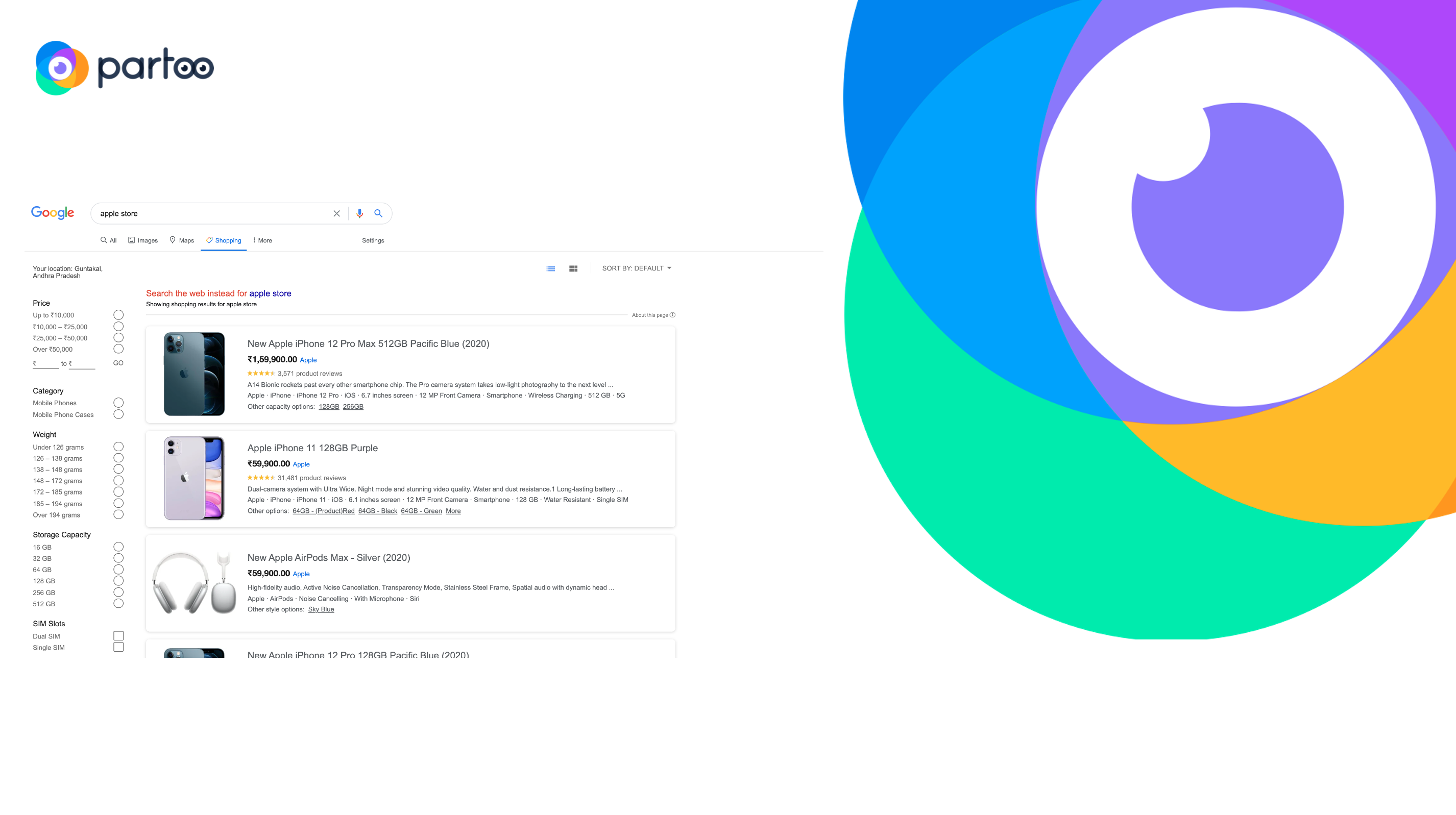 In April 2020, Google revolutionised the world of e-commerce by announcing the free distribution of products in Google Shopping results. This new approach, initially launched in the United States, is gradually being rolled out throughout the world.
This is a major change for Google Shopping after eight years of pay-only service. For retailers, it simply means that it is no longer necessary to advertise to appear in Google Shopping – in fact, most results are now organic.
In particular, this has an impact on local SEO as Google Shopping products can now appear in Google My Business listings for free: viewing and clicking on products in the listings costs the store nothing.
Partoo describes in this article all the implications of this novelty! Here we talk about LIA, Merchant Center, Google Shopping and of course Google My Business ?
1. What is Google Shopping?
Google Shopping is a search engine specialising in paid product ads and now also free ads deemed relevant by Google following the user's request. This is a step backwards for Google because this product, which was then called Froogle, was free before becoming paid in 2012.
Internet users can access Google Shopping via the "Shopping" tab on the Google's search engine or in the Google application. A carousel of ads may also appear in search results after certain queries.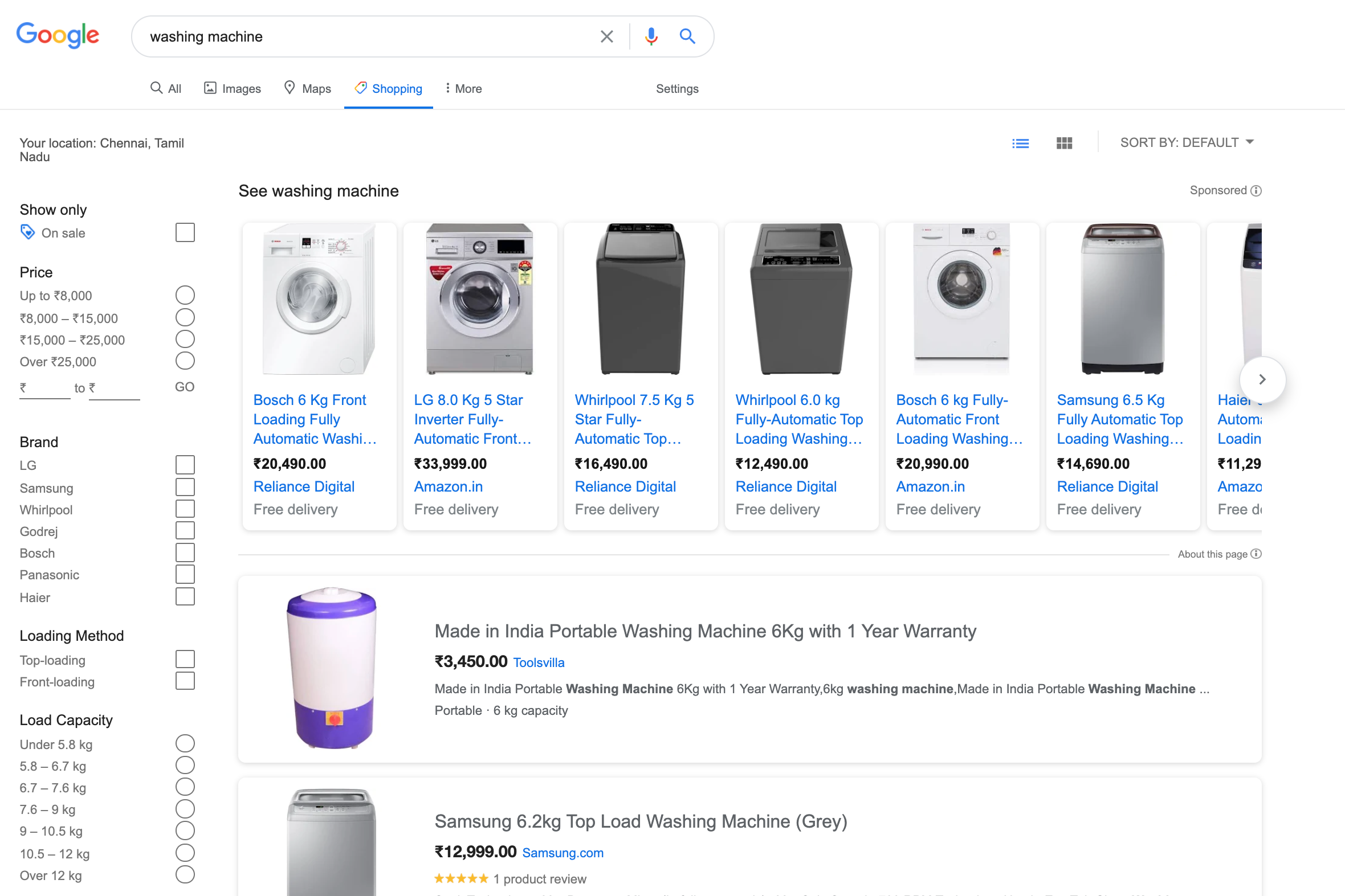 Users can refine and filter the results displayed by Google Shopping in the same way that retailers' sites or marketplaces such as Amazon do. This includes the ability to view products available for "Buy on Google". We'll come back to this later. Ads may not always appear when certain filters are applied.
2. What is 'Google Local Surfaces'?
Google Local Surfaces allows you to display your products for FREE on a range of Google media: Google Images, Google Shopping, Google Lens and Google Search.
Google explains on its Help Center: "Just as we do not charge for sites that are part of the Google search index, we allow products from participating merchants to appear for free in the results of in-store products on the different Google platforms."
If you have physical shops, there is a separate program in the Google Merchant Center (GMC) called Local Surfaces that allows you to display the products available in the shops on Google Search, Google Images, Google Shopping, Google Lens and of course Google Maps and Google My Business!
What is Google Merchant Center? It is a service created by Google in 2010 to import data relating to retailers' product catalogues into Google Shopping.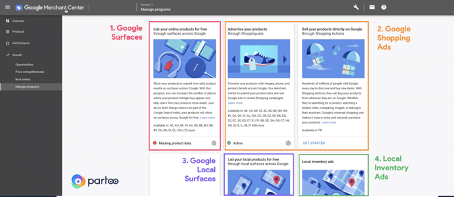 As can be seen above, various programmes can be accessed from the Google Merchant Center :
Google Surfaces
Shopping Ads
Local Surfaces (including distribution on Google My Business)
LIA also known as Local Inventory Ads
Now let's see the link between Google Free Shopping, LIAs and Google Local Surfaces which allows you to show your stocks of products in Google My Business in just a few clicks!
3. How can I make my products appear for free in Google Shopping?
To start showing your products for free on Google Shopping, you must have a Google Merchant Center (GMC) account. This is where you will be able to set up your shop and enter all the information about your products. Creating and using Google Merchant Center is free, whether you advertise on Google Ads or not.
A product feed is a structured file, spreadsheet or API connected to your database that contains all relevant information about the products you sell, including an optimised product title, description, images, or price. You can find the complete list of product flow attributes here. Upload your product feed to the Google Merchant Center in order to be able to place paid ads or be included in Google Shopping organic listings.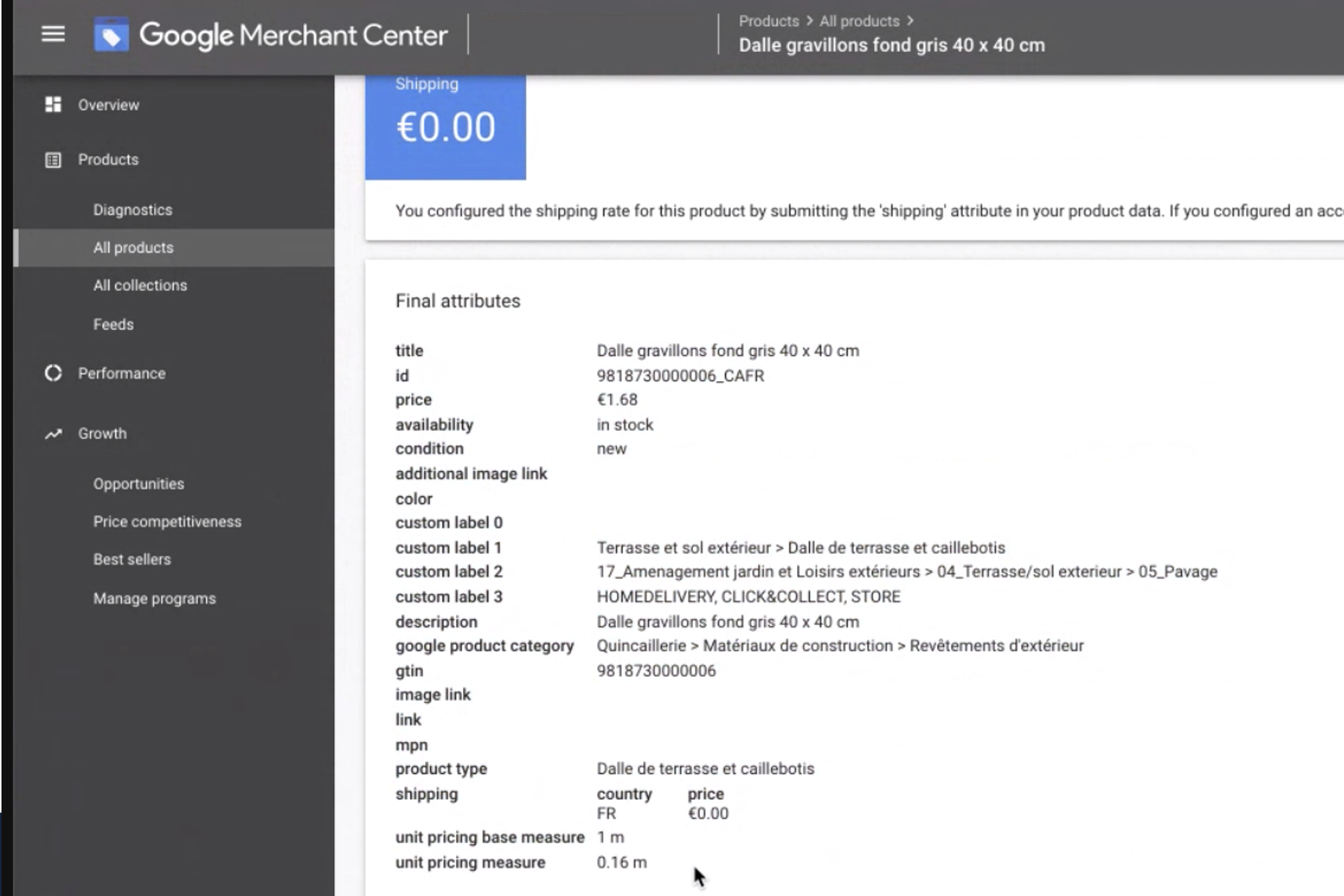 Manually creating and uploading a product flow to Excel or Google Sheets is an option, but this is cumbersome to manage if your products, stocks or prices change regularly. The best thing is to automate the creation and uploading of product flows, and there are several ways to do this.
Most e-commerce platforms have plugins or applications that automatically generate product feeds, or a developer can create a feed that will update itself automatically. Indeed, solutions such as Shopify, BigCommerce and WooCommerce, have integrations to automate product data and stock updates in the Google Merchant Center.
You can also publish your feed in Google Sheets, host a file on your site and schedule data retrieval by Google on a regular basis or, for larger and more complex accounts, use the Content API for Shopping.
To activate Google Surfaces from your Merchant Center :
Click on "Growth" in the left-hand menu of GMC.
Choose "Manage Programs".
Select "Promote your products in-store for free".
4. How do I activate the "Local" part of the Surfaces programme?
To activate the "local" part of the Surfaces programme, it is necessary to have a separate local product inventory flow which lists the products available in your shops and which is updated at least once a day.
Advertisers who have already activated Local Inventory Ads (LIA) within their Merchant Center can activate this feature, all they need is an opt-in to have the products appear in GMB via Local Surfaces. As explained in the introduction, this functionality has no display and click costs. In fact, it remains active even if no LIA campaign has been created: all you need to do is opt in.
The only difficulty is the implementation of an LIA flow, which is quite complex (volume linked to product information for each shop, data not up to date, etc.). In this case, there is an inventory verification process in 2/3 of the shops in your network, the aim of which is to validate your eligibility for Local Surfaces. You must then provide Google, by phone, with proof of stock for 10% of the products in your Merchant Center flow!
Below you can see that there are two types of feed: the first with your product information (price, description, name) and the second, the "local product inventory feed", which corresponds to your stocks at the point of sale. Below in this screenshot, you can see the words "Inventory verification: verified".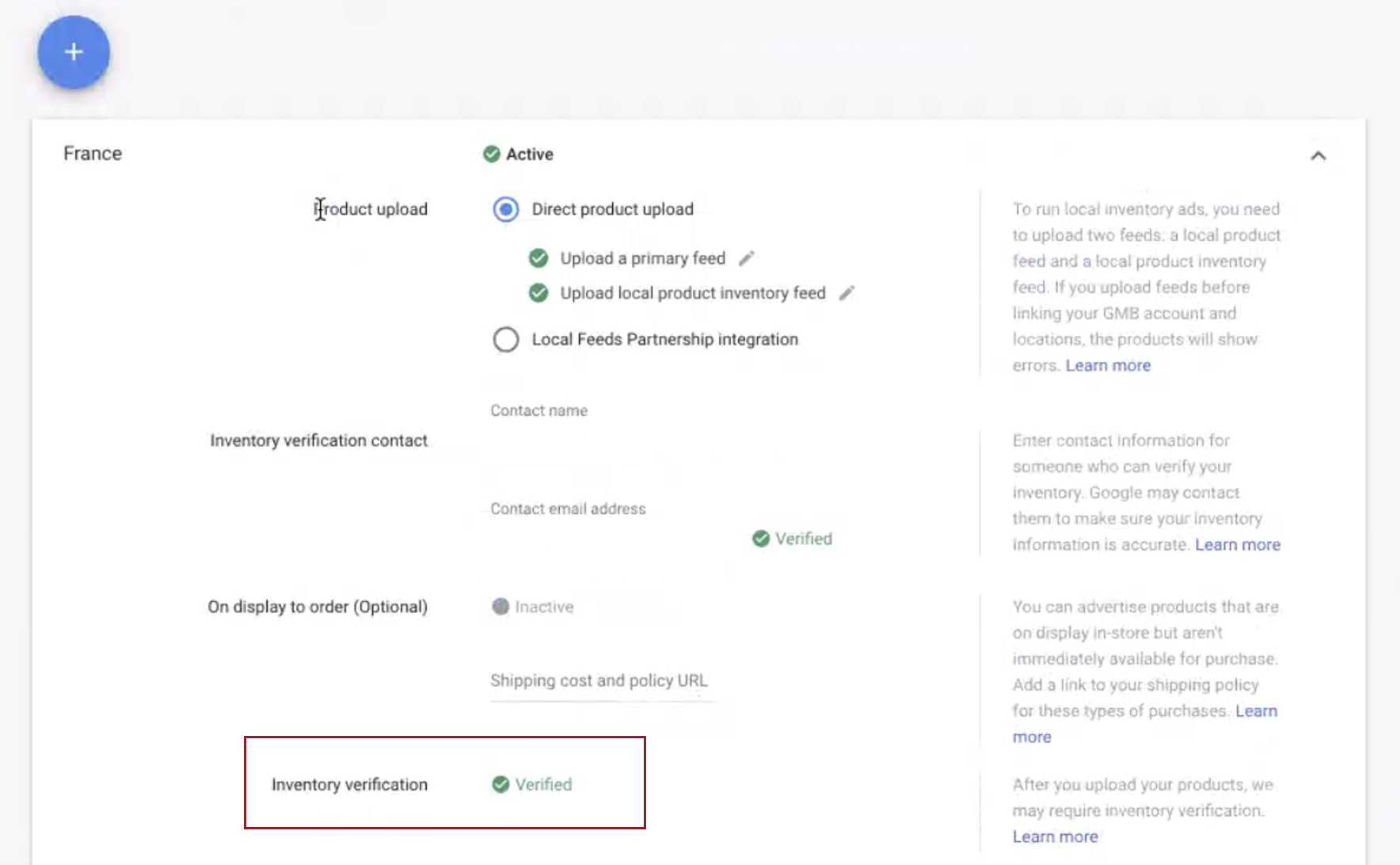 To view your products in Google My Business, you need to associate your Merchant Center account with your Google My Business account. To do this, make a request in the Merchant Center and then validate it from your GMB back office – or ask your Partoo account manager if you've had the right idea to trust us with the management of your online POS data!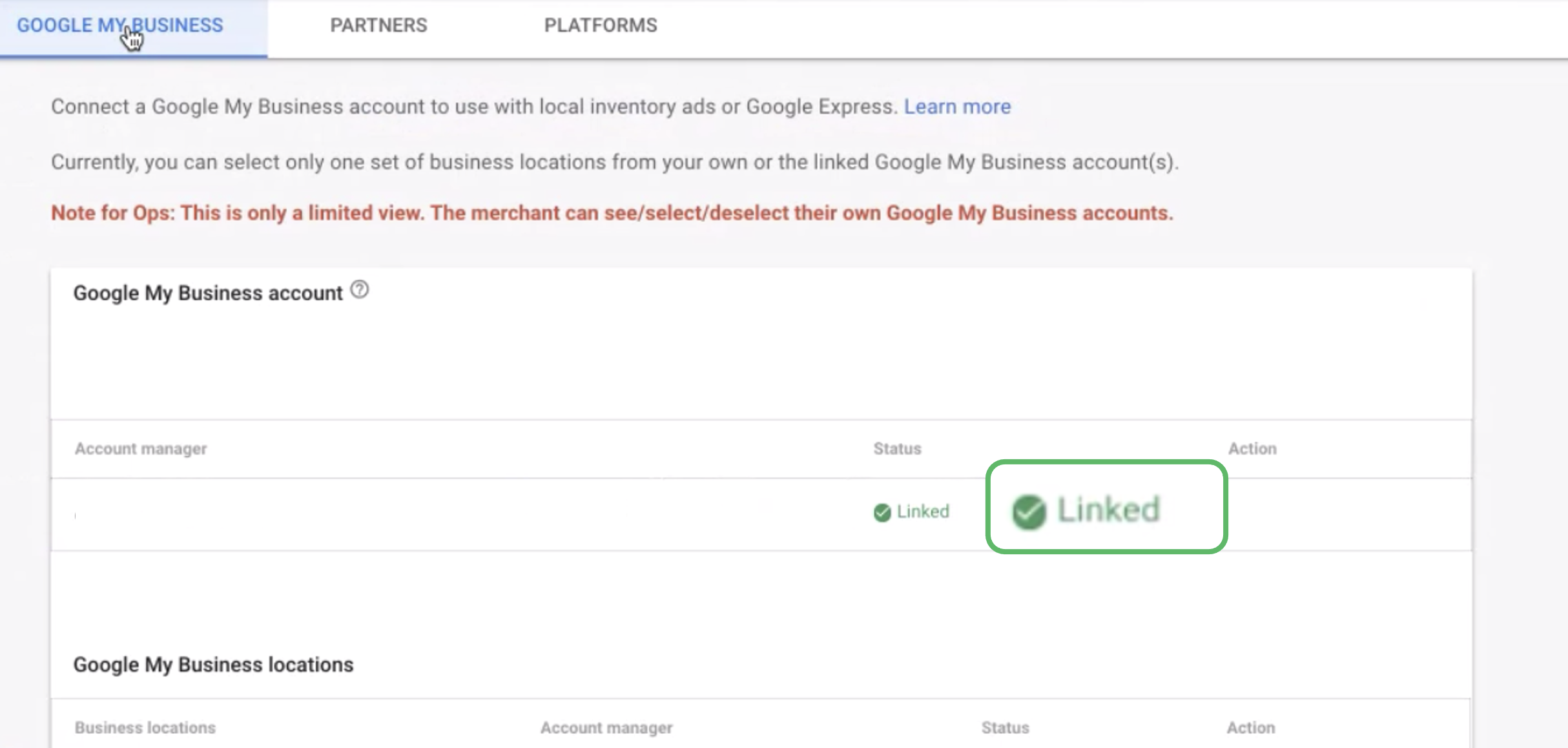 Now that you've set up the display of Google Shopping products in Google My Business, let's answer some more questions you may have.
5. What do the free Google Shopping Ads look like?
On the computer, there is little difference between paid product ads and organic product ads as you can see on the screenshot above. However, on mobile phones, Google displays organic ads in several ways depending on the product category.
Most of the time, they are displayed in a list in a horizontal way as on the top end of the screenshot above. But you can also see them displayed side by side with slightly larger photos and Google can sometimes test other formats such as full-page photos.
Google allows you to compare prices, delivery and other elements when several shops offer the same product. As you may have noticed in the capture above, the user can either click directly on the seller's name or on "Compare prices from more than X shops". Clicking on this link will display a list with seller reviews, return policies, discount offers and delivery rates. These listings link back to the retailers' websites.
6. How to track and measure traffic from Google's organic product ads?
Google has added reports in the Google Merchant Center to show paid and unpaid clicks. You can find the graphs on the "Overview" page in GMC, and there is a new performance report that shows clicks from the Surfaces program.
In Google Analytics, clicks from organic product ads are grouped together with "Google / Organic" traffic. This means that you cannot compare the results of your organic ads with your traditional organic traffic. On the other hand, a simple tagging procedure will allow you to obtain more precise information on the performance of the clicks made on your Google Shopping product ads.
You can add tagging directly in the feed or by using the feed rules in the Google Merchant Center. In Google Analytics, make sure that the Advanced Settings option to manually edit tagging is not checked in your Google Analytics property settings.
Once your feed has been reorganised, you will be able to see how these free clicks from the Surfaces program affect your website.
7. How can I optimise my products for Google shopping?
There are several factors that can improve your visibility in Google Shopping. Price and product titles are two of the most important levers when it comes to optimising product placement. Here are some resources to help you optimize your product flow for Google Shopping.
Optimizing product titles
Research has shown that optimising product titles improves the impression and click through volume in Google's purchase ads, the results are likely to be similar for organic listings. Understanding how users search for products like yours will help you create well-optimised product titles in your feed.
Keyword search sources
If you already run Shopping campaigns, make sure you use your search keyword reports to understand which keywords trigger your product ads. Consider adding popular keywords that work well in your product titles to increase the share of your product impressions.
The Google Search, Shopping and Images results pages themselves also offer a wealth of ideas for finding keywords. In the shopping results, look at the filtering options that Google displays for your product categories. Google also displays the most popular filtering options and similar searches at the bottom of the search results pages.
Pricing
If you run Google Shopping ads, the Price Competitiveness Report in the Merchant Center allows you to compare the price of your products with the competition. To use this feature, you must register for Market Insights in GMC. This report only shows ad data, but it can help you determine whether your prices are in line with market prices. Make sure that the price data in your feed corresponds exactly to the prices listed on your web pages.
Discounts, sale prices
Google tells you when products are on sale when you use the "Sale Prices" attribute in your product feed. Discounts may appear as a "price drop" or "sale price" banner in Google Shopping.
Product images
High quality product images are essential. In addition, the background is going to be very important. The standard recommendation is to show your images with a white background. This is a good rule but there is room for experimentation. For example, showing a furniture product in a room can show the scale and help users to visualise the product in their own space. Where possible, add multiple images to your feeds using the additional_image_link attribute. You can add up to 10 images per product.
* * * * * * * *
As announced in this article you have the possibility to display your products for free on several platforms including your Google My Business records. The only difficulty may be setting up a feed to update the quantity of products and new products regularly. The Partoo teams remain at your disposal to discuss and answer your questions on these subjects.
Was this article helpful?
Yes, thanks!
Not really...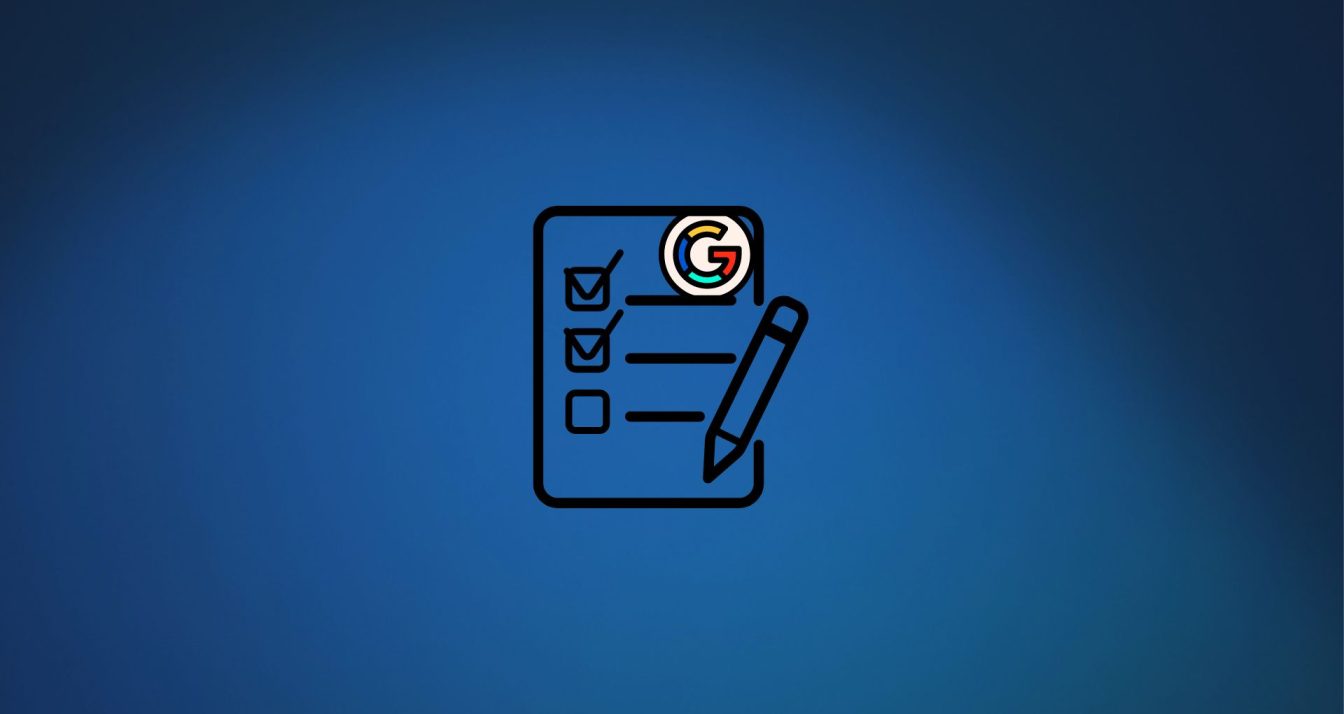 22 September 2023
Google regularly updates its guidelines for businesses using Google Business Profile (former Google My Business)….
31 August 2023
Having optimised, up-to-date Google listings is essential for all businesses in the automotive sector. Dealerships…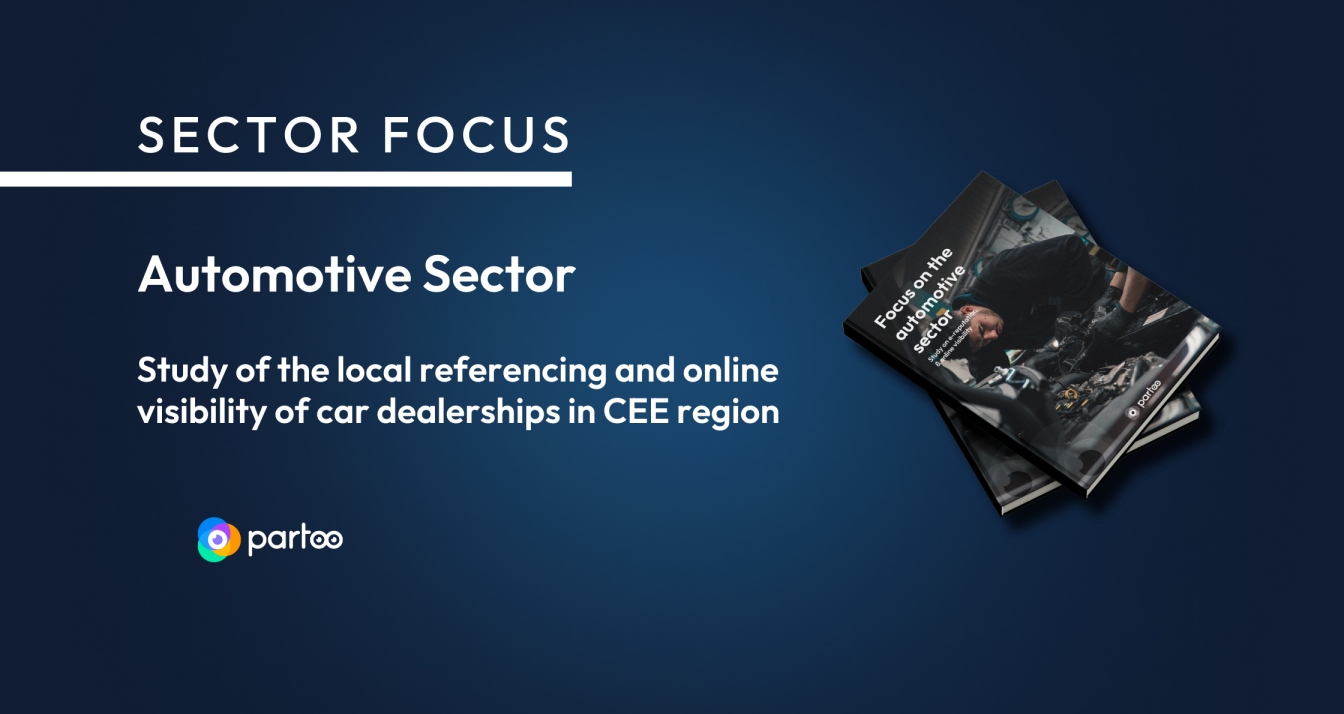 How do car dealerships and car repair centres manage their e-reputation in Eastern Europe? What…
Subscribe to our newsletter
Receive our best articles and practical guides directly in your inbox every month