For a few months, Google has been increasingly highlighting its new features which enable consumers to find out what is available at a point of sale. Although the "Menu" and "Services" features have been around for a while in France (visible on mobile), the beta "Products" feature only came out at the end of May 2019 for some points of sale in France! This is the perfect opportunity to explore what's possible when it comes to local SEO (as well as the limits of these features)!
Eligibility criteria
As with secondary URLs and attributes, only businesses in certain primary categories are eligible for these advanced Google My Business features (menus, services, products, etc.). Here are some guidelines and tips to use when choosing your 10 (primary and secondary) categories.
First, current eligibility by sector (subject to change):
Sectors eligible for services (hairdressers, car parks, home care, etc.)

Sectors eligible for menus (restaurants, bars, etc.)

Sectors eligible for beta products (ready-to-wear, opticians, car dealerships, florists, etc.)

Sectors not affected by these features (pharmacies, tobacconists, etc.)
How are they different from Google Posts?
Remember that Google eligibility criteria can change quickly! It's also important not to confuse these features with Google Posts. Here are the main differences:
G-Posts don't have eligibility criteria: the feature is available to all businesses (although currently unavailable to brands via API)

G-Posts are temporary (7 days or more depending on settings), unlike menus, services and products

G-Posts highlight news so have a wider scope: products, temporary closures, events, discounts, sales, etc.

The data has a different structure e.g. you can't put prices in G-Posts outside images
While using G-Posts requires regular involvement, the menu, services and products features only need business managers to make updates if products change. At some points of sale, this means a change can be made with no more work then required for a good while!
Does the "product" feature compete with Local Inventory Ads (LIAs)?
For some sectors like ready-to-wear and major retailers, it's literally impossible to update all products manually each day, especially for brands with hundreds or even thousands of points of sale. Google's "product" feature is only suited to independent businesses and those with product ranges that aren't too big and rarely change (remember this feature isn't available via API or Excel file import).
However, for brands interested in showcasing their products on their profile, there is another existing solution: LIAs or Local Inventory Ads! This feature is only available to brands on the Google Shopping programme and therefore with a Merchant Center. This can be linked to Google My Business to automatically show all in-stock products for each store (see more details about this feature). Of course, the "product" feature can't be used with LIAs, which remain an Ads feature and are therefore chargeable!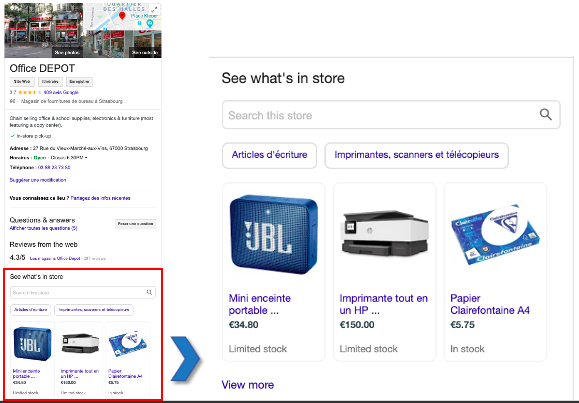 How can my network use these features?
These new Google features have a range of uses, but require significant investment: updating products manually takes a long time, for example! We recommend that you take a pragmatic approach; we're happy to discuss these areas with you.
For example, if you're a dealership network and therefore eligible for this new Google feature, you're probably wondering how to manually enter all the car models you're currently selling (new and second hand) and, above all, how to keep on updating them. If you don't use Google Shopping, this is unfortunately unsustainable. Instead, we'd advise you to put down 4 to 5 major product categories and add links to your website so users can easily access more information.
Of course, manually filling in all the information for 3-4 products per premises across a large network is already something of a headache! It's also possible that this new feature may not last and will disappear in a few months if Google wants it to, so it's important to ask the right questions before going down this path.
With Partoo, "Get found… online!"
About Partoo:
Partoo makes you visible everywhere, at any time by generating up to 7 times more contacts than your website, boosting your web-to-store traffic and improving your customer interaction with reviews.
We provide services to 80,000 outlets and 300 brands in Europe, including Carrefour, Starbucks, Burger King, Promod, Toyota, LCL, Groupama and more…