Internet users' habits have changed in two ways. First is how they get their information: to find out everything they want to know about an outlet (address, opening hours, website, etc.), they now use third-party sites like Google, Facebook and Waze.
The second is how they search: according to Moz, just 20% of them use "direct searches" that mention the brand e.g. "Sports Direct London". 80% of searches are now "discovery searches", with users expecting platforms to provide the best recommendation (nearby, well-reviewed and relevant) by typing something like "sports shop in London" instead.
Given this context, GMB is your business's main showcase to ensure it is visible and boost in-store traffic. To stack the odds in your favour, this is what you need to set up.
THE 4 ESSENTIALS
1.The primary category and sub-categories
Supermarket? Convenience Store? Greengrocer? Make sure all your outlets have just one primary category for better consistency and improved local SEO.
To take things further, you can provide up to 9 "sub-categories" to describe your business' other activities that potential customers might be interested in. There are 1,183 categories to choose from.
Here are two examples: First, a Google search for "Magasin d'électroménager Parly 2" ("Electronics store Parly 2"). The result for the French store Darty has a primary category of "Enseigne d'électroménager" ("Electronics Company"), similar to its sub-category of "Magasin d'électroménager" ("Electronics Store").
In the second example, the search changes to "Cuisiniste Parly 2" ("Kitchen fitter Parly 2"). The results show Darty again, except that this time the sub-category provided is "Cuisiniste" ("Kitchen Remodeller").
These are easy modifications to boost your in-store traffic.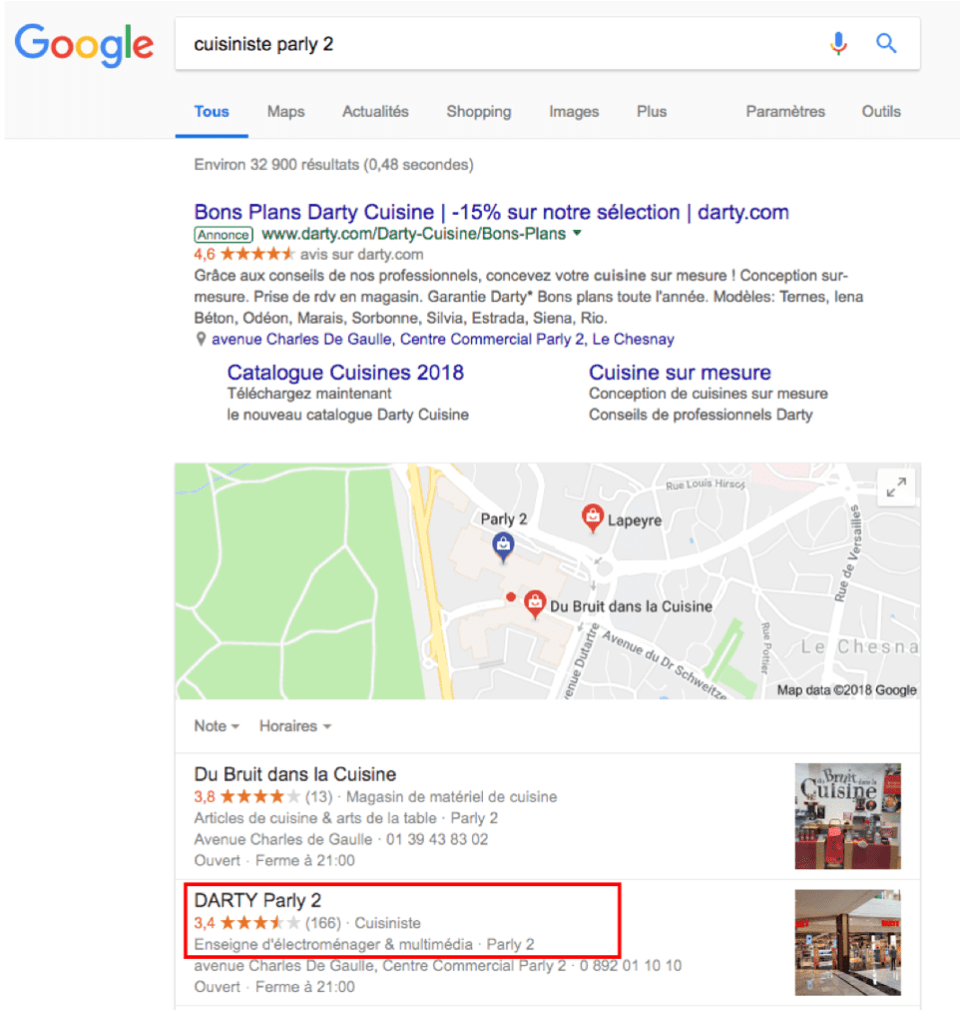 2. Add Special opening hours on Google My Business
There's no need for Sundays, bank holidays and sales periods to be an issue. By updating your information for special periods, not only will you avoid frustrating your customers, but also be largely rewarded by Google. Imagine the upsell you could achieve if you appeared in the first few results for the May or August bank holidays if none of your competitors have provided special opening hours. Having up-to-date information also prevents negative reviews like the one below that says "Please update your opening hours on Google… closed on Sundays".
3. Add Photos on GMB
According to a study by the Bright Local website, 60% of consumers believe photos to have a big influence when they are deciding whether or not to visit a business in person. Outlets with professional photos also receive 42% more hits for online route planning. Photos are the first impression you give. Make sure you provide images for all available categories to improve your SEO and boost your in-store traffic:
Logo: 1 photo
Cover photo: 1 photo
Inside: At least 3 photos, ideally 1 of the team and 1 of reception
Outside: At least 3 photos
Products/Services: to highlight your best items/what you do best
Google then tells you which photos are working well!
An example to avoid – a BNP Paribas bank branch:
An example to take inspiration from – an Instituts Guinot Mary Cohr beauty salon:
4. Description
Voice search is on the rise: by 2020, 50% of Google searches will be done by voice (LSA). You now need to make sure you have a long description based on phrases suited to voice search.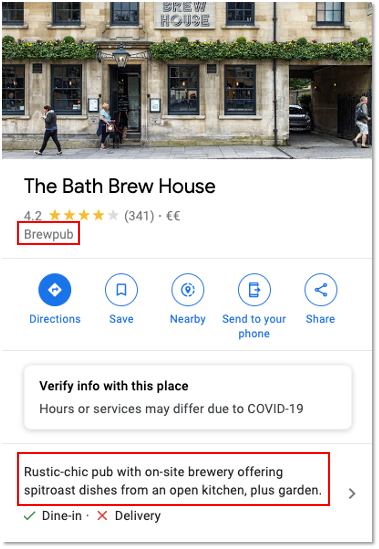 Did you know?
Google Shopping
The Google e-commerce platform links directly to your Google My Business catalogue to make users' lives even easier. This provides access to stock and the option to buy online, or to visit a store. 83% of internet users are still more likely to go in-store after checking stock online.
Something you might have missed…
Google Post
Advertise a promotion, a new product/service or a flash sale on your GMB entry as you would on a social network. A dream come true, right?! In fact, this can now be done. The feature will give your customers the right information at the right time to increase your web-to-store traffic. There are 3 possible categories: Offer, Event and What's New.
With Partoo, "Get found…online!"
About Partoo:
Partoo makes you visible everywhere, at any time by generating up to 7 times more contacts than your website, boosting your web-to-store traffic and improving your customer interaction with reviews.
We provide services to 80,000 outlets and 300 brands in Europe, including Carrefour, Starbucks, Burger King, Promod, Toyota, LCL, Groupama and more…