Moz just published its 2020 Industry Report drafting the state of local SEO. This 56-page report goes in depth of local SEO, its strategies and other ongoing topics.

For those who don't have time to read the whole report, Partoo decided to recap the main information in a 4-part article: the state of today's situation, the local SEO strategy, local SEO tactics and within an organisation.
PART 1 – STATE OF TODAY'S SITUATION
#1 Proximity ranks third among local ranking factors
This year's survey revealed surprising results. Breaking with tradition, respondents placed user-to-business proximity third in local ranking factors. It could be an indicator of a shift in current trends and habits.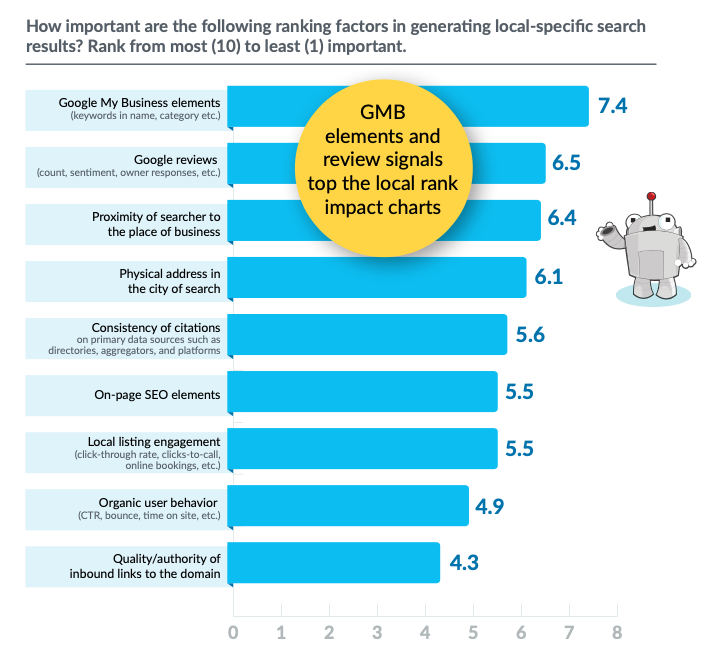 #2 Maximize GMB management offerings
There's an irrefutable widespread belief in the power of Google My Business to directly influence local pack rankings. GMB has an ever-growing and changing feature set that requires both time and expertise; things many businesses lack.

Therefore, focusing on categories, reviews, descriptions, menus, Posts, Q&A and photos seems like the best way to positively impact local rankings.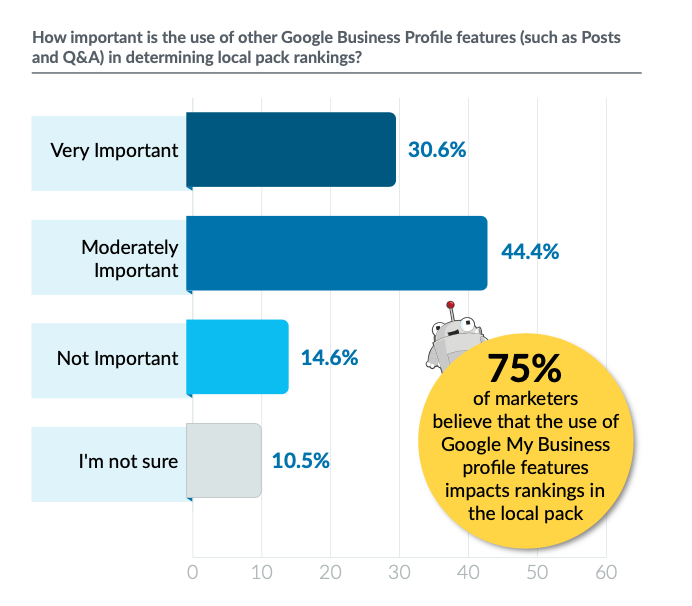 #3 The importance of managing you reviews
MOZ's survey reveals that 90% of respondents reported that review signals such as quantity, diversity, velocity, ratings, and responses have a true impact on local rankings. Therefore, you should come up with complete and detailed strategies to manage and analyse your reviews: fast response rates, handing of negative reviews, ongoing sentiment analysis.
#4 Organic and local rankings are closely intertwined
Still according to MOZ's figures, this year, 35% more marketers agreed that ranking highly in organic search results increases the likelihood that a business will rank in the local pack.

Even though Google is becoming the new homepage, you can't rely on third-party sites alone for rankings and traffic. Websites still matter and will continue to matter. A lot.
#5 What about Google Maps?
Many of the respondents consider organic SERPs to be their key driver of engagement, across every industry.

But don't forget to keep an eye on the rise of Google Maps. As the default maps option for Android users and a top choice for other devices, it has become a go-to tool for consumers. With the majority of the local search industry's focus going to local packs, the wide range of Maps' features have yet to be explored and could represent a significant opportunity for marketers.
PART 2 – LOCAL SEO STRATEGY
#1 Different strategies for different players
Larger brands and agencies appear to be the first one to shift their strategy away from the rankings-first mindset. About 70% of them express to focus more on high-value business goals.

However, smaller brands may require the most help to accurately track and evaluate conversions and revenue.
#2 Local link building is a powerful and popular strategy
This year, 29% of respondents having a local link building strategy perceive it as a powerful local SEO tactic.

Of course, a few tactics consisting of buying local links were discovered, but these resulted in Google penalties. Fortunately, the vast majority of local marketers are investing in content development to earn links naturally.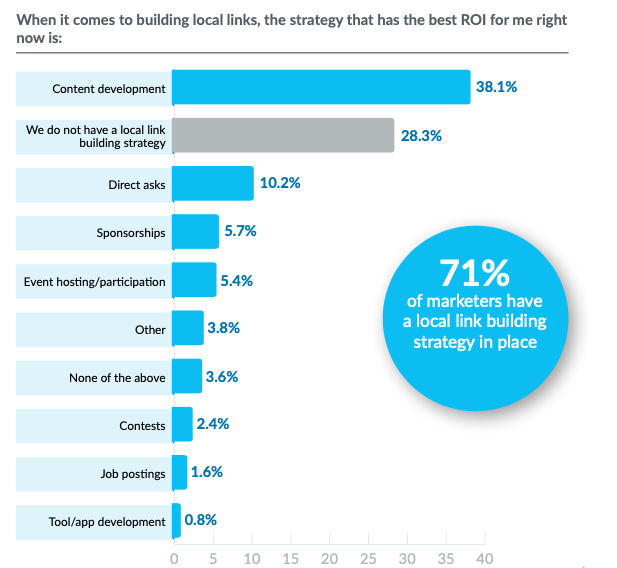 #3 SERP features are not to be taken lightly
Featured snippets (format providing a concise and direct answer to a request on Google without having to click through a website link) have been in the spotlight this year, and they have beaten out local packs as the number-one SERP feature local marketers care about.

Zero-click SERPs aren't as new and strange to local SEOs as they are to the greater marketing community. The increase in the number and types of snippets means it's time to take advantage of engagement options on third- party interfaces like Google.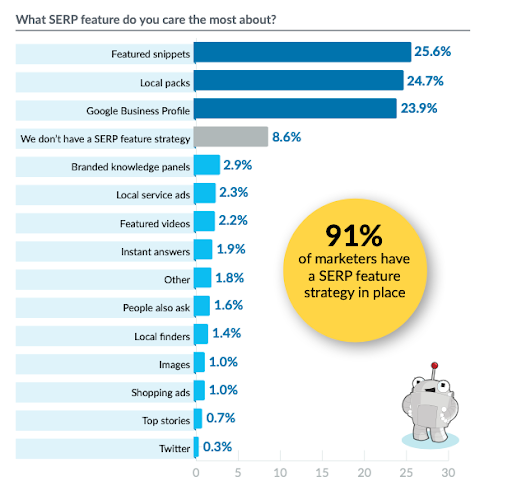 PART 3 – LOCAL SEO TACTICS
#1 Marketers ask for more resources for review management
More and more, this truth appears undeniable to every marketer: reviews = reputation. Managing the complexities of online sentiment requires the right tools, techniques, and time.
Neglected review management is a nightmare for a customer service. When it's disregarded and ignored, brands face customer attrition and loss of loyalty. Investing now in review management will guarantee your establishment a healthy reputation later.
#2 Link building is in high demand by three industries
Moreover, automotive, real estate, and legal industry professionals are clamouring the loudest for devoted link building resources.

These are some of the most competitive local verticals. As such, they've realised that winning authoritative new links would help them appear higher on rankings when no other methods are efficient.
PART 4 – LOCAL SEO WITHIN THE ORGANISATION
#1 Most large, multi-location businesses focus on SEO
The vast majority of large, multi-location businesses (100+ locations) have understood the importance of local SEO for their businesses, and hired at least one full-time employee dedicated to SEO.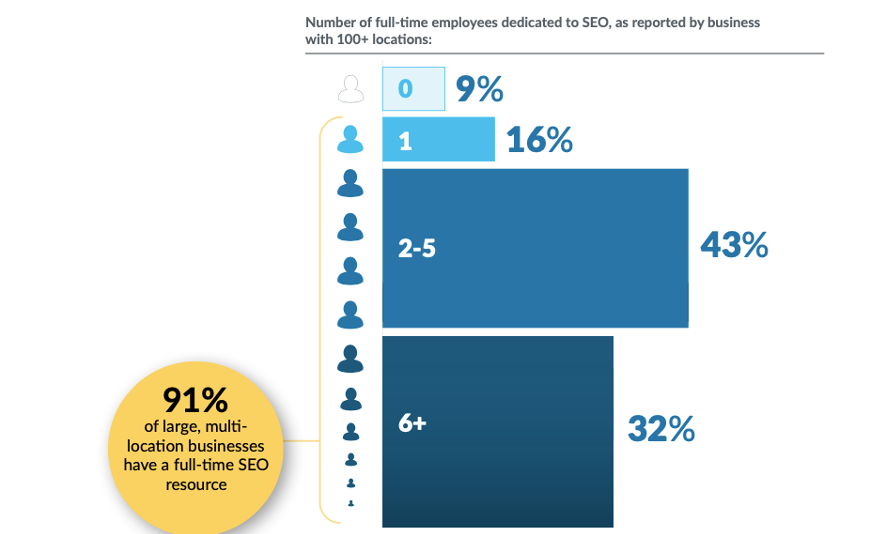 #2 Enterprise marketers cite SEO and tech as top priorities
Big-brand marketers also get to see trends with better clarity. Their vantage point may indicate the direction the industry is taking in general.
Finally, top focus from companies on scaling SEO programs, improving organic SEO, and cultivating coding skills is a sign of an industry increasingly customer-oriented and willing to reduce customers' pain points at every stage of their journey.
Whether supporting ease of discovery via good SEO or ensuring frictionless transactions via good interfaces, the goal is a visible and effortless customer experience.
If you wish to read the full report, click on this link to download the 2020 Industry Report published my Moz.