This article tackles the topic of local SEO and addresses the banking and insurance industry. It provides you with real life figures collected through our clients from this field, such as Allianz or Generali for instance. From digitalization to the optimization of your online visibility, we give you some tips and best practices to increase your online performances.
#1 Growing need to implement a digital strategy
With the emergence of online banking services, "older" banks and insurances have to keep up with trends and the digitalization of their activity to attract and retain customers.
In order to understand the ever growing importance of digital in this industry, we gathered data provided by Google My Business between 2018 and 2019 on our current customers from this field.
This table below focuses on insurance agencies and highlights the sharp increase in different key elements.
Some vocabulary to all be on the same page:
Indirect searches: Searches not directly targeting your brand
Direct searches: Searches clearly mentioning your brand
Itinerary requests: Internet users clicking on the "Directions" button from google maps
Phone calls: People calling from the phone number on your Google My Business' listing
Click on the website: How many people clicked on your website pages.
In addition, we also noticed that reviews left per agency increased by 79% between the same period, and thus overall grades increased by 3%.
Then, we performed the same study for banks and got even bigger increases: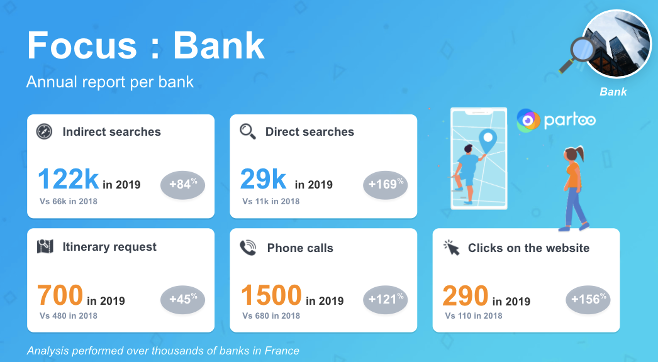 Therefore, we can safely say that reviews influence greatly customers' opinions about your business, as well as their decision making process of coming into your store or not.
Before going to a bank in this case, users check online, and especially on Google My Business, basic information about the business, but also other customers' experiences and thoughts. Be mindful of that: managing your reviews can help you improve customer satisfaction and increase your web-to-store conversion rate.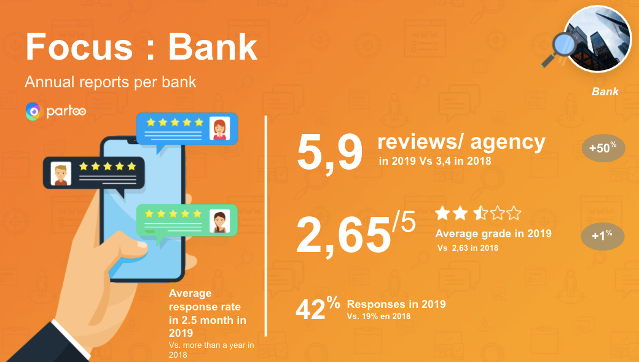 #2 How to reach these results?
Do you want your company to obtain the same results? We give you some tips to improve your digital strategy.
But before optimizing your listings, the first step is to create and fill in the right information! The only fact of creating and owning all of your listings is already a big step. You should create one per store you own.
TIPS: Providing the basic information such as the name, phone number, address, opening hours, address and adding a few pictures boosts your visibility considerably.
Moreover, you should diffuse your information on as many platforms as you can, such as directories and GPS (Waze), Social Media (Facebook) and search engines (Google, Bing).
For each of your businesses, you should:
Request ownership of a business profile
Create your missing Google My Business listing so that each of your local business has one
Delete any duplicates you can find
Accomplishing these three tasks will send a strong positive signal to Google. The platform will notice your activity and consider your brand as a reliable one. You will be brought forward in the results and it will help you boost your online visibility. 
Regarding duplicate listings on Google My Business, we know for a fact that they negatively impact SEO and customer experience. You sometimes have existing listings of stores that do not exist anymore, or 2 or 3 listings of the same location.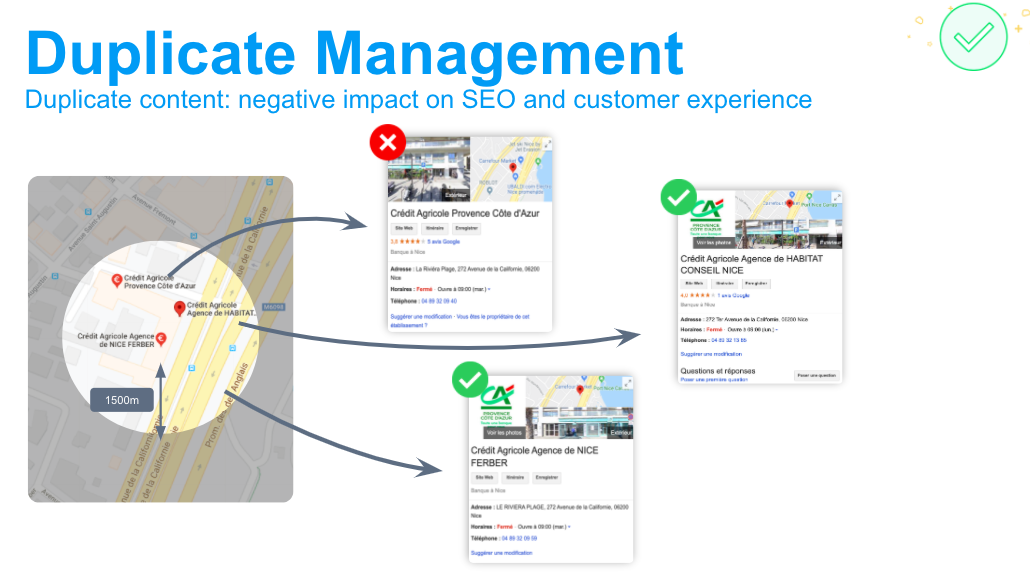 Duplicates can also arise from GMB's bugs, creating hundreds of duplicates. It is hard for local businesses to solve the problem themselves due to such large scales.
1) Categories and attributes
Now that you own and have filled your listings in, it's time to optimise them.
On Google My Business, you can use categories in order to appear in different search results. On Google My Business, you can add 1 main category describing the main activity of your business, and you can add up to 9 sub-categories. For instance, when a user types in "ATM" or "Savings banks", if you specified them on your listings, you will then appear on those associated searches.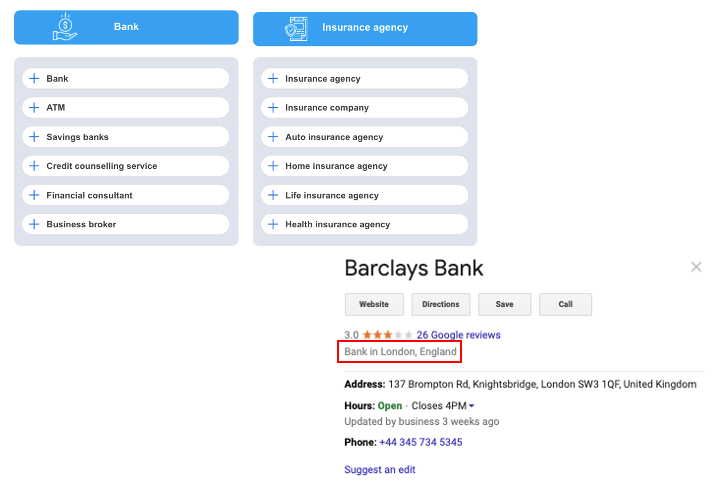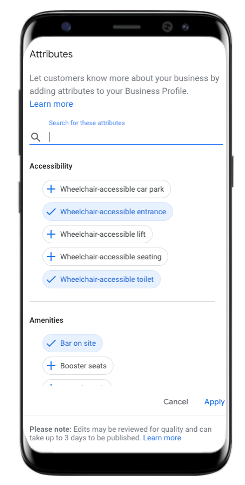 Once this step is done, you can also indicate attributes to specify things about your business: Wheelchair accessible car park, credit cards or free wifi. This is useful both for the user during his research, but it is also important if the user searches for 'Online appointment'. If you specified this on your listing, you will then appear higher than another business who did not display this attribute. 
These appear directly on listings so that users can see them right away. 
2) Photos
Good-quality pictures are way more appealing than old, dark and bad quality pictures. Try to update them or add others frequently. The more active you are on your listings, the more visible you'll be. Moreover, it has been proven that there is a strong correlation between the number of photos on your listings and the number of interactions on it.
With that being said; try to update your photos frequently to show how active you are, and post appealing and qualitative pictures.
3) Secondary URLs
You can add on your GMB's listings secondary URLs to allow your customers to make online appointments directly through the link you will include.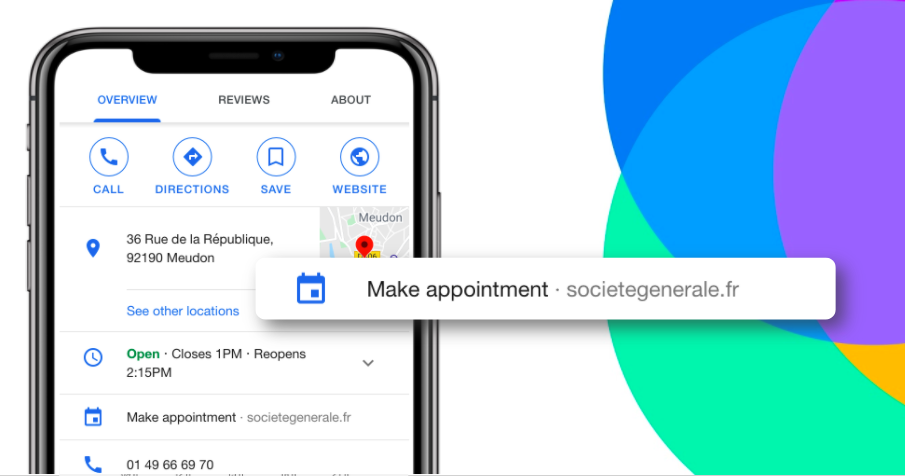 4) Google Posts
Google Posts are a new Google feature created 2017 enabling businesses to communicate better directly with their clients through their Google My Business's listings. Businesses can communicate on special offers, events, training or else. Customers are aware of what is going on real time. 
#3 Success case: Crédit Agricole
We talked with one of our clients, Crédit Agricole (a French Bank) about the importance of local SEO and e-reputation to increase traffic in their 240 bank branches.
Since our collaboration, all of their branches' listings have up-to-date information on many different platforms (Google, Facebook, Waze…). In addition to this their average ranking went from 2.5/5 to 3.3 /5. They did so by collecting reviews and using them to improve customers' experience.
Now that you've read through this article, you should have understood the importance of online presence and local SEO.