How to add a menu to your Google listing?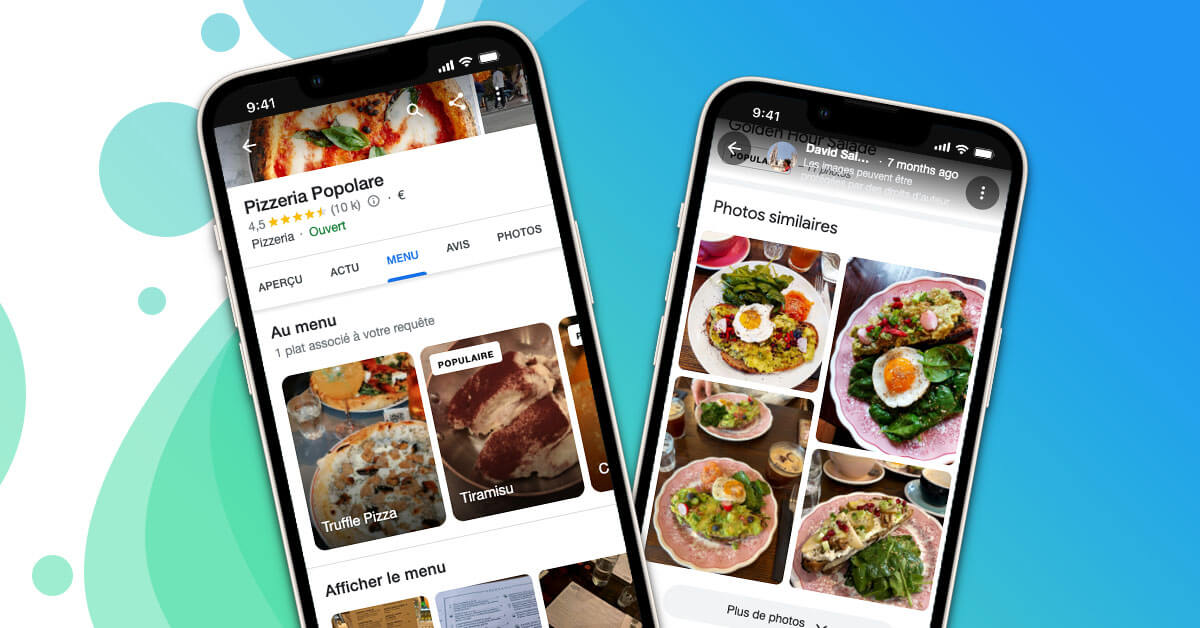 Being the most searched businesses on Google, restaurants need to offer as much information as possible to help people make their decision.
This is where your menu can stand out and make an impact. 75% of internet users will look at the menu when searching for a restaurant, so it is crucial not to skip this. Find out below the important information you need to know to add a menu to your listing.
Who can use the menu feature on Google My Business?
Not every business can display a menu on its Google profile. This feature is reserved for a selection of businesses, with restaurants being the main ones concerned. The menu makes it easier to showcase the food and/or drinks you offer, as well as the ability to share photos directly on your listing.
However, the menu feature is not only limited to restaurants. Bars, cafes, and clubs can add a menu to their Google business profiles to display the food and drinks they serve.
Whether or not you can feature a menu on your Google listing, depends on the main category that you selected for your business when you created your listing.
Be careful! If you don't own a restaurant that is eligible to use a menu, don't try to change your category to force it to appear. You may risk your listing being suspended by Google.
How do you add a menu to your restaurant listing?
Creating a menu for your restaurant's GMB listing is a simple process! Especially when you can add it from your mobile device and have access to the photos you want to display.
You can create a menu in several ways:
from your restaurant's edit page
from Google search results
from Google Maps
Add a link to your menu
If you have a website, you can include a link to your menu to show customers the food and drinks your restaurant offers.
Add photos of your menu
You can start by simply sharing one or more photos of your physical menu. Be sure that the text is legible and the images are of good quality.
Adding a photo of your menu in this method is a good option to save time and share an overview of your food and drinks, before adding a detailed menu item by item.
Add a menu section
This is the essential step in structuring your menu on your restaurant listing. You can easily categorise the food you offer in the way you think is the most relevant and appropriate for your business.
For example, you can display your variety like so:
Breakfast, lunch, dinner
Starters, main courses, and desserts.
Hot drinks, cold drinks, alcoholic beverages
The most important rule is to be clear. Meaning that your menu is quickly understandable for your customers, who will not always have the time to figure out an unconventional menu.
Any doubts about your menu?
If you have doubts about the menu you have created, you can always change it whenever you want. This allows you to update the dishes you serve or to propose special offers that attract customers.
Add a menu item
In each section, you can detail the different items you offer for service. It is very important what name you choose for your dishes and drinks.
For each item, you can add photos that best represent it, along with descriptions and prices.
Not only is it essential to make them easily understandable, but you should also be aware that some of your Google reviews can be displayed in your menu.
If your customers use the name of your dish when talking about their experience in your establishment, the corresponding positive (or negative) review will appear.
When is your menu updated?
It usually takes 24-48 hours after a change is made for the changes to appear on your Google My Business page. Update all changes at once to save time.
It usually takes 24-48 hours after a change is made for the changes to appear on your Google My Business page. Update all changes at once to save time.
Best practices for making your menu stand out from others
Like many aspects of your Google My Business listing, you can optimise your menu to make it more attractive to potential customers. In a sector as competitive as the restaurant business, the smallest detail can make a difference.
Take care of the quality of the photos
The photos of your dishes are the first impression your customers will get of your cuisine when they take a look at your restaurant listing. Choose warm lighting, bright colours, and framing that highlights your food.
Keep in mind that the photos of your dishes that your customers can add to your listing will also be added to your menu. Be wary of the presentation of your dishes!
Description of dishes and drinks
In addition to the photos, you can also add a description of your different dishes. This is an opportunity for you to specify certain things. For example, the use of products of specific origins, the possible presence of allergens or simply to describe the particularity of the dish.
Where does your menu appear on Google My Business?
The "menu" tab on your restaurant listing will only appear on mobile. This means that your customers will only be able to view it if they are enquiring about your restaurant from their phone.
Once inside, your food and drinks are visible in a list of images that can be easily scrolled through.
Tapping on one of your menu items will open up the details about it:
the description of the dish
the photos you have added or those posted by your customers
any associated reviews.
How to go further with attributes?
Your restaurant's menu will highlight the diversity and quality of your dishes, but it is not the only way to promote your restaurant or bar.
By using the attributes of your business listing, you can give potential customers key information to help them choose you over another location.
With just a few clicks, you can indicate the different services (terrace, on-site dining, takeaway, etc.) and offers (happy hour, bar food, etc.) that differentiate you from others. Also, remember to include essential information about accessibility and payment methods as this can make all the difference for some customers.
Finally, don't neglect the features relating to the safety measures taken by your establishment, such as the obligation to wear a mask or the fact that you disinfect the surfaces between each customer.
If you need more information or guidance in adding a menu button to your Google listing, feel free to contact one of our local SEO experts!
Was this article helpful?
Yes, thanks!
Not really...
You are one click away from success
Want to easily develop your business through the Internet? It's possible thanks to Partoo!
Contact us
Subscribe to our newsletter
Receive our best articles and practical guides directly in your inbox every month