Apple just launched Business Connect, a new tool dedicated to the SEO of points of sale.
Whether you're an owner of a small company or a huge network, you can benefit from Apple Business Connect to reference your points of sale. All the relevant information about your establishment's are then displayed on Apple Maps: customer reviews, opening hours, addresses, phone number, website, reservations…
Apple Business Connect is the Google Business Profile of Apple, and it includes:
Improved business listings with a new design, call-to-action buttons and "showcases" (the equivalent of Google Posts)
A back-office for performance monitoring
An API to facilitate the broadcasting of information of your points of sale
For you, it's an opportunity to increase your visibility among the millions of Apple users . And ultimately to gain new customers.
In this article, we explain in detail everything you need to know about Apple Business Connect.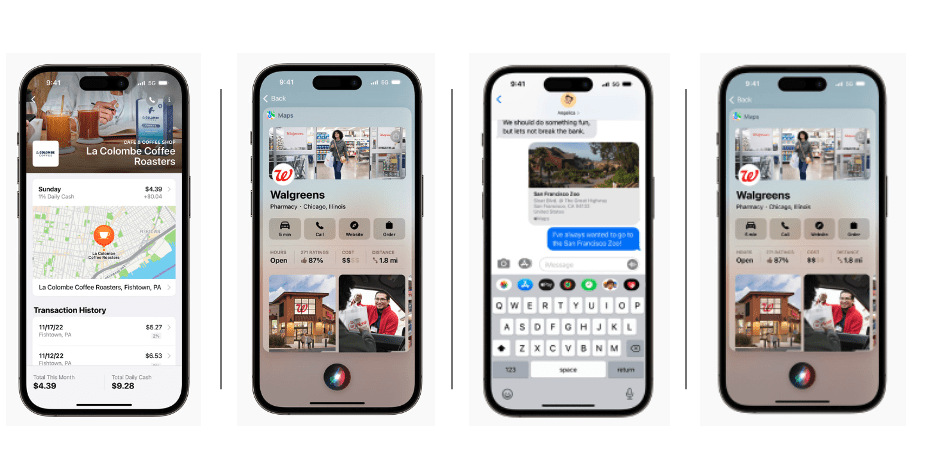 What is Apple Business Connect?
The iOS equivalent of Google Business Profile. Apple has decided to improve SEO for businesses on Apple Maps by launching a similar platform.
From now on, all points of sale will have a "location map", a personalised and more complete business listing.
The novelty concerns all kinds of companies: from small businesses to large networks. Everyone will be able to use Business Connect as a new customer acquisition channel.
In any case, this is the purpose of the new tool, designed to encourage interaction between Internet users and their favourite brands.
Until now, the commercial and marketing interest of Apple Maps was more limited than that of Google Maps. Perhaps Business Connect can reverse this trend.
What will change?
Firstly, the display of the business listings. Apple now allows businesses to add buttons to encourage their customers to:
Book a table
Make an appointment
Order food
Publish showcases, the equivalent of Google Posts, to share your promotions and news. For now, this feature is only available in the United States.
The design of the maps is also intended to be more engaging. The goal is surely to make it a transactional tool for companies, just like Google listings, a bridge that connects Internet users to their favourite brands.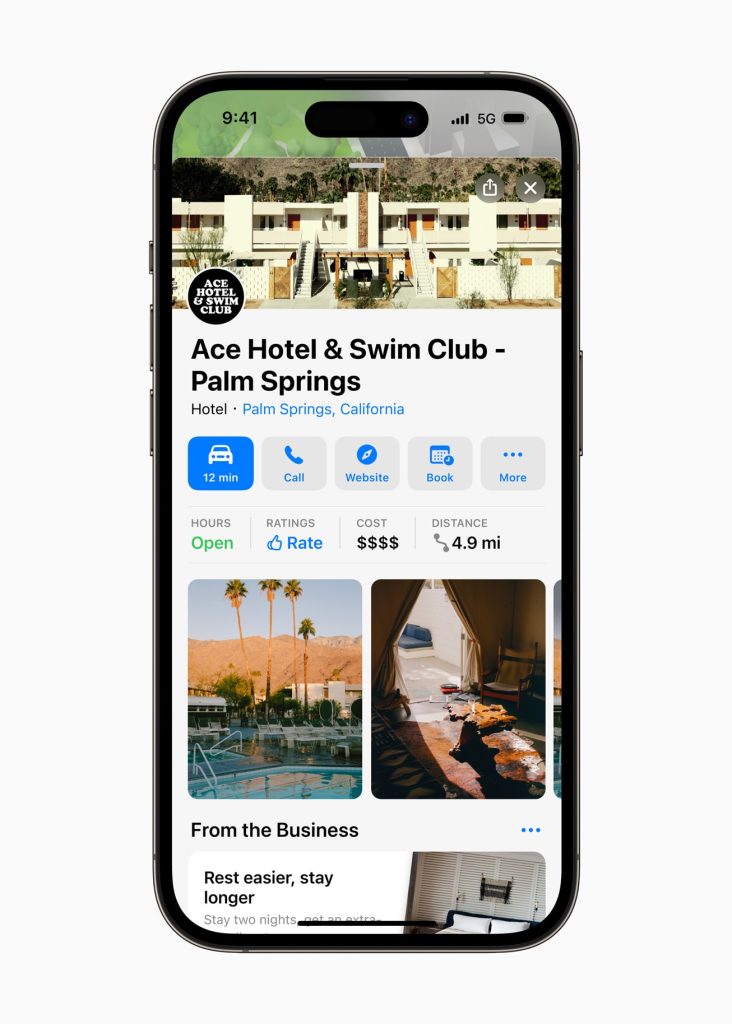 A multi-platform tool
Apple "markets" Business Connect as a cross-platform tool. The business maps are usable on Maps, as in the rest of the Apple ecosystem. Platforms like Wallet (pay and have the history of payments), Messages (share the listing of a point of sale) or even Siri are compatible.
Note also that Apple accepts the upload of images in very high resolution, whereas Google limits its users to 750 x 750 pixels. Some see this as a sign of Business Connect's upcoming compatibility with Apple's augmented reality feature.
Improve performance monitoring
Until now, Apple Maps did not allow businesses to track their performance.
With Business Connect, it is now possible to:
Measure incoming traffic thanks to Apple Maps
Obtain the details of the interactions with the business listings (calls, itinerary requests, website visits…)
Know the number of clicks on your listings
Measure discovery, direct and branded searches. Useful to know how your listings have been found by users
Add tracked URLs to your listings. You can then finely measure the traffic via Google Analytics
This increases the interest of the platform in terms of local SEO.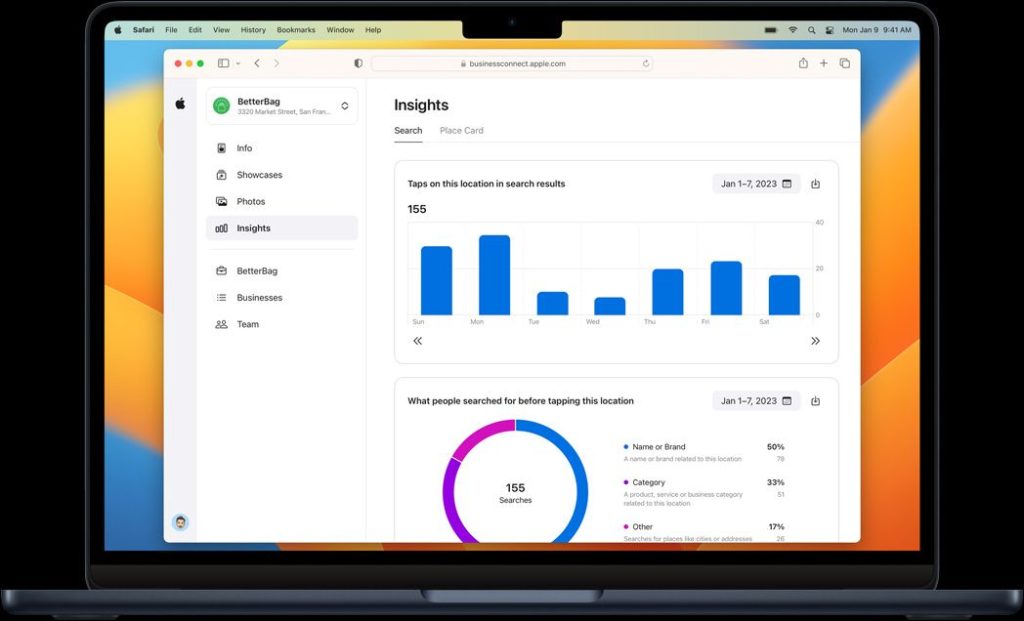 A new API
The main interest of this dedicated API? It accelerates and smooths the distribution of information for companies that manage multiple points of sale. It allows the management of large-scale businesses, facilitating modifications in bulk.
It is important to know that it can take up to 3 days for a modification in a Business Connect listing to be taken into account.
Partoo and Apple Business Connect
With our Presence Management offer, we already broadcast our clients' information on Apple Maps and more than 20 other platforms.
With the Apple Business Connect API, bulk updates of your information will be easier.
Until now, the broadcasting was only done via file export. A viable, but more limited method. Using the API will help us improve following up on our customers' data integration.
This might not be a revolution, but it is a welcome change. The new SEO platform increases the potential of Apple Maps tenfold.
Redesigned business listings, new CTA, new features… Business Connect, just like Google Business Profile, is becoming a channel where you have to be referenced.
At Partoo, our goal is to assist you in optimising your local visibility, to improve your web-to-store traffic.
How? Helping you multiply your information and optimise your business listings on all interesting platforms such as Google Maps, Waze, TomTom, Instagram, Facebook, Here, etc.
Therefore, we are also working on integrating Apple Business Connect statistics into Partoo. Our ambition is to centralise all the data of your listings, whether they come from Google or Apple.