A recent analysis shows that 50% of searches are no-click, and this trend is on the increase. Zero-click searches are where the answer is displayed at the top of Google's results without the user having to click through to another website. These can include queries about a medical facility's address or phone number.
How does this impact the medical sector, its facilities, and its local SEO?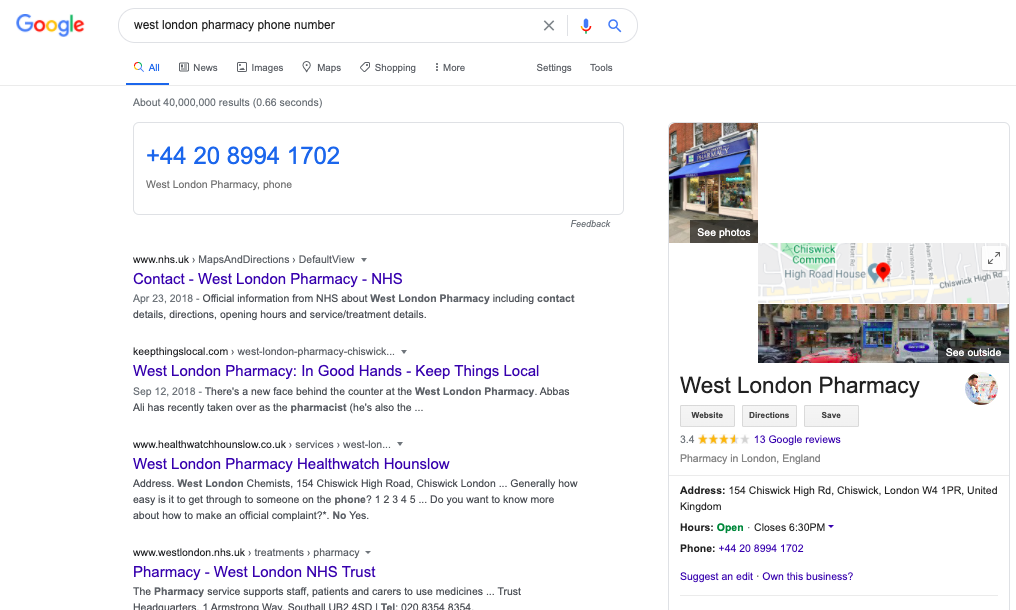 A few years ago, healthcare facilities were aiming to get their websites into the first few search hits. Today, with the expansion of Google My Business, internet users no longer need to go to their doctor's, clinic's or pharmacy's own website. Indeed, Google displays the 3 or 4 facilities that best match the user's search at the top of the first hits page: this is known as the "local pack". These 3 or 4 facilities are selected based on the user's location, the relevance of the information in relation to the keywords entered, and the facility's reputation. It is based on the number of reviews on the Google My Business listing, how often new reviews are left and, of course, the average score.
1. Gather your data
To begin, you need to gather all the information about your surgeries, laboratories, pharmacies or clinics. The easiest way to do this is to create an Excel document containing names, postal addresses, phone numbers, website URLs and email addresses. Next, you can pool the information in a database. This will be something you can use for other projects e.g. a store locator for your website.
This data source will help you share precise, updated information with all your patients. As Kévin Nayraguet, Social Media Manager at Ramsay Santé, says in his testimonial on Mindhealth, "The health sector requires a conscientious approach to communications, especially for facilities with emergency services. If someone has a health problem, being able to find updated information can have a major impact on their outcomes."

2. Share your information on as many platforms as possible
If you want your listing to be nice and visible on Google My Business, it's not enough just to create a listing. You also need to be on other sites like online directories (118 118, Yell.com), social networks, (Facebook, Foursquare) and some GPS providers (Apple Maps, Waze, Here). Google's algorithm actually checks if this information is the same across different platforms – as well as its own. If it is, you merit being in the first few hits on the search engine. However, if Google detects that your information is different across these sites, your premises will quickly disappear from the search results. 
NB: Your clinics, pharmacies or surgeries may already be on these sites without your knowledge, either because users have manually created listings, or because they have been automatically produced by databases. Unfortunately, this information won't necessarily have been verified and you will find it hard to bring the listings back under your control. 
3. Go further for your internet users
Make sure you are in a good position on Google My Business: aim for the first 3 places. To do this, you need to add as much information as possible. Here are the steps:
Basic information

: Provide names, addresses, phone numbers, descriptions, opening hours and photos for your healthcare facilities. 

Sub-categories

: You can also add sub-categories to suit what you do. For example, if you're a group of clinics, these are the categories relevant to you: Sleep Clinic, Women's Health Clinic, Specialised Clinic, Surgical Clinic, Maternity Clinic, etc. You can add up to 9 categories. These categories mean you will appear for as many searches as possible, so make sure to add all your activities. 
Services

: If categories are unavailable, you can add all your activities

to Google My Business's "Services" section.

This will give internet users all the information they need to find your premises and Google My Business improves the ranking of listings that have more details. We encourage you to do this

.
Appointment booking

: To more easily convert searches into visits, you can also add online appointment booking links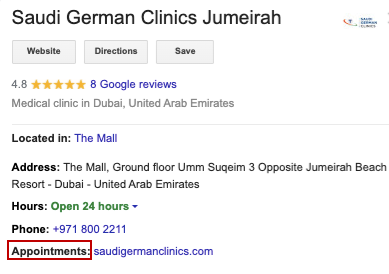 Results from Ramsay Santé:
Now you know the basics about how to start an organic SEO project. A year after their subscription , Ramsay Santé saw its performance increase by 186% for direct searches, 60% for indirect searches, 36% for website visits, 8% for route requests and 83% for phone calls. This acquisition project will therefore provide long-term benefits for improving your customer experience and online visibility.