Every ready-to-wear clothing brand is looking for new concepts to expand in France or abroad. One example is pop-up stores, which are booming. But what is the best practice for effective SEO that quickly drives traffic into store?
Lots of brands have of course faced this problem, but some, like the French clothing brand Kaporal have used a digital strategy based on the following practices.
POP-UP STORES TO RAISE AWARENESS OF YOUR MAIN STORE(S): HOW TO MAKE THEM VISIBLE?
23% of pop-up stores sell fashion (clothing, leather goods, jewellery, etc.). This growing retail trend doesn't just involve young online brands: major luxury players are getting in on the act too.
Being short-lived, pop-up stores are complicated to manage on Google My Business.
Why? There are 2 main reasons:
Quickly appearing in hits:

 there is a time element involved in SEO and a listing can take several weeks to appear in initial Google search results.

How difficult it is to delete a listing once the store closes:

 this long and boring task is a must if you want to avoid customers seeing and getting a negative message from a listing for a "Permanently Closed" store.
However, don't lose hope: there are solutions to get you around these 2 obstacles.
Multiple listings:

have you thought about making yourself more visible more quickly by being on as many platforms as possible with a strong

domain authority

? Being listed on various platforms sends Google a clear message and helps you climb much faster up search results. These platforms include directories (Yell.com and 118 118), GPS providers (Waze and Apple Maps), social networks (Facebook and Foursquare) and, of course, search engines (Google and Bing).

Google My Business partners:

did you know that Google can redirect you towards trusted partners, like

Partoo

,

allowing you to instantly delete your listing once your pop-up store has closed?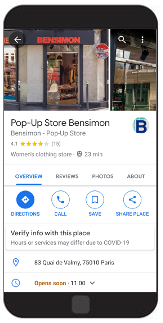 2. SHOPS-IN-SHOPS AND CORNERS
Ready-to-wear clothing brands are increasingly found in department stores, shopping centres and stations as shops-in-shops or corners. These 2 concepts are different: the first (unlike the second) is an independent store, with the layout and staff managed by the brand itself. How can you make sure they're visible?
Some brands, like the French womenswear brand Maje, have the answer: their corner or shop has its own Google My Business listing for better web-to-store traffic. This way, nearby customers doing a local search will be sure to find their favourite store!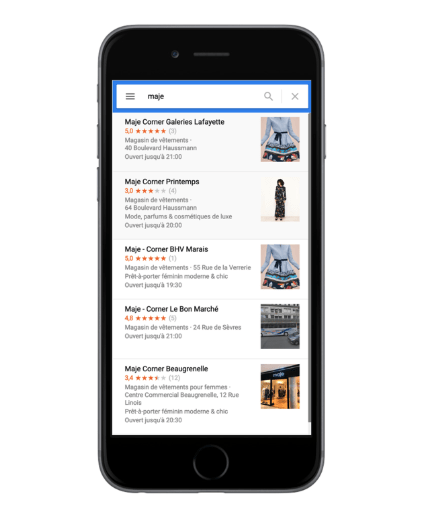 Did you know?
Google's Indoor Maps open up various buildings: shopping centres, department stores, stations, airports, etc.  Simply zoom to browse each floor.  The "Citadium" listing illustrates this well.
3. INTERNATIONAL DEVELOPMENT: LOOK AFTER LOCAL SEO FOR MORE IMPACT 
Managing store network visibility is key for ready-to-wear brands as "e-commerce sales only represent 5 to 10% of brands' total turnover".
It's now important to have a website with local pages and a store locator to maintain — and improve — the number of visitors going from your site to your stores.
Optimise your Google My Business use
With Google now considered the "shop window" for your brand, every little detail needs to be looked at. Having updated information on Google My Business no longer makes you stand out. You need to fill in your entire listing with main and secondary categories (shoe store, clothing store, etc.), attributes (disabled access, parking, etc.) and use Google Posts to create a tag cloud that will improve your ranking in the results pages and prepare you for voice search.
Did you know that Google checks "NAP Consistency"? The algorithm verifies if your information (name, address and store phone number) is consistent across your website, Google and various platforms like social networks, GPS providers and directories. The more similar they are, the more likely you are to see your brand climb up the Google search results.
"Backlinks": be on as many external sites as possible
Use all the platforms where your national and international customers search for you. Make sure these sites have good domain authority with Google to have a major impact on your local SEO.
When calculating local SEO, Google considers how many reviews you have, your average score, whether the reviews are recent or not, and if you respond to them. The more you respond and tailor your replies, the more this will impact on your ranking. Out of curiosity, do you know what the average score is for your stores on Google? The average for ready-to-wear clothing brands in 2018 was 3.9/5: the best score across all retail sectors?
Now you know how to make sure your pop-up stores, corners and new points of sale in France and abroad are visible, and how to stand out from the crowd, it's over to you!
With Partoo, "Get found…online!"
About Partoo:
Partoo makes you visible everywhere, at any time by generating up to 7 times more contacts than your website, boosting your web-to-store traffic and improving your customer interaction with reviews.
We provide services to 80,000 outlets and 300 brands in Europe, including Carrefour, Starbucks, Burger King, Promod, Toyota, LCL, Groupama and more…