As many of you have already noticed, there is a number of limitations on Google My Business, such as blocked modifications, the impossibility to claim a business, the deactivation of new reviews, automatic "temporarily closed" signs, etc.
The situation has been difficult all around the world. As such, our goal with this article is to give you a clear view of Google My Business's current situation in order to enhance your visibility on this subject. We'll try to update this article on a daily basis to ensure your access to current information that's following Google My Business' evolution during the pandemic.
1. Why are there limitations on GMB?
The current situation is explained by three main issues:
Google employees are working from home. As such, their activity is impacted. "During the unprecedented COVID-19 situation, we are taking steps to protect the health of our team members and reduce the need for people to come into our office".
Numerous change requests are currently being made by store managers and a lot of errors are coming through (i.e. closing all listings permanently), dramatically increasing the number of support requests.
Finally, and most importantly, Google My Business is putting their main focus on the most important sector during the current pandemic: the Health one. "There may be some temporary limitations and delays in support as we prioritize critical services. »
2. I'm unable to update my information on Google My Business, is that normal?
Google My Business is no longer prioritizing updates of listings belonging to business that are considered as "not critical", meaning, any businesses belonging to any sector other than health-related ones.
Google: "'We will prioritize reviewing all edits for critical health-related businesses. At this time, we will also prioritize reviewing open and closed states, special hours, temporary closures, business descriptions, and business attributes edits. "
From Thursday, March 19th to March 25th no edits done on Google My Business listings that are considered as priority ones have been validated. The edits are indeed visible on the back-admin page of Google My Business; however, they are not visible on Google nor Google Maps, as seen in the example below. On March 25th, the situation seems to have improved and more updates are coming trough.
Edits concerning the name, address, website or even phone number remain on a waitlist from Google My Business. According to our contacts working at Google, we're expected to wait 4 to 6 days for any edits other than open hours.
With that being said, what's the current status of other functionalities, such as Google Posts, the closings and openings, the exceptional opening hours, or even the user reviews? We'll discuss it further in this article.
3. New openings and ownership requests judged as non-priority
The creation of a listing on Google My Business has always been relatively complex since it requires either the validation of a code via mail or a "bulk request" made to Google teams. For the time being, neither the "bulk validation", nor the confirmations via mail seem to be working. As such, no listing can currently be created nor claimed (as of March 24th).
The main reason for this situation is that the Google staff is too busy to be handling manual verifications. In fact, in order to avoid any frauds (something very common on Google My Business), Google Support makes some manual verification of a weak percentage of creations and claims of business listings on GMB. As such, these two processes have been currently put on hold.
4. Delays for opening and exceptional closing times
From the tests that we have done, the addition of special hours (and closing) seem to be prioritized over other edits (such as name or phone).
Meanwhile, following the current situation, the moderators from Google are concentrated over the Health-businesses. All of Partoo's clients have been contacted in advance since the first day of lockdown to manage this subject, before the situation became worse and that most edits had been blocked by Google.
The Partoo teams work seamlessly with the Google staff to push some edits to be done for a specific purpose: The objective is to reduce the time needed for any changes and to allow our clients to have their information updated on time.
For each edit, it is necessary to have an "escalation request" and to show through convincing arguments that the impact of a mistake on Google is a major issue: the problems related to the Health-sectors are still prioritized.
5. The importance of Google Posts
According to our study over the past few days, Google doesn't seem to have put any restrictions to the Google Posts functionality. This means that if you have any news restrictions, delivery timelines, or the possibility of using Click&collect, you're better off using Google Posts to make the announcement.
Despite the current situation, things may change quite quickly in the next few days. As such, we advise you to take advantage of this functionality while it's available. In fact, Google Posts are already being victim to a certain instability currently, as per Mike Blumenthal, an SEO expert in the USA. (see the screenshot below).
Moreover, be careful not to make any mistakes while writing a Google Post. In fact, if the functionality doesn't find any bug during the creation of a post, we have noticed some problems in the deletion process of some of these posts. You'll find below, for instance, a screenshot of a Google Post that had originally been deleted: the text and the post have not disappeared; however, the photo is no longer being shown and instead, shows up as a grey sign.
6. Google Reviews: A functionality that's lost its priority in its current context
In reference to the reviews, Google no longer allows users to post them nor clients to respond to them. In fact, all teams in charge of moderating the reviews are currently focused on local data liability. As such, the last reviews we have identified on Google have been posted on Friday, March 20th.
Internet users still have the possibility of leaving their reviews by clicking on "Publish". However, this review will not be published on the listings directly. The question remains open as to how these reviews are to be stocked on Google and when they will be posted on the business listings, once this health crisis is over.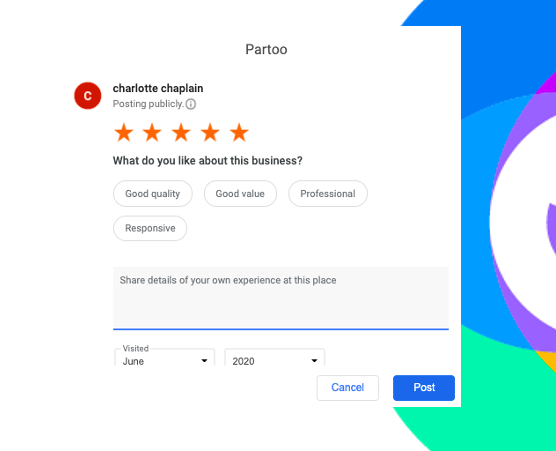 Responding to reviews is also impossible currently. The button "Respond" has, in fact, been removed from the Google My Business interface. Furthermore, this functionality has been deactivated on the Google My Business API.
7. No more Q&As? For good, this time?
Launched toward the end of 2017, the Q&A functionality from Google My Business allows for the existence of a FAQ directory through crowdsourcing, where Internet users can ask questions that are directly made visible on the Google My Business listings as well as on Google Maps.
Since this functionality seemed to be used less frequently over time, as of a few days ago, it has finally disappeared from Google My Business listings. Thus, it's no longer possible to ask any questions nor to answer them. In a declaration to the Search Engine Journal, Bill Hartzer, an expert in local marketing, has given his opinion about the decision to withdraw this functionality:
"Most likely, Google is doing this because they want to make sure that the information provided is valid and from trusted sources. I can only imagine how quickly the Q&A could potentially get out of hand if they allowed anyone to answer questions."
* * * * * * *
At the current time, as you must have already noticed upon reading this article, it is extremely difficult to properly use Google My Business. Thus, it is of extreme importance to be well informed and to have the correct instructions on best practices. Most importantly, it is important to follow up on the current news regarding this matter as well as on the evolution of the current functionalities. We will also do our best to keep this article updated as we get more information.
In the current situation, it is of utter importance to understand the reasons for such changes. At Partoo, we consider that it is normal that the health sector be prioritized by Google. That's why we're working diligently to ensure that all of our other clients are also getting the proper information they need. We know how hard this period has been for them! For any additional requests or questions, we're available via chat (down below) or via email: contact@partoo.fr