You wish to improve your web-to-store conversion rate but don't always have the internal resources to do so? How to measure your ROI?
You will need to know all the KPIs to monitor to convince management to prioritise this work and allocate you some budget.
Having read about the issues involved in local SEO, you've understood the importance of listing your points of sale on as many platforms as possible, like Google, Facebook and Waze, to improve your web-to-store traffic. Now you need to decide on clear metrics to measure ROI. This isn't too hard because with this type of "local visibility" work, KPIs are tangible, being directly linked to store activity.
Google listings have the biggest impact. Here are the 5 KPIs to track on this platform and the results you can expect.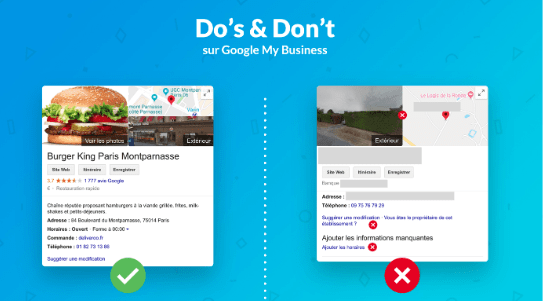 1 – Direct searches
The number of times that your Google listings (image above) appear when an internet user searches directly for the name of your point of sale, for example "Burger King in London" or "John Lewis London". This only happens when your business has a strong brand image. According to Moz, this type of search only applies to 20% of user searches.
"Of the 20,000 retail businesses that optimised their local SEO on around twenty platforms (search engines, social media, GPS services and online directories), here are the results between 2017 and 2018."
2 – Indirect searches
The number of times your Google listings appear when a user searches for you via a category such as "DIY store in London" or "Department store in York". This trend is growing hugely and Moz says it now accounts for 80% of user searches. Users expect to get the best recommendations from Google according to the keywords entered, the distance away they are and the point of sale's rating.
"Aigle again saw increased indirect searches in 2019: an 89% rise after launching its web-to-store strategy in 2015. This is huge progress given that each year Aigle listings appear over 10 million times on Google. "
3 – Website clicks
This is a strong KPI if you have an e-commerce platform. 85.5% of French internet users now buy online, making an average of 28 purchases a year. So, if you want to find out your extra sales from this influx of new visitors, you just need to apply your "website visitor/purchase" conversion rate.
"The independent BigMat network increased website visits by 90% in 1 year."
4 – Route requests
We can all agree that a person who uses a map service to find a route to your business is a strong web-to-store conversion indicator. Unless something unexpected happens, there is no reason why the person won't then travel to you.
"Consider the example of the Guinot Mary Cohr franchises. They sextupled the number of route requests to their beauty salons."
5 – Number of calls
This KPI is an important opportunity for business and customer relations. Calls are often about product availability, booking appointments, and complaints. Whatever the motive, it's up to you to decide if your number should go to your store or to customer services.
"The Fournier Group (SoCoo'C, Mobalpa, Perene) sends all Google My Business listing calls to its stores. It has seen a 30% rise for this indicator. This is a high percentage as most are for booking appointments.
Well, now you know it all. You have all the indicators and ROI information to convince your management to boost web-to-store traffic for your points of sale. Now it's over to you!
With Partoo, "Get found… online!"
About Partoo:
Partoo makes you visible everywhere, at any time by generating up to 7 times more contacts than your website, boosting your web-to-store traffic and improving your customer interaction with reviews.
We provide services to 80,000 outlets and 300 brands in Europe, including Carrefour, Starbucks, Burger King, Promod, Toyota, LCL, Groupama and more…