Google recently blogged about an update to its BERT (Bidirectional Encoder Representations from Transformers) algorithm: the "biggest leap forward in the past five years, and one of the biggest leaps forward in the history of Search", no less.
What does this update involve ?
What is Google BERT?
This update allows Google to better understand the links between language elements in search text.
In other words, Google can now provide more relevant results for long-tail searches (over 3 words) characteristic of voice searches like "is there a nice restaurant in the area", or "can I buy medicine for someone at the pharmacy" for example.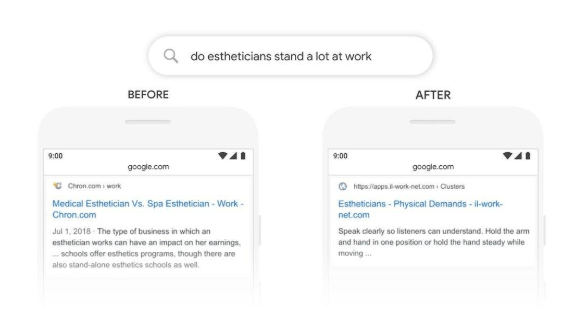 According to Google, this update affects one in ten searches in English and/or containing featured snippets and will gradually be rolled out to other languages.
What impact does Google BERT have on local SEO?
However, because this update is so recent, it's still impossible to say what impact it will have on SEO for local businesses.
Also, as mentioned above, BERT is currently only working on English searches and results with featured snippets, so don't expect to see any major changes in the next few days or weeks if this doesn't apply.
With Partoo, "Get found… online!"
About Partoo:
Partoo makes you visible everywhere, at any time by generating up to 7 times more contacts than your website, boosting your web-to-store traffic and improving your customer interaction with reviews.
We provide services to 80,000 outlets and 300 brands in Europe, including Carrefour, Starbucks, Burger King, Promod, Toyota, LCL, Groupama and more…