It's easy to feel forgotten and abandoned when you're a customer who hasn't received a brand response to your online review. Yet, many businesses don't take the time to reply: a common but devastating error.
Indeed, online reputation has never mattered more: 91% of internet users check reviews on Google or Facebook before deciding whether or not to visit a store.
The figures go even further. If they come across negative comments, 66% of customers postpone their purchase to think about it and 30% abandon it altogether. Customers don't make decisions alone. They listen to peers who make up a trusted community: one with super powers that provides a "Yes" or "No" decision.
Local SEO is also involving more of an online reputation element, which is set to shake up brands' web-to-store strategies. In France, there were as many reviews left on Google My Business listings in the first 3 months of 2018 as there were in the 3 years 2014, 2015 and 2016! This review boom is going to force brands to develop ways of monitoring their online reputation centrally as well as locally.
Not responding to reviews: a major error
Thanks to sites like Google and Facebook, any individual can now give their opinion and make it visible to everyone. Even the shyest of people who wouldn't dare to speak up in a store will happily use their phone to type out a review. Not responding to a comment — whether positive or negative — is now seen as unusual. It would be like letting your phone ring and ring without ever answering it.
Customers want to be heard and considered. Are they complimenting you? Then thank them. Complaining about your service? Listen to them and suggest solutions. By doing this, you will develop a closer relationship. Transparency is key and customers are judging service to be increasingly important.
Time to give the floor to satisfied customers
Happy customers most often forget to share their experience. In October 2017, 15 Mary Cohr salons tested a simple and effective solution that allows satisfied customers to give their phone number at the till and be sent a text message so they can provide direct feedback. 1 click is all it takes. The Guinot Paris Ponthieu salon received as many reviews in 3 weeks as it did previously in a year and saw its Google rating rise from 4.2 to 4.5/5.
Did you know?
Internet users can now filter Google results by rating. For example, they can only choose businesses that have at least a 4 out of 5. We make our decision based on ratings as well as number of reviews.
Here is an example where we are searching for "Hairdresser – Budapest" and using a filter so we only see brands with ratings of 4 stars and above. The rating and number of reviews will directly influence prospects' choice.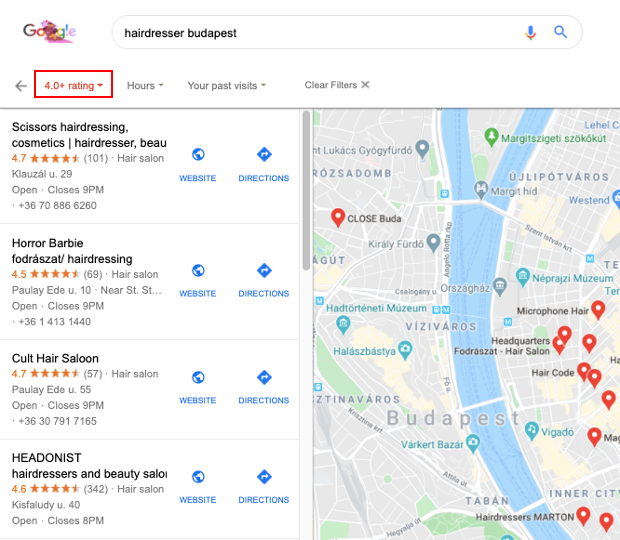 A TIME-SAVING, CENTRALISED SOLUTION
So, you now have a mission: to interact with and respond to all customer reviews online. Don't worry if this seems impossible: there is a solution that brings all your reviews together, whether left on Google or Facebook, and allows you to respond using one interface.
Now you know that online reputation is absolutely crucial for your brand, don't let this opportunity pass you by!
With Partoo, "Get found… online!"
About Partoo:
Partoo makes you visible everywhere, at any time by generating up to 7 times more contacts than your website, boosting your web-to-store traffic and improving your customer interaction with reviews.
We provide services to 80,000 outlets and 300 brands in Europe, including Carrefour, Starbucks, Promod, Toyota, LCL, Groupama and more…