1. Remove the "Temporarily Closed" sign:
The first thing to do is to make sure you don't have your business listed as "Temporarily closed."
This feature was developed by Google My Business to allow those businesses with absolutely no activity (no delivery, no customer service available, and no "pickup" option) to indicate that they're indeed "Temporarily Closed."
Thus, if you still have a phone line that remains active, if you're providing delivery options, or if you offer "store pickup," the best option for you is to provide your alternative opening hours instead.
Therefore, the easiest way to do so is to use the import option available on Excel, otherwise you'll spend too much time to get the job done, since you'll need to make the full update on a daily basis for each one of your establishments, all manually… That's why the "temporarily closed" option exists. That way, you won't have access to Google My Business attributes of delivery and store pickup.
Now, the best way to speed up this process is to use Partoo's solution. That way, by taking a couple of minutes to request this adaptation from your Customer Success Manager, it will be done easily in the following hours. If you wish to discuss this with us, send us an email at contact@partoo.fr. We're currently receiving hundreds of requests, but we promise that we'll get back to you on the same day.
2. Verify if your category is eligible for it!
The attributes (i.e. "Eligible for store pickup" or "Eligible for delivery") depend on the category of your listings on Google My Business (to know more about this, here's an article we have written about it). As such, if you notice that your listing on GMB does not have the option for "Store pickup," that's due to the fact that your category is not eligible for this attribute.
The first thing to do is to add additional categories: You can add up to 9 additional categories besides your main one! By the way, here is another article we've written about it.
Let's take the example below. Imagine you own a hair or beauty salon: That means you're not eligible to provide "Store pickups" ? At least we haven't heard of this yet.
However, if you do sell beauty products and these products are being sold using the "Pickup" option, then here's what to do:
First of all, add the eligible additional categories. For instance, "Beauty products store" (Please note that the more categories you add, the better you'll optimize your listings' SEO in the long term ? ).
Second, make sure to add that as your MAIN category at least during the lockdown.
In fact, after several tests run for the hair salon networks and beauty institutes currently using Partoo's services, we have determined that the MAIN category is the key to changing this situation and to be able to add the aforementioned attributes to your listings.
Please note that upon changing your main category, your listing will once again be analyzed by Google My Business. This might take longer than usual due to the overwhelming workload that the Google My Business teams are having due to the current crisis. (An example down below)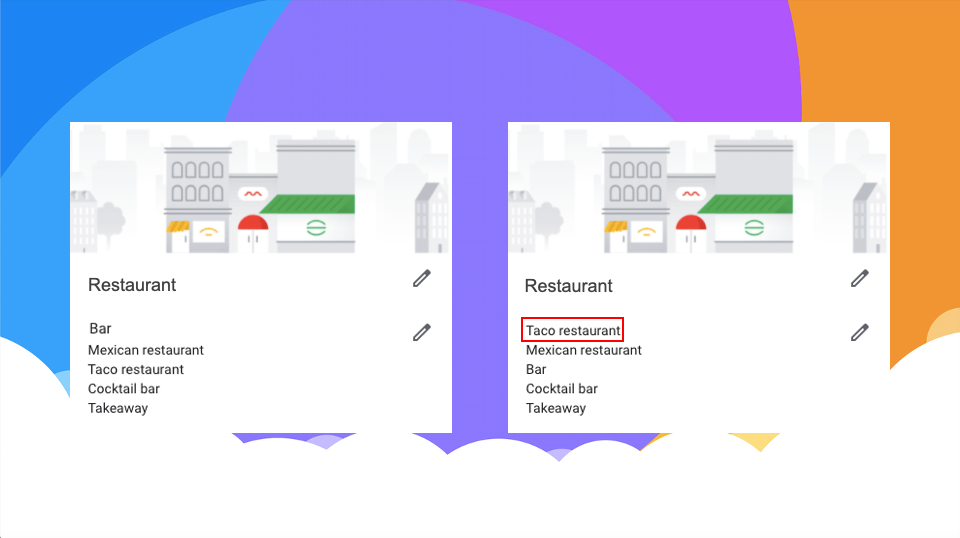 Once you have successfully changed your main category, you'll just need to access the "Attributes" option on your listing to add what's necessary. That's the third step, you're almost done ?
3. How to complete your Click & Collect attributes
Three cases may occur:
You're a client of Partoo: Just send a message to your Customer Success Manager with the list of establishments that will perform delivery or pickup services. They will take care of your request as soon as possible.
You're not a client of Partoo and you have fewer than ten establishments: You can access your listings and change them manually. Click on the "Info" tab, then on "Attributes" and check the box for "Store pickup" or "Delivery" (See example down below)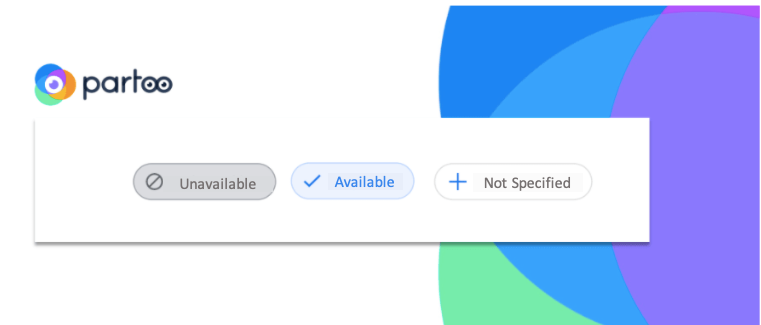 You're not a client of Partoo and you have more than ten local establishments: In this case, we don't recommend you do it manually as it will take a long time to get the job done. Two possibilities can be explored: You can contact us for help, or you can take advantage of Google My Business' Excel import feature by adding the attributes directly on the template. Then, you'll have to re import the data!
We sincerely hope that this article has been helpful to you. We also hope that this will allow you to better inform your clients on the services you propose in your establishments.
Best wishes during this difficult period ?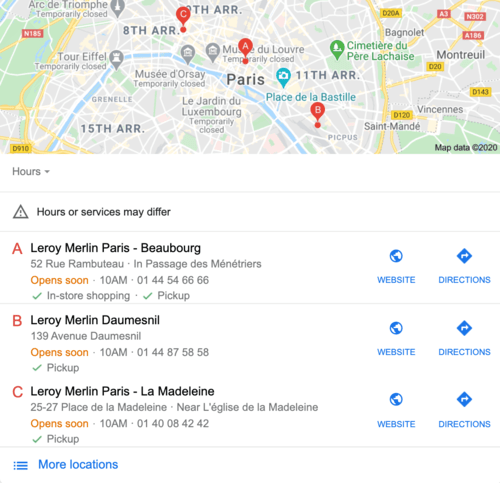 About Partoo :
Partoo makes you visible everywhere, at any time by generating up to 7 times more contacts than your website, boosting your drive-to-store traffic and improving your customer interaction with reviews.
We provide services to 80,000 outlets and 300 brands in Europe, including Carrefour, Starbucks, Burger King, Promod, Toyota, LCL, Groupama and more…