Created in 2015, this Google My Business extension has been developed to help optimize businesses' visibility and increase their online presence. Nowadays, about 1 out of 3 online searches are about local activities. This has led to Google My Business (GMB) becoming the leading web-to-store platform. In this article, we will guide you through a 3 steps presentation of Google my Business, how to benefit fully from it and finally its impact on your brand image.
So what is it exactly?
#1 Definition
GMB is a free tool listing the main information about your business: name, address, weblink, phone number… Depending on your industry, it allows you to connect with your customers through their online exploring by enabling them to call, book, find an itinerary and so on from the same page!

Moreover, it helps you broaden your network to attract more clients and optimize your e-reputation, assessed thanks to your score and reviews.
Basically, your google page is the reflection of your business online. That's why we recommend you to update it frequently. Last year, 75% of global search traffic was accounted for by Google, and behaviours have shifted towards finding information quicker and more easily.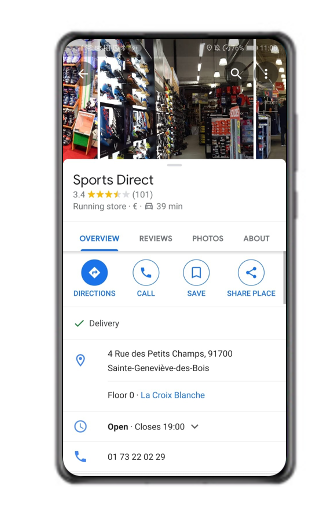 But, let's not forget that it is not an automated platform. Your business first needs to meet Google's guidelines in order to create and claim your GMB profile. Besides, you remain responsible for keeping it up to date, which could be time-consuming.
#2 Add categories for more visibility
Moreover, people tend to look for categories or keywords rather than a brand. Therefore, the presence of more keywords means that you can match with more typed in requests. Let's imagine you are a Mexican restaurant; users are typing in the search engine "Taco Restaurant". By referencing your products, your shop will pop up more often in their research. This new functionality expands your visibility and has a real impact on your growth.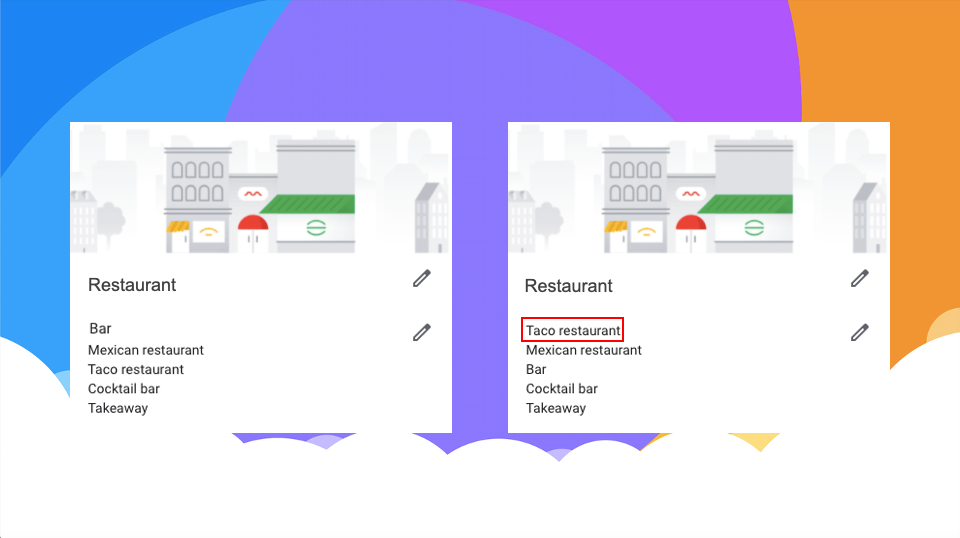 #3 New features
Also, whether you're handling your business's page or just curious, know that Google constantly evolves and adds new features. Recently, GMB launched a new version facilitating the addition of more in depth information and the enumeration of services that your business offers: in-store shopping, same day delivery or even curbside pickup, everything can be listed on your page.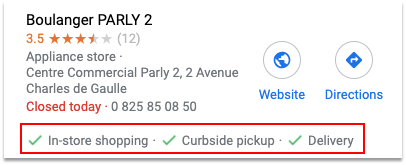 Optimize your use
#1 Google Posts
When logging into your personal dashboard, you will be able to generate engaging content by designing Google Posts. Google Posts are a new feature introduced by Google which allow businesses to share messages directly with their customers. They show up in the local panel on Google search and on Google Maps.
During this Covid-19 crisis, these posts appear to be very useful to announce the re-opening of your establishments or news linked to the situation.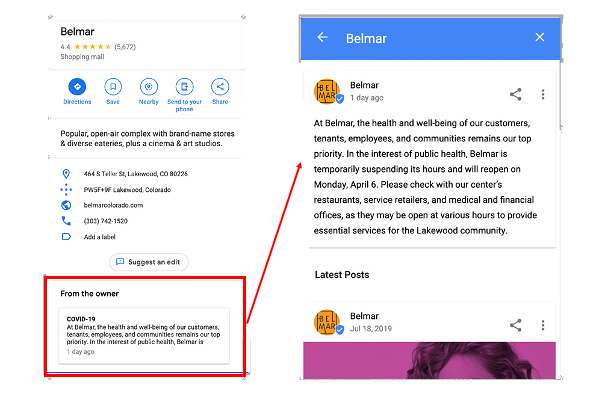 #2 Assess your actions
You will also be in the position to see customer comments and, thanks to statistics, assess if these measures are worth your time.
The study linked here found that companies who took the time to create meaningful GMB posts had higher returns on their investment by having higher chances of converting "searchers" into customers, or to at least get them interested in your company.
Thus, you should be aware that the faster you acknowledge the importance of SEO for your business, the faster you will benefit from the leading web-to-store platform.
It is also recommended to use KPIs to evaluate the effectiveness and online repercussions of your efforts. You can measure such as the number of times your business appears after direct or indirect searches, the amount of individuals asking for the itinerary or even the number of potential clients calling you.
Let's take the example of Leroy Merlin. Between 2018 and 2019, after optimizing their online presence, their indirect searches increased by 140%.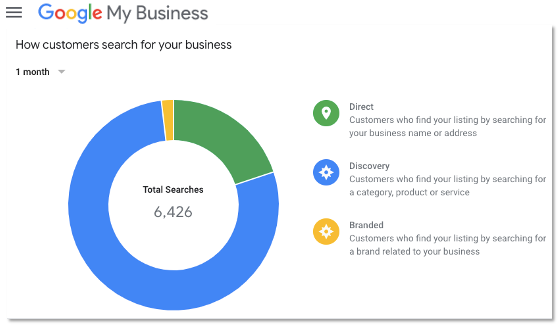 The future of brand awareness?
If you have read the article until here, you have understood that GMB, thanks to its concise and useful information, is the most powerful tool to increase your online visibility and SEO. And it has become the leading web-to-store platform for businesses.
Following this path, Google launched new features aiming to bring even closer establishments and clients:
The "Message" functionality enables clients to chat directly with a business, as is it already possible with Facebook Messenger,
You can "Follow" establishments to follow their news,
The "Menu", "Product", "Service" features allow businesses to present special offers, discounts or events.
Consequently, Google My Business has become THE digital showcase for establishments. Internet users can find on a single page all the information they need in a short period of time. Indeed, ways of looking for information online have changed in the last few years. Customers don't go on the specific establishment's website; they directly type in the Google search engine and have everything in a blink of an eye.
To know more about how to improve your web-to-store conversion rate, don't hesitate to check this article from our Blog.