This weekend, we noticed some changes on Google's local pack. It is not surprising considering the fact that 46% of Google searches are local searches.
A new local pack in search results?
As a reminder, in a local search (the one that includes a geographical dimension) results are influenced by different elements:
Your GMB listing's SEO; based on the quality of your GMB's information and your company's reputation (via customer reviews)
Search Engine Advertising or SEA; it allows your brand to have a better ranking but sometimes is less attractive for Internet users who avoid ads displayed by the "Ad" label.
Search Engine Optimization or SEO; it is influenced by both internal factors (optimization, tags…) and external factors (backlinks, data standardization, GMB…) to your website.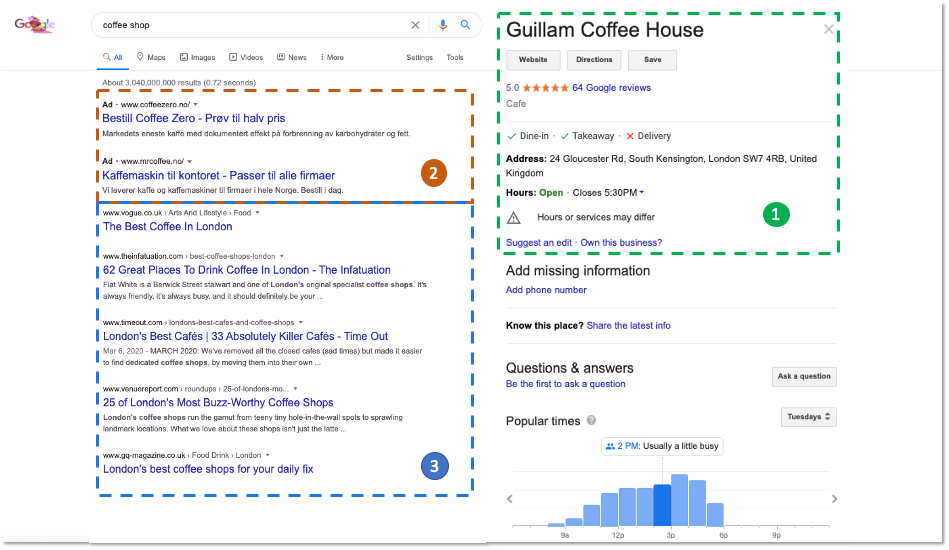 Your listing won't always be displayed on the right side of the results. In fact, when Internet users' requests are not accurate enough or when there is a lot of competition, Google will display a local pack depicting to the user 3 or 4 different Google My Business listings.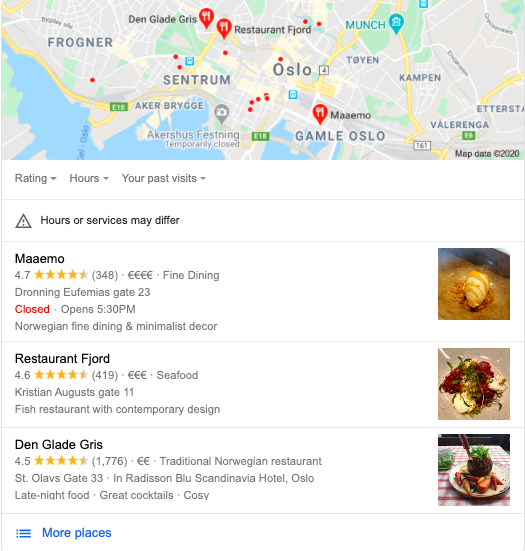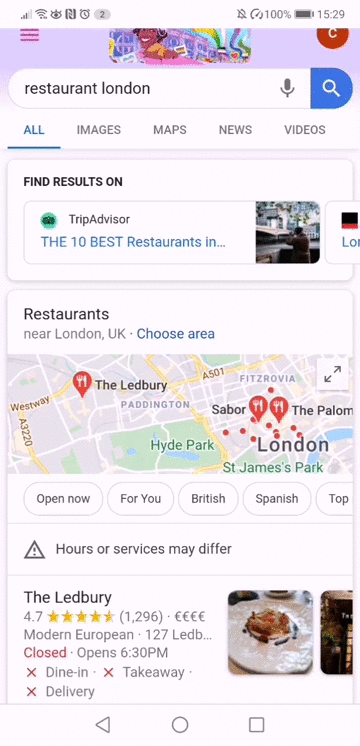 Since last week, Google new local pack now showcases a 5-picture gallery showing the place. This new gallery is only displayed on the Mobile version and for jewellery, car-dealer or catering businesses mainly, but not for the services ones, such as lawyers or locksmith.
In the US, the 5-picture local pack is displayed AND the first photo seems to be matching the user's query. For example, if the search is about an engagement ring or earrings, the first image will reflect this query.
Focus on visual search to attract new customers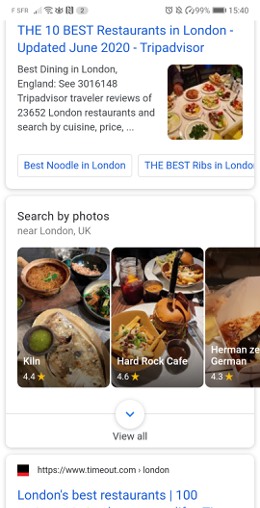 In addition to the increasing number of pictures available on the local pack, Google, which is controlling more and more local results on the mobile version, exhibits its "Search by photos" under the local pack.
These changes are proof that Google is putting more and more emphasis on visual search. Indeed, the way people search the web has evolved. More and more users use visual search to make online purchases. Major search engines and social networking platforms launching visual search tools, such as Google Lens, Pinterest and Bing, as well as users' visual search preferences tend to increase. An E-marketer report published in August 2018 showed that visual search was the most popular technology among 18-34 year olds in both the UK and US. And this number is expected to keep on growing.
This raises a really important issue. Do companies – especially those that rely on images to capture the attention of customers, such as restaurants or fashion – attach the necessary importance to the optimization of the images they publish on their website, e-commerce site and Google My Business ?
Image optimization has been neglected over the last 5 years. Not managing properly your images means a loss of valuable SEO asset.
Discover our article on how to increase your web-to-store conversion rate with GMB thanks to categories, attributes and photos.