What first pops up into your mind when you think of local SEO? For us, we think of Google My Business. Why? Because from there, you can find information about your opening hours, establishment's category and attributes, your average ranking and reviews. And you can also optimize your listings to improve your raking in search results.
But in reality, working on SEO goes much further than that, and nowadays, it is interconnected with regard to the information we publish on the Internet (NAP Consistency, Domain Authority…), so that you can appear on different diffusion platforms, even if you're not active on them.
Therefore, when managing your online presence, you have to clear and updated data, or having wrong data.
Now let's explain 5 of the most important platforms for dissemination in your SEO strategy.
Facebook
Facebook is the 4th largest search platform after Google, Youtube and Amazon!
It seems pretty logical since throughout the planet, there are, according to this SearchEngineJournal article, about 1.5 billion users per month.
Within Facebook Business, you can encounter:
Main pages or mother-pages: those referring to companies as an institution.
Location pages: those indicate all of your establishments' location.
Pictures: They showcase your business, atmosphere, products…
Why is it beneficial for you to be active on Facebook ?
Until recently, this platform was not well-suited as it is today and as it has also happened to Google. In that case, we see more and more investment of the platform in this area and a greater presence in SEO management. One example of this would be the newest feature facilitating communication between clients and businesses.
Also, by being present on Facebook, the platform will mirror your information onto other platforms, such as Instagram (with over 1 billion users in 2018), in its Instagram Locals section.
Apple Maps
Originally designed to compete with Google Maps, this GPS device, Apple Maps still hasn't reach its biggest rival's popularity.
However, in the last couple of years, it has taken a 360° turn. Apple Plan has begun to rise from the ashes and has started a revolution in GPS devices that promises to change the way we read maps.
Why is it appealing for you to appear on Apple Maps?
This GPS device is becoming increasingly popular among users with iOs devices. Its latest changes in user experience have encouraged this "drift" towards this platform. Higher resolution in maps, integration with the Siri voice search engine, or the stricter treatment of users' privacy are some of these factors.
Waze
In 2018, about 1 million users were already using the platform. This GPS application keeps on attracting customers over the years and has reached 130 millions active users per month worldwide (implemented in 185 countries).
But do you know how Waze works? First of all, you have to understand where the GPS data is coming from:
Through companies or establishments: within all the maps displayed from the application, all of the establishments present in the user's itinerary are indicated. Relevant information can be displayed such as opening hours, telephone, web page or establishment's attributes.
Through the users: users can add information regarding the state of the road, traffic, police checkpoints…
Why is it appealing for you to appear on Waze?
Since Google owns Waze to enrich information available of Google Maps, figures depicting the number of users keep on increasing.
In the case above, a user can display these points of sale or establishments through:
Branded Pins: containing the brand's logo, and according to its proximity, they propose a button to redirect your route to them.
Promoted Search Ads: the Waze search allows advertisers, in this case establishments, to appear during the search phase. In the results, you'll find in the highest position related or close-by brands. The same thing also happens in Google. For instance, if I look for "fast food", McDonald's will appear in pole position.
Nearby Arrow Ads: As you pass a certain route, establishments on that route will be shown.
Zero-Speed Takeover Ads: When the user is stopped, these appear. They have a double purpose. First, those ads appear when drivers are most focused. Second, it helps prevent distractions while driving.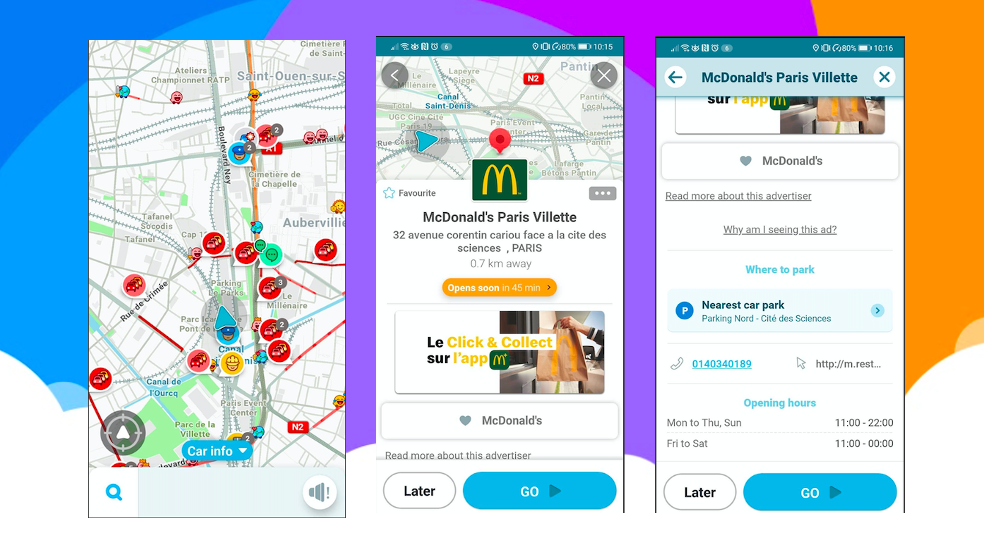 Bing
Although Google is the number one search engine, we should not forget its competitors. In that case, we talk about Bing, second most used search engine in the world after Google y Baidu, the equivalent of Google in China.
Why is it appealing for you to appear on Bing?
As we explain at the beginning of this article, all the information published on the Internet is multiplied and distributed among the different platforms that can work with this type of data. That is why even search engines like Bing, can be the ultimate weapon to enhance and improve your online positioning.
Foursquare
Based on establishments' geolocation and their reviews, this network has more than 55 million active users per month.
Users can search for establishments near them, and find out general information about them such as opening hours, attributes, contact telephone number, website, etc. In addition, from the platform users can book and leave reviews and photos of the establishments, which other users can view. Just as if it was a file in Google My Business.
Why is it appealing for you to appear on Foursquare?
Based on a study conducted by Bright local, Foursquare is the fifth fastest growing social network when it comes to online reviews, behind Google, Facebook, Yelp and TripAdvisor.
In addition, it was found that people prefer to search for reviews for leisure activities or travel destinations on Foursquare, even if they are behind major competitors such as Google or Facebook, which makes it still a great way for store owners to attract local customers.
Other platform that you can use to diffuse your information throughout the Internet:
GPS such as Here, integrated in the Volkswagen group, or TomTom