Digitalisation has become essential for small retailers as a driver of activity, turnover and even customer loyalty. Hence, at Partoo we developed tools to help those local merchants manage their local visibility without wasting time or hassle. New drive-to-store practices are even made possible thanks to SEO optimization. Focus on click-and-collect that improves the customer experience and generates more business both online and on site: the winning combo!
1. Ollca: What is it ?
Victor Gobourg's ambition, its founder, is to "become the alternative to Amazon for local retailing". The Normandy-based start-up, now operating throughout France, whose platform was launched in June 2017, is developing ready-to-use online stores for food retailers and offers a click & collect service, also known as Drive pedestrians, and even delivery.
When we entered into our partnership with Ollca last January, we set a common goal: improve their clients' visibility and thus get them to appear as high as possible in local search results in order to bring traffic to their online shops. In two months and a half, right before the lockdown, we reached what we committed to: Ollca's food service businesses appeared almost 3 times more in Google search results compared to the previous year. These searches contributed to the increase in traffic on the platform from February to March.
2. A win-win relationship?
A. Boom in the number of actions on Google My Business's listings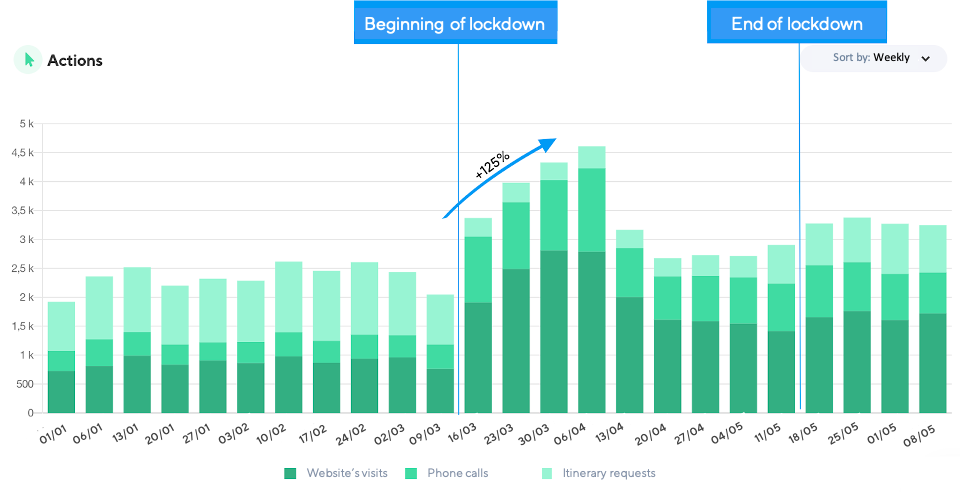 The total number of actions has more than doubled since the beginning of the lockdown. On average, it represents 135 actions per week per local business compared to 7.5 this same week for local stores that do not offer a click-and-collect service. Therefore, working on local SEO and optimizing Ollca's customers' categories has paid off. They were visible at the right moment, and took advantage of this to increase their overall activity by attracting new customers!
How does this "attracting" work? By following various indicators, we managed to identify a real change in French consumption habits. With the quarantine, the number of itinerary requests has decreased by half compared to the period from January to March. Internet users were then looking for information on these businesses, not to go there as trips were limited anyway, but mainly to order. That's when click-and-collect came in and proved its worth. Calls statistics and especially website visits were up sharply throughout the containment period and even doubled compared to the pre-lockdown period.
Still today, these figures remain high and denote that click-and-collect has become a consumption habit embedded in people's lives. This is a very positive evolution as click-and-collect possesses many perks both for the retailer and for the consumer; no lines in stores, no delivery fees, optimized customer experience and business generated both online and in-store that boost local SEO and turnover!
" Do you know that pedestrian click&collect/drive encourages additional purchases? According to a study conducted by IMRG, 40% of customers using these services buy an extra product when they come to pick up their order!" *
Thus, the fact that Ollca added this "click & collect" feature on its listings played a big part in the company's success. In fact, Google introduced this feature mid April during the quarantine in order to help retailers inform better its online clients.
B. An incredible conversion rate
Let's have a closer look at the conversion rate. By conversion rate, we mean the ratio between the number of individuals who performed the desired action and the total number of visitors. We compare the total number of actions performed by Ollca's clients on GMB's listings, and the total number of times these records appeared in the search results. This indicator is a key factor assessing the effectiveness of optimising local visibility through a NAP (name, address, phone number) multi-distribution solution and of the impact it can have on Ollca's activity itself.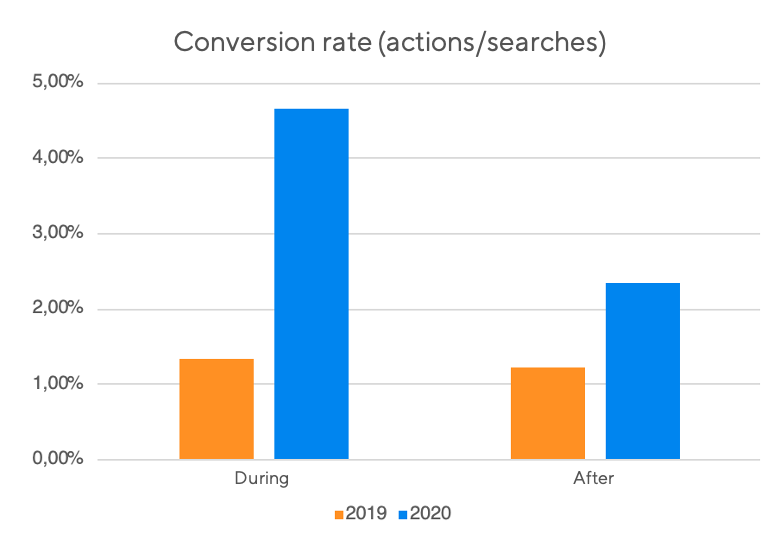 During the lockdown, this rate reached 4.66% compared to 1.33% last year at the same time of the year. This huge increase is mainly due to changes in French consumption habits that we talked about earlier. Many have switched to deliveries or click & collect when it comes to groceries to avoid going to shops during the lockdown.
With the deconfinement, French people started going out again. But we can still notice that the post-lockdown conversion rate remain twice as much as in 2019, and is still very high.
Those new consumer behaviours are amplifying the need for a trader to make himself visible throughout his range of trade. By creating an opening for research through an online shop, we come to complete perfectly the work of optimizing its visibility and thus maximize its turnover!
3. How have these developments been reflected on Ollca's side?
We have witnessed after the lockdown announcement a shift in consumers' lifestyles right down to their daily errands. Thus, it made perfect sense for businesses during this period to offer the click & collect service to its customers. By ordering, paying and selecting a withdrawal slot beforehand, customers could continue to consume the right products from their local merchants while limiting the time spent in shops.
Therefore, online orders increased by 77% compared to February in all cities wherein Ollca has a shop, forcing retailers to adapt their in-store organization. More space inside shops was dedicated to online orders, always in compliance with the sanitary restrictions. Thanks to that, butchers, bakers, cheese makers and caterers have been able to maintain a very dense activity; sometimes needing to increase their staff to meet demand. The evolution of the turnover brought to Ollca's partner retailers during this period illustrates this, with a 1,123% increase.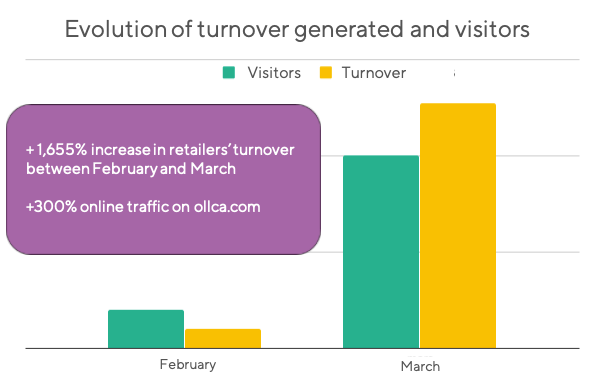 It should be noted that many consumers have rediscovered the pleasure of local consumption by testing this express withdrawal service offered by craftsmen in the food service industry. Shops' visibility on GMB's listings, that users are now accustomed to; and posts made on social media highly contributed to presenting this service.
To this day, even after the lockdown, click and collect is still very much used by customers who appreciate this new way of maintaining the link in the shop with their merchants. The enthusiasm for this new service encourages merchants to strengthen their online presence.
* IMRG study, Home Delivery Review, 2014