This article tackles the topic of local SEO and addresses the Healthcare industry. It provides you with real life figures collected through our clients, including Adeslas, Unilabs, or Giphar for instance. From digitalization to the optimization of your online visibility, we give you some tips and best practices to increase your online performances.
#1 Increase of online needs
Due to the huge increase of the use of the Internet, all industries have to adapt and change their habits to adjust to the current trends. This sector has to keep up with technology and understand the importance of being present on the Internet.
In order to understand the current situation, we performed analysis on our clients from this field. These results were provided to us by Google My Business and refer to the 2018-2019 period. These figures clearly indicate that more and more people are using the Internet to find information about your facilities.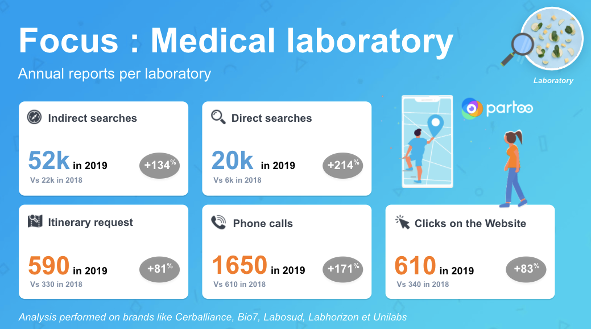 Some vocabulary to all be on the same page:
Indirect searches: searches not directly targeting Partoo
Direct searches: Searches clearly mentioning our brand
Itinerary requests: Internet users clicking on the "Directions" button to get itinerary from Google Maps
Phone calls: People calling from the phone number on your Google My Business's listing
Click on the website: How many people clicked on your website pages.
Actions taken on GMB's listings by Internet users noticeably increased. Thus, having up-to-date and reliable information is essential if you want your customers to find you, call you, and come to your businesses.
In addition, as we have more specialised clients, we decided to gather data from the Optic and Audio industry, and also noticed a significant increase in the number of actions taken directly from Google My Business's listings: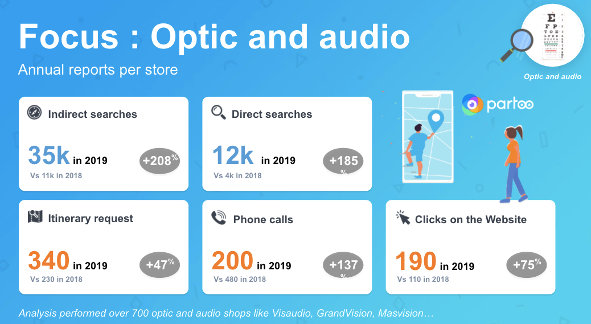 #2 The importance of online reviews
When doing our research, we also noticed that reviews started to gain importance for medical laboratories. These infographics below show the growth of reviews left per local business, as for instance an increase of 55% of reviews left per store between 2018 and 2019.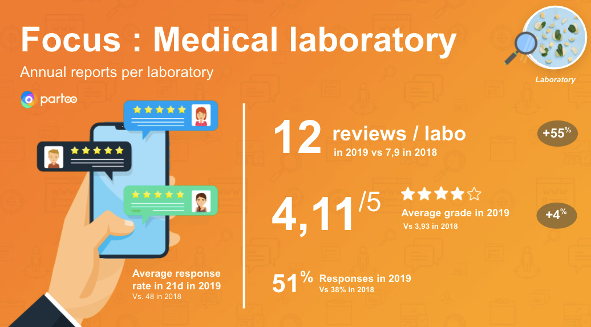 The Optic and auditory fields acknowledged an even higher increase: +72% during this period per store.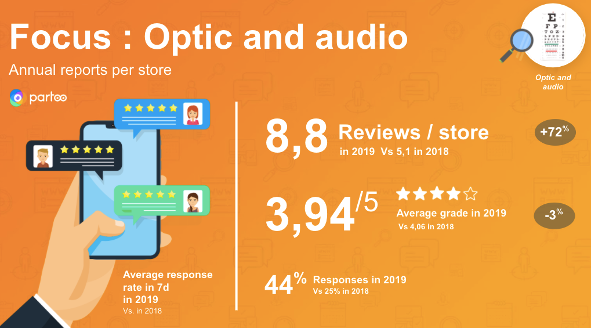 Having all these figures in our hands made us realize how important it was for businesses to manage their reviews. By handling those, they can even benefit from them to improve their customer satisfaction and experience when coming to their stores, taking into account feedback from customers.
Moreover, according to the Bright Local survey, to the question "Which sector has reviews that import you the most?", 45% of respondents answered the medical/healthcare sector. Hence, if you are from this field, you should think about managing and treating them even more.
#3 Create, validate and optimise your listings
Before optimizing your listings, the first step is to create one for each of your facilities, and fill in the right information!
The only fact of creating and owning all of your listings is already a big step. You should create one per store you own.
For each of your listings, you should:
Request ownership of your business profile
Create GMB listings for your missing businesses
Enter your main information: name address, phone number, photos. These represent the most basic information you should have

Having this information already boosts your online visibility.

Delete any duplicates you can find
For the medical industry, an important organisation of your data by departments is required. Specify on your listings the different services you offer: nursery, clinic, administration ATM…
1) Categories
In order for your businesses to appear higher on search results, add your main business's category and up to 9 other sub-categories. That way, if a user types in "diagnostic center", they will find you if you provided this information, and you'll appear higher than other medical facilities that did not provide this information.
2) Attributes
Attributes are a way for you to describe your local business's facilities, amenities…By providing information about that, it allows Internet users to know what to expect at a glance: they can directly either look for a wheelchair accessible store for instance, or see whether one specific supermarket offers curbside pickups or not.
A new feature also enables you to now indicate clearly online services (appointments…). Read our article here to know more about them. Those new attributes have been created by Google during the pandemic in order to adapt to businesses and customers' needs.
Moreover, you should diffuse your information on as many platforms as you can, such as directories and GPS (Waze), Social Media (Facebook) and search engines (Google, Bing).
Finally, adding secondary urls can also be helpful for customers to gain time and make appointments faster, especially in case of emergency.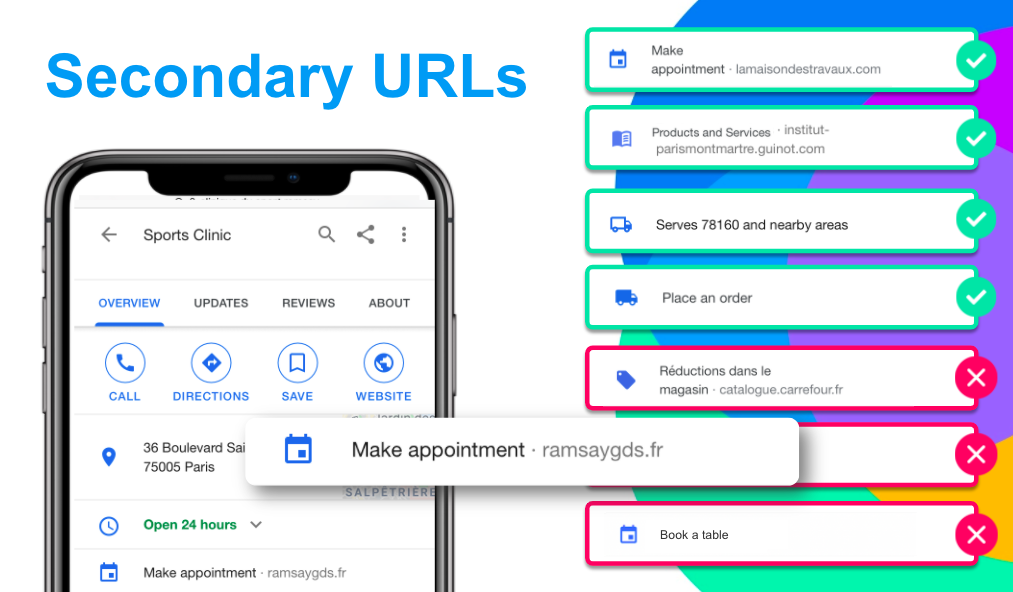 To conclude, if you are wondering why this sector should focus your efforts on improving your local SEO, we gathered the main reasons on the table below: