On Thursday, October 15 Google announced that they would soon be rolling out a new update to its Live Busyness feature on Google Maps. With the new update, users will now be able to see in real time just how busy an establishment is directly on Google Maps. The new feature will include areas such as stores, restaurants, parks, beaches, grocery stores, pharmacies etc.
With Covid-19 still extremely prevalent, the main reason for this new update is to inform users about highly-congested areas. In this way they will be better informed to make decisions on their whereabouts.
Prabhakar Raghavan, Senior Vice-President at Google announced the new feature updates at Google's Search On virtual conference. "Live busyness updates show you how busy a place is right now so you can more easily social distance, and we've added a new feature to Live View to help you get essential information about a business before you even step inside. This will help you know if a business requires you to wear a mask, if you need to make an advance reservation, or if the staff is taking extra safety precautions, like temperature checks."
What's new with Live Busyness?
Live Busyness' influence and usage has increased massively this year due to the ongoing pandemic. We picked up on some visuals from the virtual event to better explain how the new live features would work.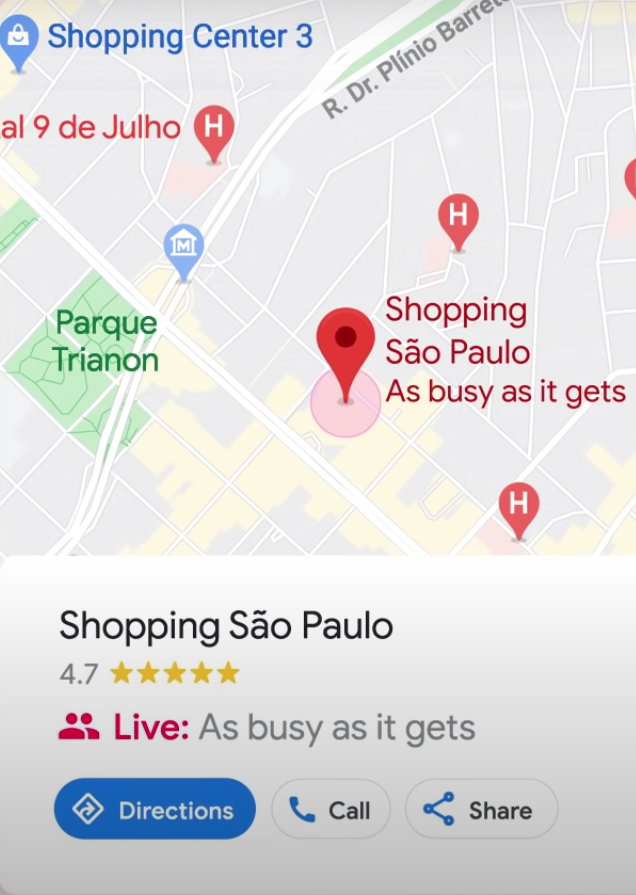 Take this shopping mall in São Paulo for instance. Before deciding on whether to make a trip, Google keeps you informed on how busy the place is.
You can see how busy different establishments are at a particular time directly on the map. If we take this example, you might want to pick Big Kahuna over Starbucks in order to socially distance yourself.
With Covid-19 drastically changing user behaviour, Google has had to adapt the way it uses historical data. "To make our systems more nimble, we began favouring more recent data from the previous four to six weeks to quickly adapt to changing patterns for popular times and live busyness information–with plans to bring a similar approach to other features like wait times soon."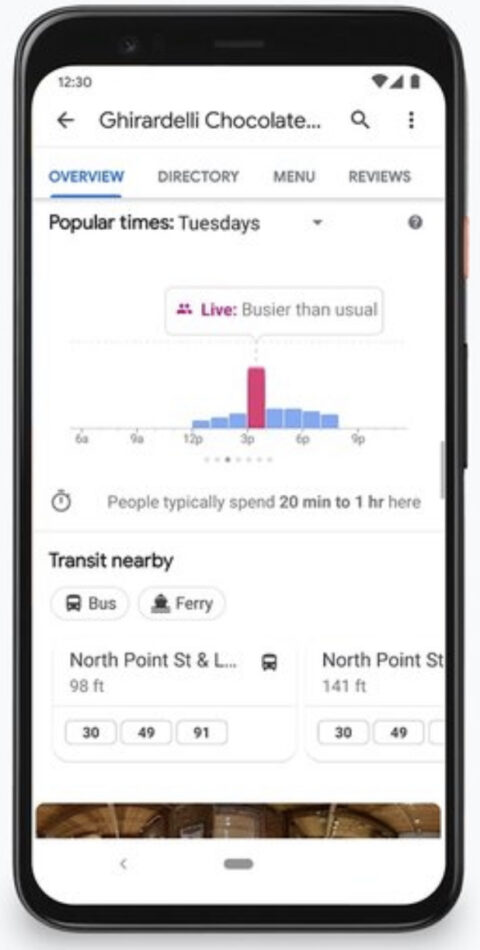 Health and Safety attributes
Finally, Google is introducing new features to Maps and Search to better inform customers about covid restrictions. As a business owner, you can now inform your customers about face masks, temperature checks and sanitised surfaces. These attributes are now available on your Google My Business back-office. You can read more about these health attributes here.
Get found …. online!