In this period of health crisis, the majority of restaurants are in a difficult situation. Delivery services have also been strongly impacted as not all restaurants that used to deliver are now delivering .
If your restaurant continues to deliver, it is extremely important to inform your potential customers. As a priority, focus on your main audience crossroads: Google My Business.
Google proposes specific measures to simplify the management of the crisis by restaurants, in particular by helping them with delivery. Whether you plan to launch a delivery service in the coming days or have one in place, this article is for you.
1) Indicate that you are open
The first thing to do if you deliver, is to indicate that your restaurant is open on Google My Business and update your standard hours based on your delivery schedule. To do this, you must own your Google My Business listing: if you do, go directly to point 2. If you don't own it, then you must claim it!
In these hectic times, Google may not be able to validate your listing using the traditional method, i.e. sending a secret code by post to your restaurant within three weeks. As a result, it is currently impossible for you to retrieve your Google My Business listing by yourself: Partoo's teams have a partnership with Google enabling them to retrieve your listing without having to send a code.
2) Indicate that you deliver on your restaurant's title
This is a first in the history of Google My Business: due to the Coronavirus, for the first time since its creation, Google My Business allows restaurants to indicate that they deliver by putting a mention in their name! The announcement, which was made in the United States in March, goes totally against all Google guidelines but responds to a real need of restaurant owners and users.
For example, if your name is "Station Restaurant", you can change your name in Google My Business to "Station Restaurant – Delivery during lockdown".
This will have two major impacts: on the one hand, it will allow you to be more visible in Google search results as "restaurant delivery"; on the other, it will indicate to all your regular customers that you are still delivering!
3) Add one or more delivery related categories
If you're not an expert on the subject, you probably only have one category on Google My Business: now's the time to remedy this by adding at least the "Home delivery" category.
To do this, go to the "info" tab of Google My Business (1), click on the small pen next to your category (2), then in the pop-up window click on "add another category" (3). All you have to do is select the category "Home delivery".
Now that it's done, it would be a shame to stop on such a good path. We advise all our customers to put the maximum number of categories so that your listing will be found on the maximum number of searches by  users. And you can add up to 10.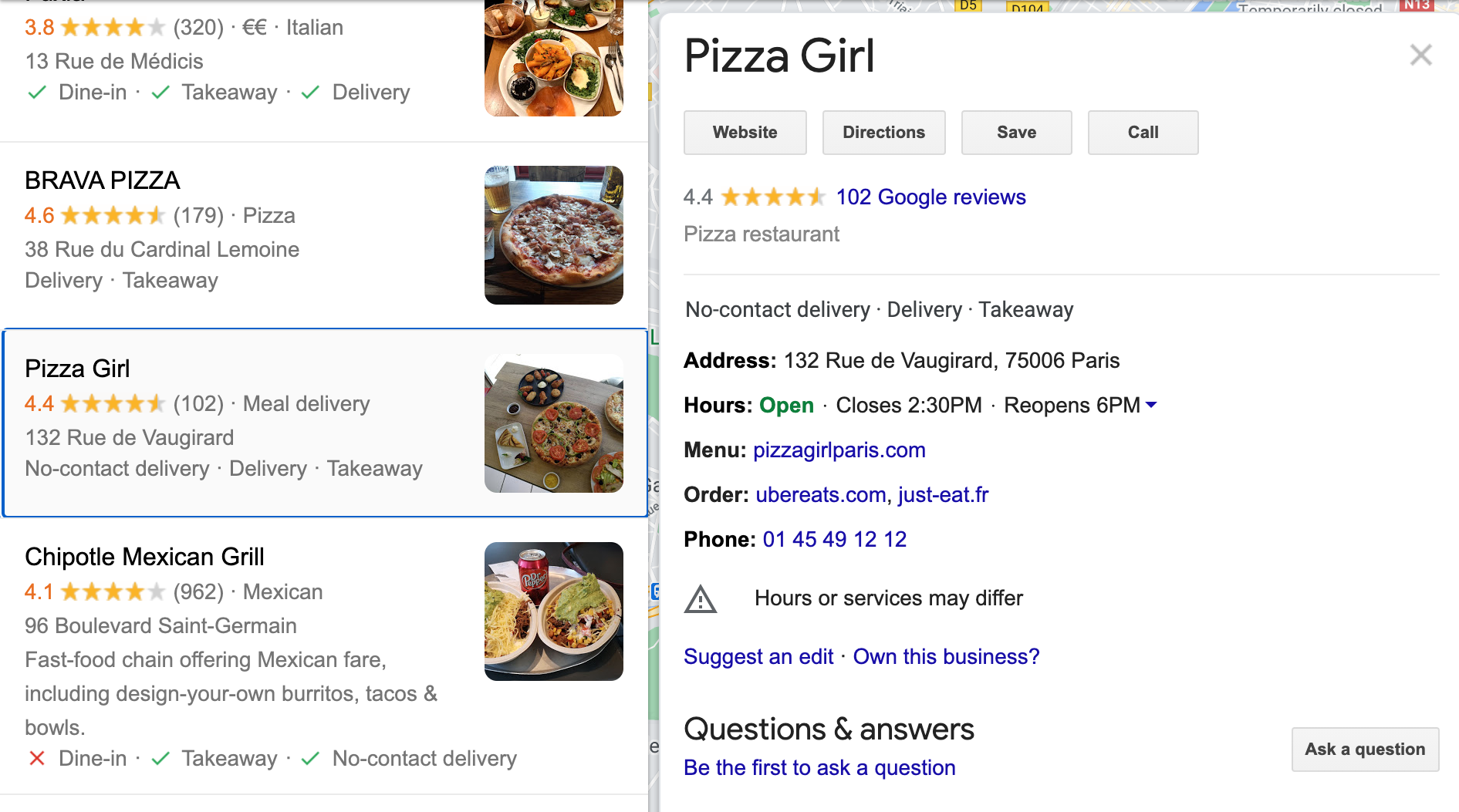 Hundreds of categories can correspond to your restaurant such as, brunch restaurant, couscous restaurant, at home, gastronomic, vegetarian, fast food, brasserie restaurant, wine bar, Algerian, Moroccan, Chinese, Japanese, Thai restaurant, etc.
4) Add a delivery attribute
Google also allows you to fill in additional information about your restaurant: this is known as attributes! It can be a question of informing users about the existence of a rooftop, a brunch, a car park, a bar, the possibility of making a reservation or even home delivery.
The attributes impact your referencing but are also visible to all internet users as you can see below in the screenshot below. By filling in the "delivery" attribute, you will have a better chance of appearing when a user is looking for a "restaurant that delivers".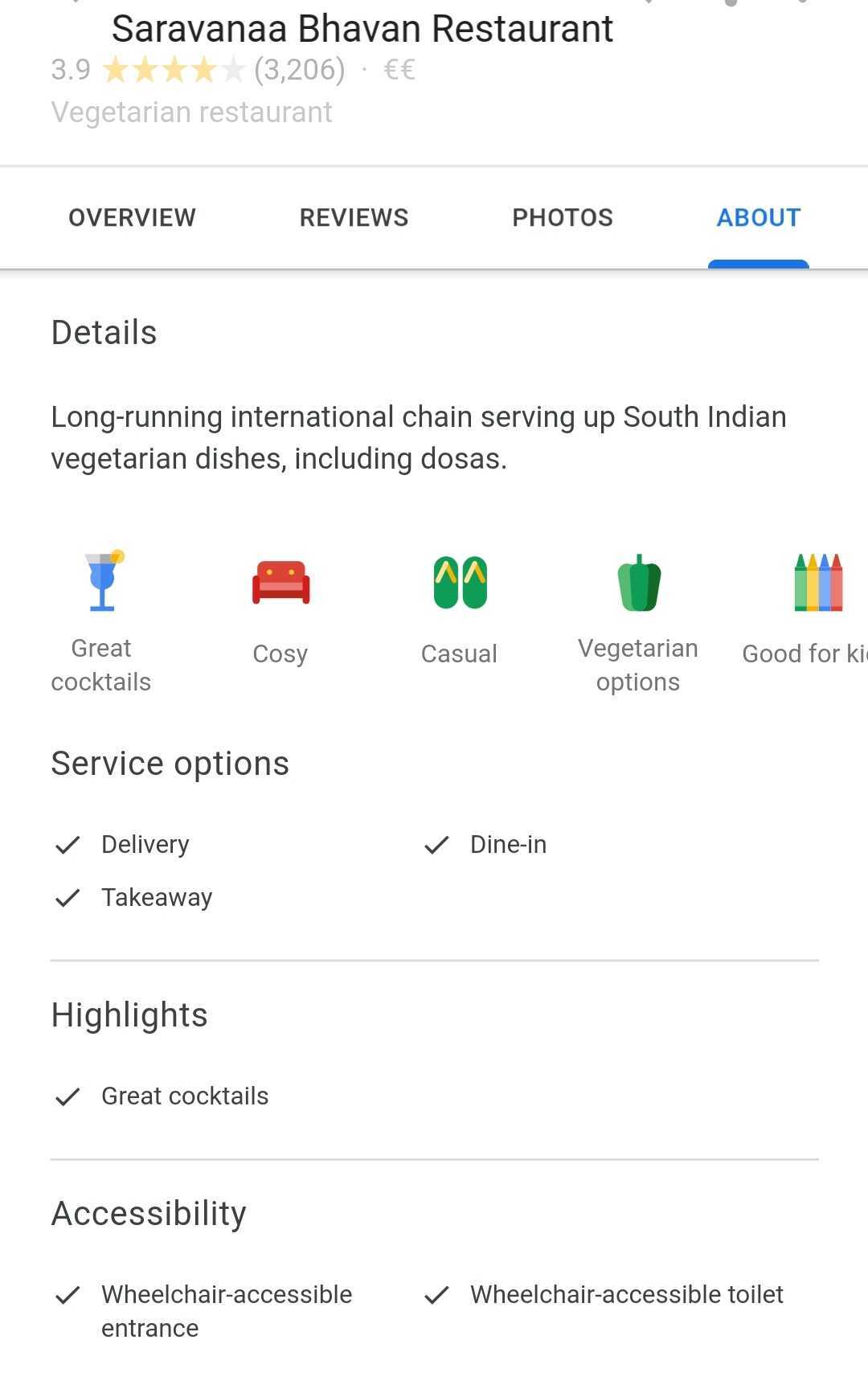 5) Put a link to your menu and to order
Over the last few months, Google My Business has developed a lot of new features for restaurants. A key feature in this period are "Secondary urls".
This is for restaurants to add additional links to their existing link which is often their website page. In particular, two links are very useful in the delivery process:
The link to your menu so that users can choose what they want to order
The link to your order-taking platform
To do so, go to the "Info" tab of your GMB listing and fill in the urls in the right place.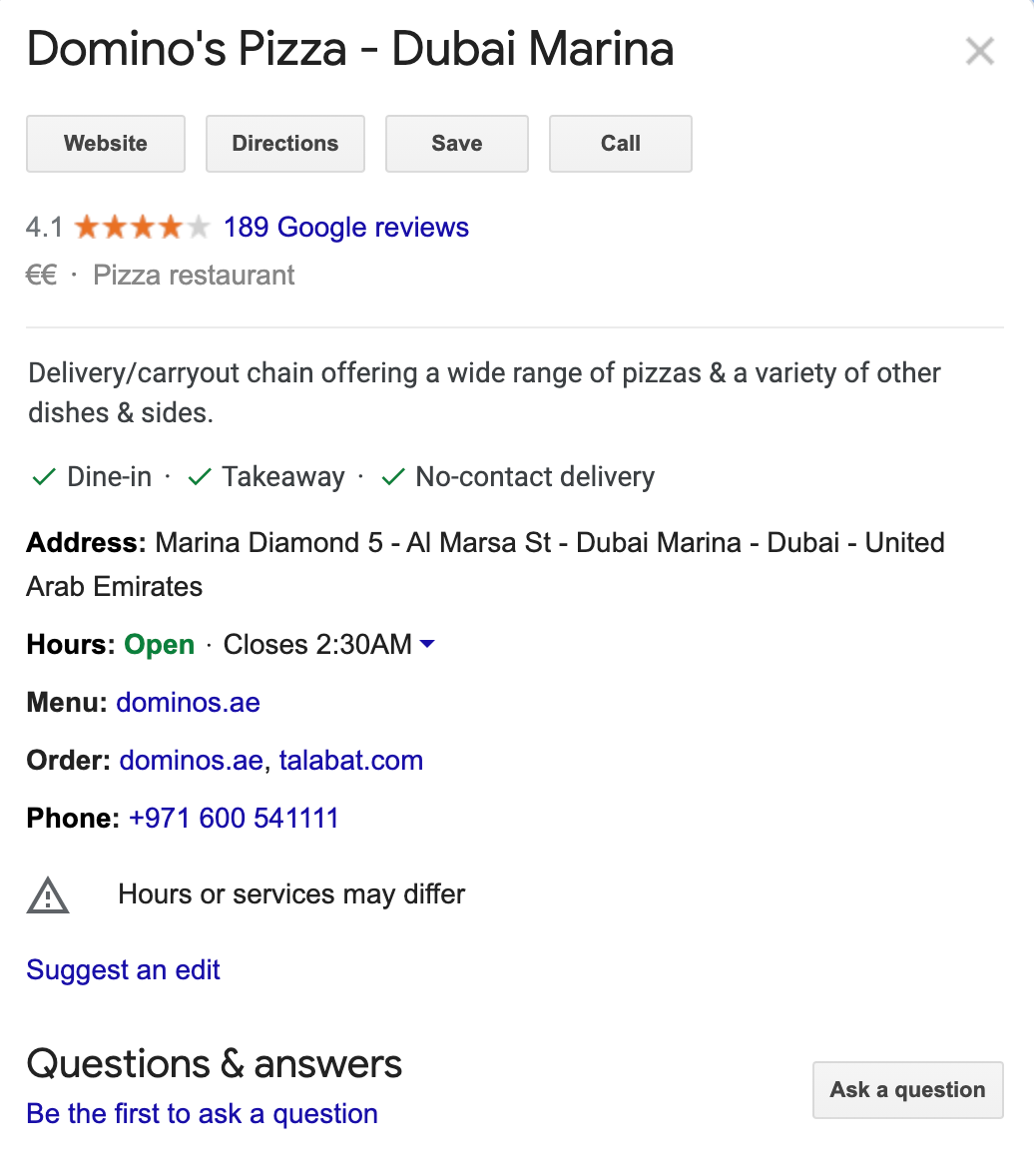 Please note that it is important to distinguish between two modes of delivery :
Own delivery from your website (operated by yourself or by a specialised actor)
Delivery via order platforms such as Zomato, Swiggy, Deliveroo or Ubereats.
In both cases, remember to put the right order link. If you are present on an order platform, a link may already have been automatically filled in by Google My Business due to an existing partnership between the platform and Google. In some cases, it is even possible that you may have several links displayed.
6) Publish a Google Post to inform users
Google Posts are inserts that appear on your GMB page and allow you to inform your users about your news! It can be a temporary closure, a new dish, or the possibility to order online.
For more about Google Posts, we recommend you to read this article for more in-depth views on the subject.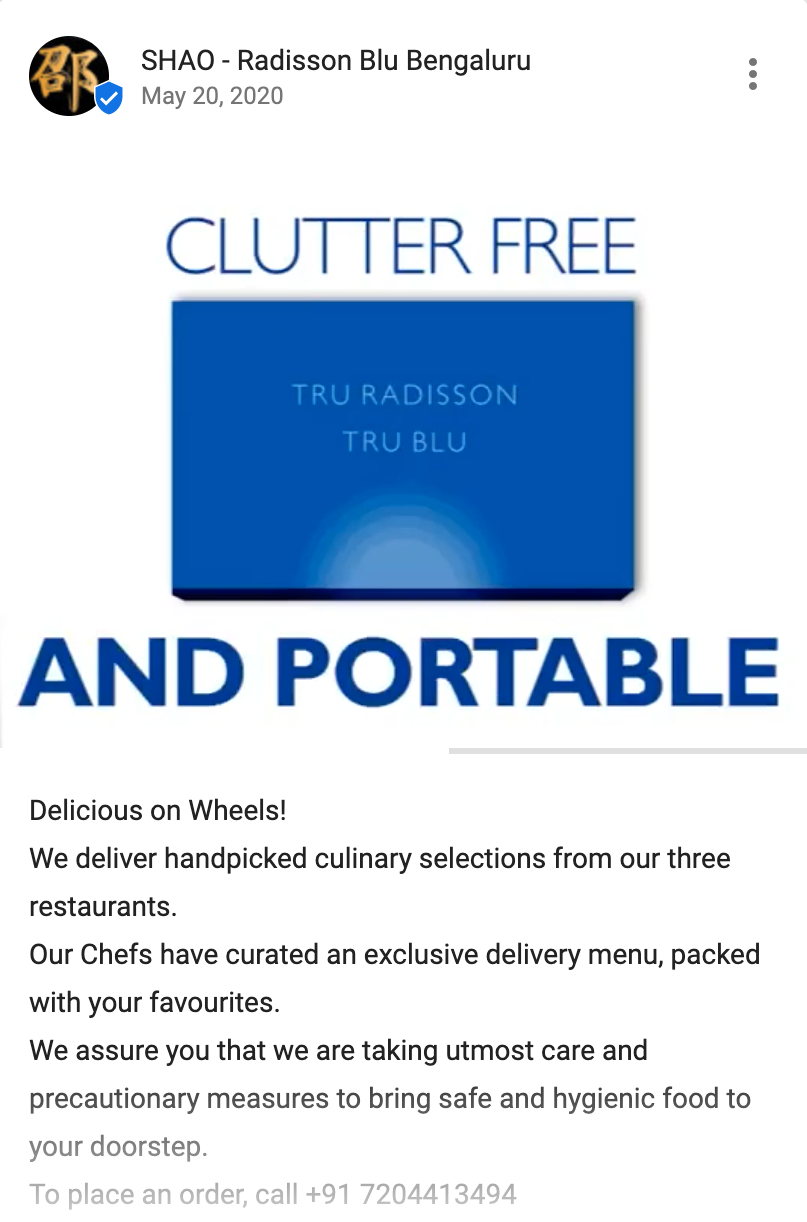 These are 6 tips that are relatively easy to implement in the current situation.
However, in the long term, it is important for you to take control of your online visibility. One of the first things to do is to list your restaurant on Google My Business. In addition, there are other platforms your cutsomers can use to find you! These can be GPS like Google Maps, Waze, Here, Apple Plan, social networks like Foursquare, Instagram or Facebook, and platforms such as Zomato, Swiggy, UberEats etc.
Get found …. online!