In this complicated period during which the majority of outlets have had to adjust to new restrictions, we have decided to talk about a rather technical subject: The data of your establishments on the internet and in particular the duplicates!
We talk about duplicates when two Google My Business records exist for a single physical establishment, which has a negative impact on SEO and customer experience!
In this article we will talk about the following subjects:
Why are there duplicates on your network?
Why is having duplicates very negative, especially for your SEO?
How can you remove duplicates yourself?
How can Partoo help you remove duplicates efficiently?
1. Why are there duplicates on your network?
When Google My Business was started a few years ago, Google had to automatically create its own database of points of sale to show them to Internet users. To do this, Google relied on other databases (Openstreetmap, Factual), on the indications of users (as on Waze) and finally on the websites of the brands, in particular their store-locator. This created many "royalty-free" files which were then claimed by local establishments and networks of physical sales outlets.
However, while only 60% of Google My Business listings are claimed in the United States (less than 50% in France!), Google cannot really count on the owners to update its database of points of sale! Consequently, even today Google continues to automatically create hundreds of thousands of Google My Business listings free of copyright every day.
While the vast majority of these listings are justified and therefore useful, a very large number of new listings are actually duplicates of existing listings. Indeed, when a new listing is created, if Google's algorithm does not match an existing listing, it creates a duplicate. The absence of "matching" can be justified by a difference in name, phone number or category. Google can also make the opposite error by suspending records identified as duplicates when they are not!
2. How is having duplicates very negative?
If your brand has duplicates online, you may not have noticed them until now. In fact, these duplicates often stand out less than the records you manage, even if they do sometimes appear. However, these duplicates have a very negative effect on three aspects!
A. The first negative impact is that of the customer experience and your brand image.
When your duplicates appear – on specific searches or in cases such as today – Internet users may be confronted with contradictory information such as timetables, for example. In the case of Coronavirus, an Internet user may believe that your establishment is open and make a trip for nothing: the list of establishments authorized to open is not very well known and is constantly changing. (Our article which presents the different ways to indicate the closure of its establishments on Google My Business) Under normal circumstances, photos of duplicates are also unattractive and false information can be just as damaging for you.
B. Duplicates also have a negative impact on local SEO.
Local SEO is influenced by the so-called NAP Consistency score (N.A.P. for Name, Address, Phone). Thus, Google will check that the name of your establishment, your phone number and your address are the same on your website, on GMB but also on many other sites such as local Facebook, Foursquare, Waze, 118 000, the Post Office directory, etc. The better your NAP consistency score, the better your local SEO will be and the higher your local pack will be. On the contrary, if Google is lost with duplicates, it will penalize the SEO of your Google My Business listing as well as that of your website.
C. Duplicates divide your SEO weight and the number of reviews.
Having two listings for the same establishment divides your SEO weight and your number of reviews by two. For reviews in particular, having a duplicate will reduce the number of reviews posted on the right form and therefore the positive impact of reviews on SEO.
3. How do you remove duplicates yourself?
If you want to clean all your duplicates yourself, this is probably the best time, as they are easier to find (as they are not closed!). Normally, you would first have to identify them all before you can remove them. It would be like looking for a needle in a haystack: in 2017, when Partoo had not yet developed a duplicate detection tool, it took more than 2 weeks of full-time work to identify and remove the hundreds of duplicates for our customer Generali in Spain.
Here is the method you can use to clean your duplicates manually.
First, go to the Google My Business page of the duplicate in question and click on "Suggest an edit".
In the pop-up window that opens, click on "Remove this place".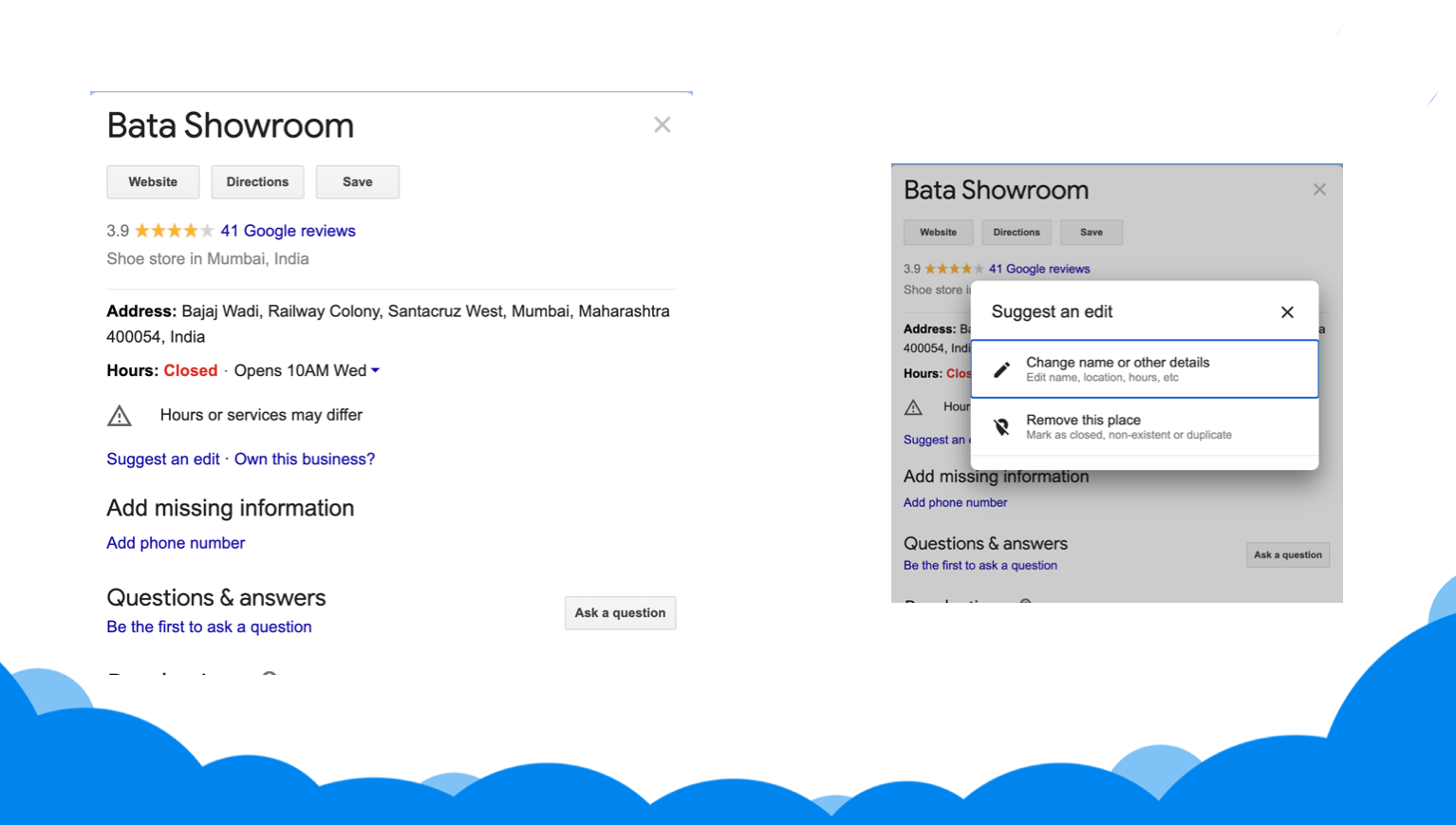 Now choose whether you prefer to delete the place (by clicking on "Does not exist") or merge it with another record (to be able to keep the notices for example) by clicking on 'Duplicate'! #Tip: if the reviews in the duplicate record are negative, we advise you to delete it, if they are positive, merge it with another record.
Once you have clicked on "Duplicate", you will be able to tell Google about the duplicate record in question.
Now all you have to do is repeat this operation as many times as possible on each duplicate so that the modification is finally accepted by Google (4 to 5 times on average with different Google accounts to have a better chance that the modification will pass).
At this point in the article you are probably thinking that it will take you an enormous amount of time.
If you still prefer to delete your duplicates by yourself, we'll still give you a tip on how to get your merger requests accepted faster! As with requests to override notices or photos on Google My Business, the algorithm will assign a weight to each request based on the level of the Local Guide that requested the merge (read this article to learn more about Local Guides).
Therefore, if a level 10 Local Guide requests a merge, it will have a better chance of success than if it is a user who has never posted a review or suggested changes on Google My Business. To facilitate these processes at Partoo, we ask all our employees to be at least Local Guide level 6.
4. How can Partoo help you efficiently remove duplicates?
At Partoo, we manage almost 100,000 locations across Europe for more than 300 brands! It is therefore no longer possible to use the procedure described above, even though it is a method we have been using for a long time.
We have therefore developed for our clients a proprietary algorithm that will take each of the outlets in a network and search for all Google My Business records within a radius of 1500 metres that has (1) either the same phone number (2) or a close name. After numerous tests and comparisons with manual identification of duplicates, we have managed to refine our algorithm to produce for each customer an Excel file showing all the identified duplicates.
For each duplicate, we fill in the excel file with the name of the duplicate, the address, the telephone number, but also the number of notices and the average score to enable our clients to arbitrate between an overpressure and a merger.
Depending on the client's trade-offs, we take care of removing identified duplicates and thus improve the customer experience and the local SEO of their file. Of course, this work has to be repeated every year, as new duplicates can appear automatically at any time: our clients can then indicate them to us on a case-by-case basis so that we can remove them while waiting for the next cleanup.
If you would like to discuss this issue or other topics related to local referencing or e-reputation, please do not hesitate to contact us at contact@partoo.fr or directly on the pop-up chat to your right.
Get found …. online!