Partoo acquires Pulp, the Click & Collect solution for restaurants, and asserts its ambition to be the European leader in retail digitalization
After raising €15 million in 2021, we've made the decision to accelerate our development by acquiring Pulp. This startup is not only the leader in France in implementing the Click & Collect model, but it also is an expert in the ordering and payment process via QR code. Thanks to this acquisition, we are diversifying our offer and making significant progress towards our goal of becoming the go-to digital tool for local businesses by bringing retailers and merchants closer to their customers.
Summary:
An acquisition that will complete Partoo
Up until now, our strategy relied on two pillars:
Improving local businesses' visibility by helping them to get found online
Helping local businesses to get chosen by improving their e-reputation and their exchanges with their customers
With the Pulp solution, a third pillar is added to complete the scheme: "getting customers" online. Restaurants will be the first sector to benefit from this complete and unique offer on the market. Later on, we will launch the offer in other sectors as well, such as beauty/health, both for small and big businesses.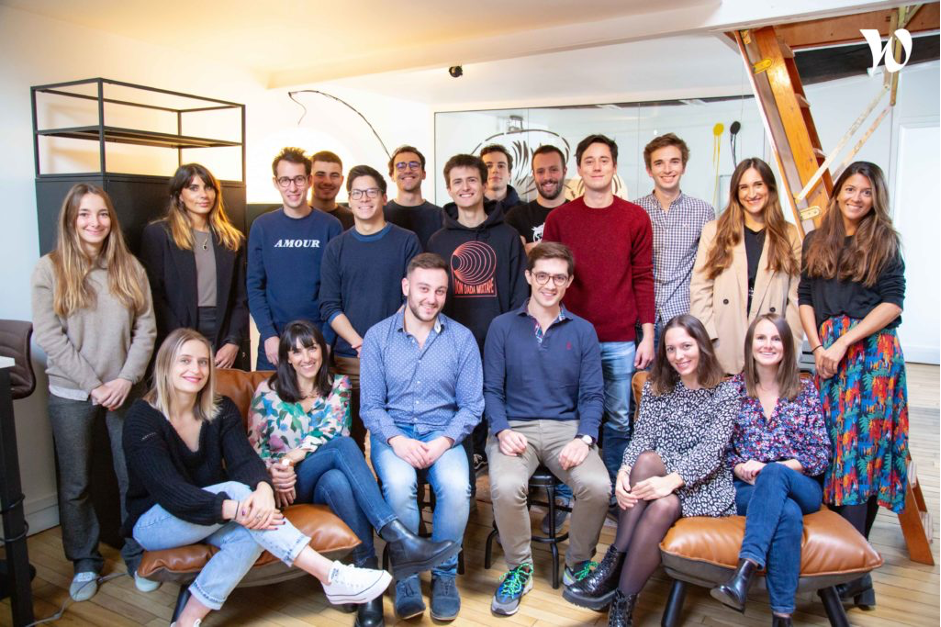 The Pulp team
Thibault Levi-Martin, our founder and CEO, explains: "Ever since Partoo was created in 2014, we've known that platforms like Google or Facebook would revolutionize the customer experience when buying online. We help businesses to improve their online visibility and their customer relationship, now we want to help them take orders and accept payments thanks to Pulp".
Pulp, leader in online restaurant ordering
Pulp was created in October 2019 by Arnaud de Rohden, Antoine Pham et Olivier Arbez with the aim of revolutionizing the customer experience when ordering at a restaurant.
The startup was first successful when it launched the first Click & Collect platform in restoration. A few thousands of users later, the Pulp teams decide to adjust their business model by offering their solution as a white label.
The Click & Collect Pulp App
The digitalization of ordering and paying at the table by Pulp
Pulp's greatest asset is how easy it is to use. Customers just need to scan the QR code on the table to see the menu and to pay the bill directly from their smartphone. The payment method? It's up to them (credit card, Google Pay or Apple Pay)! If needed, the bill can be split between several people, and they can even leave a tip if they wish to. No need to create any account or to download any other App beforehand.
The Pulp solution has become an essential ally for restaurant owners, as it allows them to save a considerable amount of time. A better rotation of tables and the increase of products added to the chart have led to a huge increase in restaurants' revenue.
The interface when scanning a QR code in a restaurant that belongs to the Partoo network
"Nowadays, restaurant owners have to deal with a wide range of tools, each and every one of them designed for a specific purpose, like Sunday to pay via QR code. The thing is, it's not easy for them to manage such a variety of means. That's the reason why Pulp wants to offer the complete solution that will work both for takeaways and eating in the restaurant – and now, thanks to Partoo, we will go even further in terms of visibility and online interaction management", explains Arnaud de Rohden, CEO and co-founder of Pulp.
Today, Pulp is:
A network of over 1,000 restaurants
A 4,9/5 rating in customer success
600,000 users who have already ordered or paid via Pulp, and the ambition to exceed 3 million customers by the end of 2022
House-hold names like Blend, Street Bangkok, Mister Garden and even PNY are part of their network
The goal: to create the first all-in-one platform for businesses
At Partoo, we've realised that retailers do not want to use different tools to complete their day-to-day tasks. Up until now, no company has reached the goal of becoming the single go-to solution for local businesses. That's why we've decided to reconsider our platform's position in this sector.
Our journey will consist of different steps. Our initial objective is to provide the most complete solution for restaurants (online visibility, customer interactions, orders, and payment).
Our medium-term aim is to extend this solution to other sectors such as beauty and health.
We want to go even further in the development of ordering and payment methods; for that matter, our long-term vision is to revolutionize the customer experience and to allow our clients to accept different transactions:
From platforms like Google Business Profile
From instant messaging services like Messenger, Google Message, WhatsApp or even Instagram
From QR codes found in each establishment
Option "Order" from the restaurant Google Business Profile
The user's practices evolve, and retailers of every sector have to keep up with these changes. The current trend is to simplify the ordering process: customers want to limit the number of clicks and stay on a single environment like Google or Facebook.