The purpose of this article is to present the 6-step creative process we followed to create our new identity as a team. As a reminder, Partoo is a BtoB start up whose mission is to help establishments attract and retain customers using digital technology.
Since our creation in 2014, we have always used our original logo. The redesign of our customer interface was an opportunity to think about a new visual identity, and to imagine something that is more in line with our evolution.
Beyond the logo, our new identity aims to increase the visibility of our company and to highlight our products and values: fun, empathy and curiosity. These values translate into a positive working environment, a relaxed atmosphere, customer understanding and a real team spirit.

Over the years, we have also developed new products, each with its own logo, but with which we do not communicate often enough. The objective of this new identity is therefore to make our products and their respective universes known.
To avoid diving headlong into the creation of a new logo, we chose to sequence this project in 6 steps.
Step 1 – Raising Awareness
Already during the reflection phase, we thought about how best to include our values. A new logo is a new identity for the company, but also for its employees. At Partoo, it is important that everyone recognizes themselves in the new logo, is involved in the redesign, and feels that the company has a vision that suits them.
We therefore drafted a form, which was sent to all members, in order to carry out a joint analysis of the existing logo:
In your opinion, what is the objective of this redesign?

What is the first word that comes to mind when you hear the word "Partoo"?

In your opinion, what best illustrates Partoo?

In your opinion, which colours best represent Partoo?

Do you have an example of a logo that you like?

Which of our competitors' logos do you prefer?

From 1 to 5, how would you rate this logo?

What don't you like about the Partoo logo?

And in general, what do you dislike about the logos?

In your opinion, which of these different logos could be Partoo's style?
Step 2 – Analyze the existing with the form
Thanks to the answers on the form, we were able to determine the negative and positive points of our logo. We also gathered everyone's impressions, including their tastes, their vision of the company and the future they predict for it.
❌ Negative point n°1: we used a too popular typography
Since 2014, the logo is written in Pacifico, a typography proposed by Google and used since then by a large number of brands. Basically, it's a bit like the new Comic Sans. It's good to start and give a nice image, but keeping this kind of typography does not show an effort of realisation on the identity.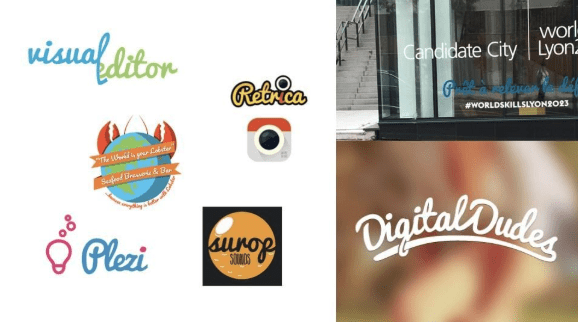 ❌ Negative point n°2: our identity lacks clarity
When creating the logo, Partoo only had one objective: to help merchants to correctly distribute their information on all platforms (Facebook, Foursquare, Google, …). This was the only product we had: Presence Management.
Over the years, new products have been developed:
Knowledge Management, which has become the central point of our application: this is where our users create their company files.
Review Management, which allows you to monitor your opinions
Review Booster, which allows signs to send a request for a review to their customers.
The Presence Management being our first product, it has been confused with our brand. Whether we are talking about Partoo in general, or Presence Management, we always use the same blue colour, visible in our logo. The purpose of redesigning our logo is therefore to represent all our products and to show that they work together.
❌ Negative point n°3: our logo is not international
In Spain and Brazil, Partoo is called "Localoo" (because Parto means "childbirth" so… we found another name). We thought it was essential to have, at the very least, a universal symbol. These is to avoid any play of letters in the logo, unless you have common letters, as it is the case with the "OO" of Partoo and Localoo.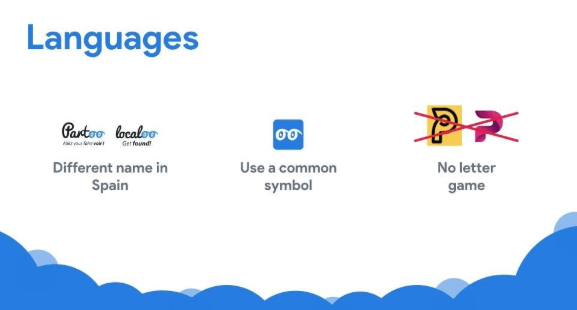 In addition to the negative points, we have listed the elements to work on to define a new logo that corresponds to the company:
✅ Idea #1: Review the colours
Use the blue, green and orange colours of our products.

Maintain a flat, trendy and colourful universe.
✅ Idea #2: Improve the image conveyed by the logo
Give the image of a modern, dynamic, attractive and professional company.

Maintain a Flat Design and easily identifiable spirit.

Avoid any risk of quickly going out of fashion (typography, baseline, colours, eye shape).
✅ Idea #3: Follow well-defined rules
To illustrate mainly the notion of diffusion, centralization, etc.

Provide a version named "Localoo" (for Brazil and Spain).
✅ Idea #4: Don't be inspired by our competitors
Competitor logos are mostly blue.

You have to stand out from the competition with different colors…

The simpler the logo, the more it pleases.
Step 3 – Benchmark
Then comes the research phase, the benchmark phase, where we study the competition and other existing logos. A logo is not just built to be used as it is: it must live in a universe to last and make an impression: it is the visual identity.
In order to define ours, we studied our team's favourite logos. It's an opportunity to discover how Google, Airbnb or Uber have rethought their identities!
By analyzing the logos of these different brands, we were able to discover some similarities, which we have listed in order to keep them in mind and try to reproduce them:
Having a symbol makes it easier to be identified…

Using legible typography is essential

Present 2 to 3 colours on average

Write the name in lower case when it is associated with a symbol, so as not to compete with the symbol.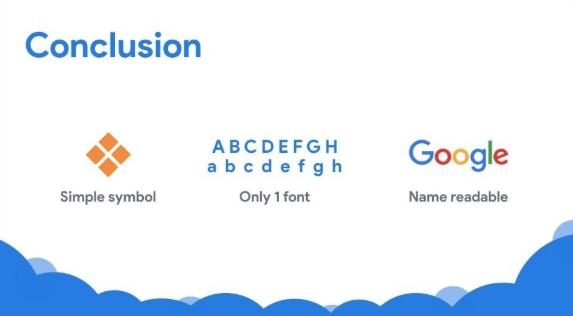 Step 4 – Brainstorming
The next step is to make sketches, test different variants and then reproduce our tests on Illustrator. At this stage, we decided to follow all the tracks we had in mind.
Results of the brainstorming:
PartOO and LocalOO = O
Centralization + Grouping = Circle
Partoo = Visibility = Eye
Diffusion = Propagation = Clouds
Clearly, the circular shape was very much in keeping with our identity, both in defining our concept and in writing our name.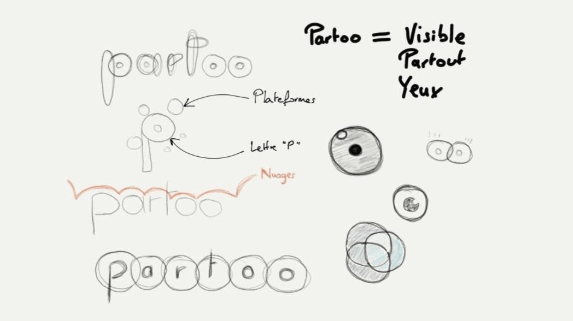 At this stage, we have discarded a few leads in order to find the eye shape that suits us best.
Step 5 – Design & development
Typography
One of the weak points of our logo was its typography. In order to avoid reliving the same situation, with a font that quickly goes out of fashion, we chose to create our own style.
To create this typography, we wanted something simple. Since we were already using pictograms in our client interface, we felt it was essential to imagine a typography that could match these elements.
Thus, by working with simple shapes such as circles and rounded lines, we have succeeded in obtaining a font where circular shapes are omnipresent.
The colours
Each product has a colour assigned to it according to its meaning, which is found in its respective universe. Integrating these colours into the logo not only serves as a reminder of the products, but also to illustrate its values.
Blue: Serious, technology, professionalism
Orange: Joy, dynamism, creativity, communication, optimism
Green: Gain, Loyalty, Reputation
Violet: Control, knowledge, intelligence
The shape
As mentioned before, we wanted to represent several things in our logo:
Partoo's values

The notion of visibility

Our products (Presence Management, Review Management and Review Booster)
By associating the colours with each other, we wanted to illustrate the complementarity of the products, all linked by Knowledge Management, which has become over the years the heart of our application.
And here is the result before / after!

No more blue as the only color, no more baseline that was too much of a problem (unreadable on some supports, to be translated in all languages…), and no more Pacifico! From now on, Partoo has a much trendier logo, where each color makes sense.
We keep the eyes, synonymous with "visibility", and which are also found at the centre of our symbol. The intersecting circles evoke centralization, grouping, but also the complementarity of the products. Finally, the whole logo exudes a colorful, dynamic and positive atmosphere, which exudes simplicity, one of the assets of our application.
Step 6 – Setting up the identity
Once the logo and the new identity have been validated, it is time to publish them on all our different media:
Website

Social networks

Recruitment and loyalty mailings

Newsletter

Documents such as invoices, estimates, etc.

Posters, posters, flyers…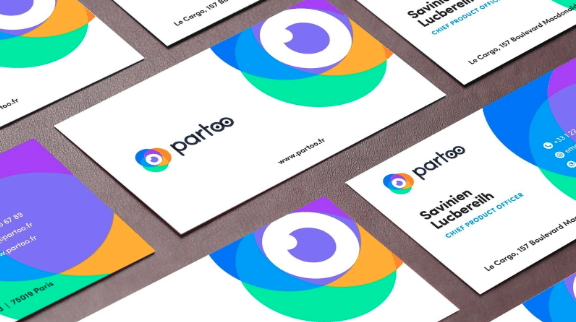 We decided to proceed step by step, by first deploying this new logo on the customer interface, then on all social networks, and finally on the communication supports.
Conclusion
Before rethinking who you are, it is important to know where you can improve. Asking the members of your company for their opinion is a very good way to do this. This allows you to make everyone aware and to realize how your company is perceived. In our case, the feedback we received has allowed us to design a logo that takes into account everyone's comments, and to define an identity that belongs to everyone. Today, our logo represents Partoo – Localoo in its entirety, and fully conveys our values!
Congratulations to the whole Partoo – Localoo team for their precious help!
And you, how did you redesign your identity?
Sources