The global health crisis that we have been experimenting those past few months has completely changed Internet users' behaviours. Not being able to move around as usual has increased the use of technology in people's everyday lives, and especially the Google Business Profile platform. Therefore, in the anticipation of a future period of crisis, how to use Google Business Profile to communicate effectively?
This article highlights 6 key features to optimize so you don't get caught short.
To facilitate the access to your business' information:
#1 Update your opening hours
If you need to temporarily modify your business's opening hours at a national or local level, it is essential to be very reactive on your Google Business Profile listings to give the right information to Internet users.
Our recommendations for times of crisis:
Don't change your standard opening hours. Instead, add special hours to momentarily replace them. In fact, you'll just have to stop mentioning special hours in order to go back to normal on your Google Business Profile listings.
Provide secondary hours if you need to differentiate services or activities.
If you wish to temporarily close your business, you have 2 options:
Special hours to notify customers that your business is closed,
The "Temporarily closed" feature.
But be careful! Do not use the "Permanently Closed" feature!
#2 Specify your attributes
Attributes distinguish and describe your points of sale and associated services, such as "In-store pick-up", "Delivery", "Dine-in" etc. They are based on your main category ("supermarket", "DIY store"…) and can be found in the back office of your Google Business Profile account.
The purpose behind the attributes is twofold:
Deliver the most accurate information to users about your business
Improve your Google SEO. For example, when a user searches for "Curbside pickup supermarket", your local business will have better chances of appearing in the top results if you have correctly specified this attribute.
Google has been very reactive during the Covid crisis by releasing new features, such as "Click&Collect". This attribute appears clearly on listings, allowing Internet users to decide quickly whether they go to a store or not.
#3 Use Google Posts
The Google Post feature allows to communicate special events or news related to your business. It represents an opportunity for you to inform and reassure your customers about your strategy in case of an unexpected situation: you can inform in a 1,500 character-long text what is the situation, how you address it and the new in-store access conditions, services offered etc.
Of course, writing Google Posts on your listings will increase your business' visibility and rank in search results.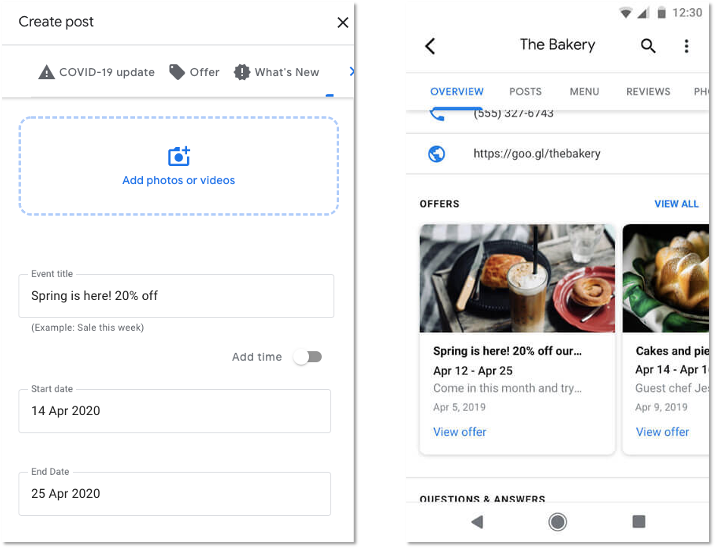 To keep in touch with your clients:
#4 Add your phone number
In the event of a crisis, you should add another phone number, such as the manager's, or the number of the call centre. This way, you will always be reachable even if your store is temporarily closed.
#5 Answer to your reviews
Answering to your reviews is a way for you to maintain contact between your business and its customers, even if you temporarily closed it. It might help enhance customers' confidence in your business.
However, depending on the degree and scope of the crisis, Google can momentarily deactivate the publishing of reviews, like it happened during the March-April period.
#6 Interact with your customers
The new "Google Message" feature enables Internet users to directly chat with business through a direct system message.
This feature is only available on the Mobile version for now.
However, you should use this system if you are in the capacity to provide fast replies! You need to have to adequate resources to do so in order for your business to be able to answer within the hour.
By optimizing those 6 features on Google Business Profile, you will be able to effectively communicate in times of crisis and optimize your digital strategy.
"Get found… Online"