Meta, formerly Facebook, has announced the launch of several features to help establishments and independent businesses become more accessible to their customers. These new features focus on the group's instant messaging tools: Facebook Messenger, Instagram Direct, and WhatsApp.
Find local businesses more easily
Several months ago, Mark Zuckerberg announced that he wants WhatsApp to become the digital successor to the Yellow Pages. The teams are currently testing features to make it easier to find local establishments. This update is being tested in Brazil and allows users to find and contact traders around them.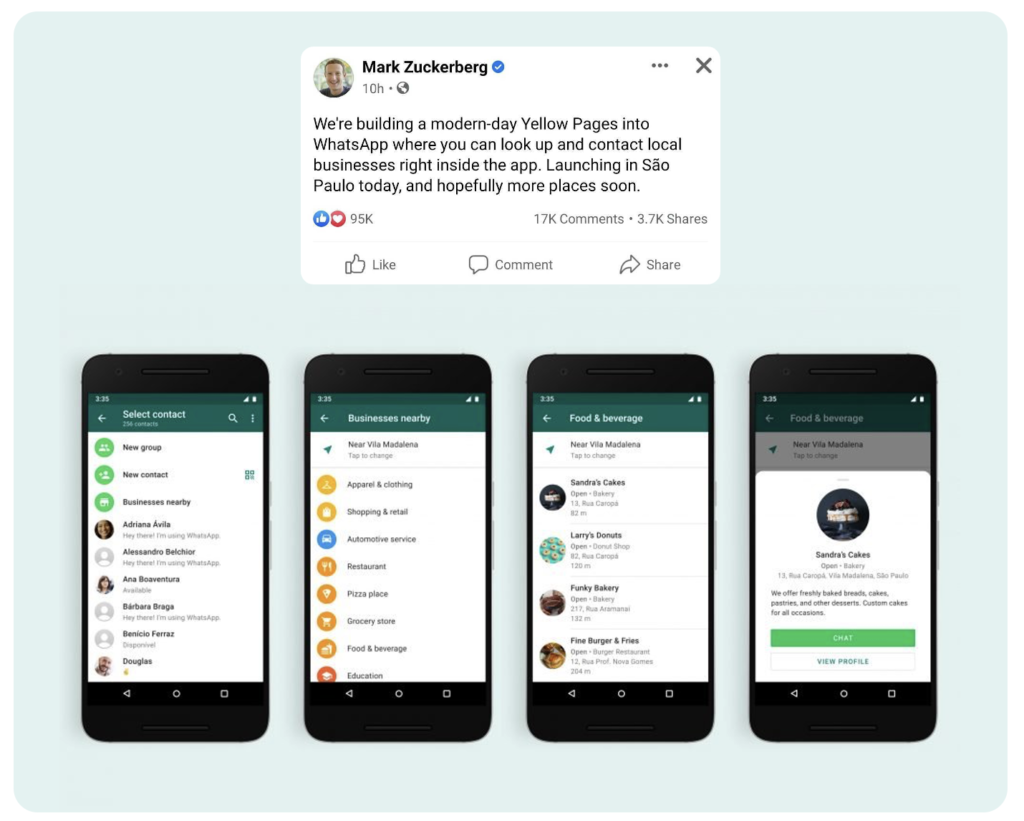 At the same time, Instagram is testing a feature dedicated to the discovery of local establishments: Map Search. Through the feature, users can search for establishments near them and their main information (address, hours, photos, etc.). You can find our article about it here.
New Type of Instagram Ad: click-to-message
Meta also wants to strengthen the link between brands and their customers through its messaging applications: Facebook Messenger, WhatsApp, and Instagram Direct.
In particular, Instagram has developed a new type of advertising called click-to-message. When a user clicks on one of these ads, the most used messaging application on their phone (among Instagram, WhatsApp, and Messenger) opens and they can then chat with the establishment directly.
In addition to these new ads, sellers can also add a "click-to-chat" button to their Instagram profile that sends the user to WhatsApp, where they chat with the business.
These new features facilitate message interactions, a channel that has become essential in the connection between customers and retailers. In fact, according to Meta, 75% of consumers want to communicate with brands via message in the same way they communicate with their friends and family.
Messages are a great way to interact with your customers and prospects and engage them through a more personal and intimate exchange. They also allow for asynchronous communication and therefore better control of time on both sides.
How to take advantage?
To take advantage of these features, you need to have business accounts on the mentioned apps: Facebook, Instagram and WhatsApp. If you want to create a business account on Instagram, we explain how to do it here. Regarding WhatsApp, you can create an account for your establishment or activity by following the instructions below:
Download the "WhatsApp Business" application
Enter your business phone number (it must be different from your personal number)
Fill in your business information (address, hours, activity, etc.)
Perform the required settings (automatic messages, quick replies, etc.)
You're done!
These features are still in the testing phase but should arrive in your country very soon. Get in touch with us to assist you in the management of your online presence and your customer interactions!